Prelude
Group Values
Are faculty, staff, students and visitors really affected by the physical beauty of the University of Washington? In 1999, Iain Robertson, the chair of landscape architecture, conducted surveys and held focus groups to find out.
The results were off the charts. For a campus community that is often divided over the trivial (Husky logos) and the profound (TA unions), Robertson says opinions were "almost universal."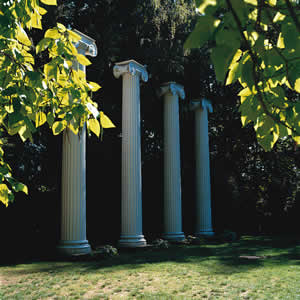 ---

The UW community rated the Sylvan theater and its columns fourth among campus places to be protected from any potential development. Photo by Mary Levin

---
Asked if they had ever been inspired by a campus view or the quality of a campus space, 96.5 percent of the faculty answered "Yes." For staff it was 94.8 percent, the general public 92 percent and students 79.3 percent.
"There is an immense amount of interest in the campus. All groups value it, and faculty and staff recognize that it contributes to the value of their work life," says Robertson.
It's easy to say that you are inspired by Rainier Vista or the Quad cherry trees in bloom, but what if your own department needed new space? Robertson decided to test the real value of public places. He gave the groups a list of eight open spaces and asked how "suitable" each would be for a new building, given that the structure would benefit them directly. "We wanted to see how much people would be willing to give up their own personal benefit for the good of the community," he says.
Out of the sites listed, only two were deemed suitable for new construction: playing fields near the IMA and space on N.E. Campus Parkway next to the Terry-Lander residence halls. Sites that the UW community wanted to protect at all costs were, in order of perceived importance: 1. the Quad, 2. HUB Yard, 3. Medicinal Herb Garden, 4. Sylvan Theater, 5. the lawn in front of Denny Hall, and 6. the open space between Parrington Hall and the Burke Museum.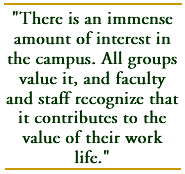 "It is apparent that people are willing to sacrifice their own direct benefits," Robertson says. Some comments on the surveys were vociferous. "I came from Columbia University. I don't want the University of Washington to ever become a place like that," wrote one professor.

Our cover story looks at some of these favored spots and adds a few new ones. Unlike Robertson's survey, the 10 sites listed in "A Place Apart" were not ranked by focus groups or opinion questionnaires. Instead, they are the personal favorites of Associate Editor Jon Marmor and myself. I've worked on this campus for more than two decades and Jon has been here 10 years, so we've had time to seek out its secret gardens and hidden nooks.

We had a hard time choosing our Seattle campus favorites. For reasons of length, we passed on choice, off-campus sites, such as the wetlands restoration project at UW Bothell, the views of Commencement Bay and Mount Rainier at UW Tacoma, and the maritime vistas at the Friday Harbor Labs on San Juan Island.

But there are certainly other UW spaces readers may favor. If you think we've left off a favorite-or overrated one that is on our list-write us a letter (1415 N.E. 45th St., Seattle, WA 98105) or send us e-mail columns@u.washington.edu.

—Tom Griffin, Editor