San Diego Group Aids Transplanted Huskies
Rajy Abulhosn, '91, '95, says he was a "lost soul" when he showed up at a San Diego Husky Chapter salmon bake in the summer of 1995. He had moved to San Diego after graduating from the UW School of Medicine to start his family practice residency and didn't know anyone.
"I had never really been involved in UW alumni activities," he recalls, "but I figured I'd attend a local event here to try and meet some new people."
At the barbecue, he met up with a wonderful family-Dave and Annie Maier of nearby Escondido-who kind of took him in and became "my San Diego family," he says. They had him over for the holidays, and from then on, Abulhosn became a regular at local alumni chapter events.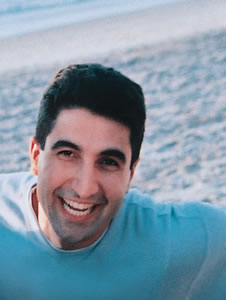 ---
Rajy Abulhosn, '91, '95.
---
Today, Abulhosn, who is married and has a young daughter, is the leader of the San Diego Chapter, one of the more active alumni groups in the nation with up to 150 alumni attending the chapter's many events.
The chapter's signature events are the August salmon bake and the San Diego Crew Classic, which will be held on April 7 at Mission Bay. Local football viewing parties always draw well, as do chartered Husky Express bus trips to attend Husky football games at USC or UCLA. The chapter also hosts such events as wine tastings at local vineyards or attends baseball games.
"We have a very strong and dedicated chapter," the Seattle native explains. One reason is the dedicated volunteer leadership Abulhosn-who took over after Bev Schaffer and Ken McGhee put together a solid chapter- can count on. "I feel fortunate to be able to call on a large number of people for help whenever needed," he says.
Although the 2,000 or so UW graduates in San Diego are more than a thousand miles from their alma mater, it doesn't dull their feelings for the UW. "We're always striving to promote the UW and give the local UW alumni and local friends of the UW an opportunity to get together and show their support for our great university," says Abulhosn, whose parents and brother also got their degrees from the UW. You can reach Abulhosn at (858) 638-7348 or e-mail .