Workshop Can Aid Alumni Making Career Transitions
With the second highest unemployment rate in the nation, the state of Washington has more than its fair share of laid-off workers. Local alumni who need to reinvigorate their careers or chart a new career direction have help-the career transitions workshop, "Redirecting Your Professional Energy," to be held Saturday, April 6 in 134 Mary Gates Hall on the UW campus.
The day-long workshop, which starts at 9 a.m., is designed to help alumni sort out the steps it will take to enhance their current position or make a career change.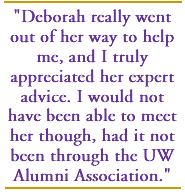 Participants will learn how to evaluate their relevant strengths, values, interests, risks and barriers-and how to develop an action plan to get where they want to be in their work life, explains Don Gallagher, manager of the UW Alumni Association's Husky Career Advantage program. The UWAA offers this event in partnership with the UW Center for Career Services.
In addition, all participants will receive individual networking referrals to UW alumni and a guide to the best career resources in print and on the Web.
The first career transitions workshop, held last May, has already paid big dividends for Leigh Krassner Watson, '98. She credits the referral she received through the workshop to fellow Husky Deborah Sanders, '85, with helping her land a great job two months later at Microsoft.
"Deborah really went out of her way to help me," says Watson. "And I truly appreciated her expert advice. I would not have been able to meet her though, had it not been through the UW Alumni Association."
The career transitions workshop, which features a panel of UW alumni speaking about their successful career transitions, is just one part of the comprehensive Husky Career Advantage program offered by the UWAA to alumni and students.
The workshop costs $60 for UWAA members and $75 for non-members. For more details and to register, go to UWalum.com and click on "Husky Career Advantage," or call the UW Alumni Association at (206) 543-0540 or 1-800-AUW-ALUM.