Letters to the Editor
March 2002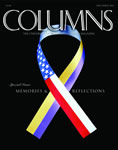 ---

Cover of December 2001 Columns

---
Meaningful and Moving
Your December 2001 issue of Columns was magnificent. To produce an issue with such meaningful and moving stories was a superb achievement, particularly considering the deadlines you faced. Your ability to relate the tragedies of Sept. 11 to the University of Washington and the loss of the 16 Husky alumni/fans in Mexico was spellbinding. I read every story in the magazine. I did not know the World Trade Center towers were designed by UW alumnus Minoru Yamasaki. Columns always provides information of interest to Washington alumni, but this was a special issue.
Thomas C. Hansen, '59
Commissioner, Pac-10 Conference
Walnut Creek, Calif.
Difficult to Produce
It's not easy writing about tragedies like the terrorist attacks of Sept. 11 and the Husky alumni plane crash the next day, but it's even harder to write through your own pain and grief. To that end, I commend you on a job well done with the December issue of Columns.
Your staff put aside its own emotional pain and managed, on a short deadline, to assemble a diverse collection of memories and reflections on two terrible events we wish had never have happened. Not only were your stories varied and thoughtful, the tributes to the fallen Huskies were heartfelt and poignant.
Thank you for working through a difficult time and bringing honor and respect to the people involved. I always enjoy reading Columns, and I know how difficult this issue must have been to produce.
Linda Elliott Farmer, '90
Tacoma
Grace Under Pressure
My issue of Columns arrived in yesterday's mail, and it was the first time I had a chance to read it. I compared it to my other alumni magazine, which arrived earlier in the week and which also reported on the response to Sept. 11. You outshone the other college by many miles. I was astonished and very impressed by how quickly and how professionally you put together this special issue, having tragedies to deal with on successive days just before deadline. It was grace under pressure, with great reporting, great writing and great visuals.
Antoinette Wills, '75
Seattle
Maligning the Military
Some months ago I chose not to renew my affiliation with the UW Alumni Association. As a non-resident, I found it to be pricey for a magazine subscription that I forever found dull. The publication still arrives for some reason and I peruse it from habit. I was beginning to think it was improving until I read the December issue.
Your "9/11" article on page 21 had the following headline: "Lifesaving Flight Is Grounded by F-16s. The article goes on to tell about UW Surgery Professor Michael Mulligan and associates successfully dealing with the exceptional problems of Sept. 11 and effectively completing multiple organ transplants.
The menacing headline and picture are both puzzling and confusing. The F-16s were doing a difficult job to guard us and do not deserve such negative billing. I commend the doctor for his perseverance, and I think his story is inspiring. Perhaps a picture and title about one of the surgeons would have been more appropriate. Was your duplicitous caption an attempt to malign the military?
In the future why don't you write a nice piece about the many UW graduates that were flying F-16s that day, dealing with the domestic security of our nation under attack. Or better yet, do an article about the fine young men and women of the ROTC program at the University and how this war will affect them. I can assure you that the military has done their share of "lifeguard" flights for organ transplants.
The article on another real hero, Army Sgt. Maj. Larry Strickland [who died in the Pentagon attack] was admirable. However I also found the headline and sports star association dreadful.
Timothy M. Donohue, '73
Chico, Calif.
Of Good and Evil
Congratulations to you on publishing a difficult issue relating to the Sept. 11, 2001 attacks, and the tragic crash the following day in Mexico. I was on the cruise with those 16 people and other Husky fans, and our grief was quite self-contained while bobbing around in the Caribbean for the rest of that week.
My reason for writing, though, has to do with President Richard McCormick's comments regarding his idea of goals for our university as a result of the attacks. His theme seemed to be that we have to "look hard at the question of why some people in the world hate us so deeply," and that "we have to engage global human problems" and address "those ills."
McCormick, like so many others, seem to like to look first at what we must have done wrong to deserve the attacks. First, the attacks were unprovoked. Secondly, the attackers gave no warning, asked for nothing and have not taken responsibility for their actions to the world community. It is not a religious vendetta. It is not a war over ideals, territory, politics or economics. It would seem that they hate us because of what we are: free, well-fed, well-clothed, TV-watching, Cadillac-driving, church-going, powerful defenders of freedom around the world.
We condemn terrorism everywhere, but until after 9/11 we were reluctant to act with much conviction. The attackers' own professed religion condemns terrorism! We are rich, compared to most of the world, and we are not ashamed of being so. We swagger a lot. We tend to side with Israel, Kuwait, Bosnia, etc., and now we are defending ourselves with a vengeance that is justified. We have done more to help Muslim countries than all other countries combined, yet some hate us because we have not bowed to Yasser Arafat, Saddam Hussein, Slobodan Milosevic, Osama bin Laden and others.
I love my country for most of the same reasons that these terrorists hate us. We stand for good and they stand for evil; it's no more complicated than that. What we must do is continue to do what we do-and be what we are.
Michael A. Clocksin, '65
Graham
Lunch Hour Legacies
There are many ways that university mentors might influence a student. Betty Wagner, librarian at the College of Architecture and Urban Planning ("Alumnotes," Dec. 2001), allowed me as a student to take care of the library during lunch hour and at odd times during 1955-57. By her manner and dedication, Betty managed to instill a love of books that continued. As a young assistant professor at the University of Arizona, I began the architecture library in 1963. Betty helped find donors and duplicate volumes. As inaugural lecturer in architectural history in 1972 at Flinders University, a new architecture collection was begun with a modest budget and many donations. And around 1978, I began a personal collection of architects' material that, when I donated the 30,000 items, became the Architecture Archive at the University of South Australia. It now contains over 175,000 items, including tens of thousands of drawings and a library, making it a special research center. Indeed, "her impact will live on." Thanks, Betty.
Donald Johnson, '57
Kangarilla, Australia