When Jon Jory was growing up in Pasadena, Calif., his father went to work each morning and came home in the evening to his wife and two children. It was a middle-class existence not much different from the one that thousands of other children experienced in the 1940s—except that Victor Jory's work involved acting in dozens of movies, his wife (Jean Innes) was also an actress, and both Jon and his sister got Actors' Equity cards at about the same time most kids are getting their first report cards.
So it's not surprising that Jon Jory grew up to be a theater director, nor that when he talks about theater, his vocabulary has more to do with work than with art.
"I've always been sort of hostile to the word 'artist,' " he muses. "I don't know what it is. I think of myself as a theater worker. I think there probably are such things as artists and I think in my field there may be as many as four or five in a generation. The fact that everybody else trots about calling themselves artists I find somewhat amusing."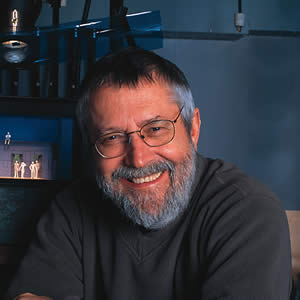 ---
Professor Jon Jory relaxes in the drama school's design studio. Photo by Mary Levin.
---
"Worker" would be an accurate description of what Jory has been since coming to teach at the UW School of Drama in the fall of 2000. He teaches several classes a week—both graduate and undergraduate—attends faculty meetings and has directed a play. A bearded, gray-haired man in his early 60s, he can be seen sitting among his students wearing jeans and a comfortable sweater, and he constantly solicits their ideas about acting and directing.
But despite denying any claim to artistry, Jory is an extraordinary catch for the drama school. He spent 31 years running Actors Theatre of Louisville, which he brought from obscurity to national prominence. While there he nurtured dozens of new plays, several of which went on to win the Pulitzer Prize (The Gin Game, Crimes of the Heart and Dinner with Friends), and he has been inducted into the Theater Hall of Fame. Nonetheless he will tell you stubbornly that during his time in Louisville, he "got up in the morning and went to work in the American theater." No cape, no beret, no exotic accent, just a man doing his job.
He comes by that attitude naturally. His parents started their careers in "42-week stock," a form of theater in which the actor appeared in 42 plays in 42 weeks. This was in the early part of the 20th century, when training programs were rare and actors learned their craft by watching their more experienced colleagues. The elder Jorys went on to act in films, with Victor landing leading-man parts until he was typecast as a villain, most notably as Jonas Wilkerson, the scheming overseer in Gone With the Wind, and Injun Joe in The Adventures of Tom Sawyer. By the time Jon was old enough to remember, Victor had become a contract player in B movies, which were churned out in 20 days.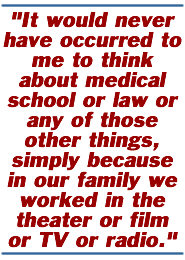 Nor was the work ethic put aside in the summer. Instead of carefree vacations, the Jory family would often do summer stock theater, with all four performing in the plays. Looking back, Jon Jory compares himself to any son who is raised with the expectation that he will enter the family business. "I don't think the world was exactly opened up as a set of options," he says. "It would never have occurred to me to think about medical school or law or any of those other things, simply because in our family we worked in the theater or film or TV or radio."
When it came time for college, Jory tried to follow his sister (Jean Jory Anderson) to the UW but was turned down ("My high school career was checkered," he says). He attended the University of Utah, did a stint in the Army and then attended Yale, but never actually earned a degree. Characteristically, he quit to go to work—as co-founder (with Harlan Kleinman) of the Long Wharf Theatre in New Haven.
It was 1965, the beginning of a new era in theater, when what came to be known as regional theater proved that not all the talent in the country was centered in New York City. The Tyrone Guthrie Theatre had been founded in Minneapolis in 1963, adding the cachet of a big name to the efforts already under way in cities like Houston and San Francisco. Jory was in the thick of it at Long Wharf, helping to mount a 1965-66 season that played to 85 percent of capacity.
But success was short-lived. Competition with a newly revived Yale Theatre under Robert Brustein brought financial problems to Long Wharf, and Jory was ultimately fired.