"That experience colored the direction his career took and how he approached the theater," says Alexander Speer, Jory's partner at Actors Theatre. "Jon was the artistic director at Long Wharf; his co-founder was the business manager. But the board fired Jon because of a fiscal problem. So when he came to Louisville, Jon became very interested in the fiscal end of the operation, and for that reason he was a marvel to work with. He wanted to know how each show was doing, whether departments were over or under budget, everything."
Speer was the business manager at Actors Theatre when Jory arrived in 1969. "He reported to the board and I reported to him," is how Speer describes the situation. But over time, the two worked so closely together that their relationship became an equal one; Jory always refers to Speer as his partner.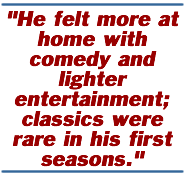 Both men were barely out of their 20s at the time, running a theater that had been in existence for five years and had only recently seen the departure of its founder. The Actors Theatre company was performing in a converted railroad station that seated 350 and Louisville was a relatively conservative city without a large theater following.
Jory's hiring signaled the beginning of a new era for Actors Theatre. In his definitive book on regional theater, Joseph Wesley Zeigler describes Jory as "much more of a showman" than his predecessor. "He felt more at home with comedy and lighter entertainment; classics were rare in his first seasons, which were leavened by such old-time crowd-pleasers as Tobacco Road, Charley's Aunt, Our Town and even Angel Street."
Furthermore Zeigler writes, Jory was "much more of a huckster" too. He describes the director's efforts to do industrial shows during the theater's "dark" months, as well as his offbeat promotional campaigns.
By 1972 the company had moved to new quarters housing both a 637-seat main theater and a 159-seat arena space named the Victor Jory Theatre in honor of Jory's father, who performed at Actors Theatre annually. The audience had grown from a few hundred subscribers to 9,000. But the theater was still, in Speer's words, "a small theater in a small city, not well known outside of Louisville."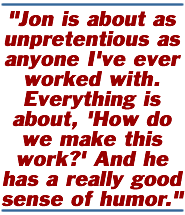 That changed when the board asked the two to write a long-range plan and they tried to think of what would put the theater on the map. "Jon knew it was hard for new playwrights to get a start, so it was his idea to sponsor a new play festival," Speer says.
That festival, initiated in 1976, was an instant success and has launched the careers of many playwrights. Richard Dresser, for example, has had five plays (Alone at the Beach, Below the Belt, Gun Shy, What Are You Afraid Of? and Wonderful World) produced at the festival, and calls Jory "a very important person in my life."
Dresser credits Jory with helping him polish his scripts without imposing his own ideas. "When we talked about it, I never felt like anything was coming down from on high," Dresser says. "In fact, Jon is about as unpretentious as anyone I've ever worked with. Everything is about, 'How do we make this work?' And he has a really good sense of humor."
The Humana Festival—as it is known because of its corporate sponsorship—developed into the leading new play festival in the country, its productions reviewed in the New York Times. Three of those productions—The Gin Game (1978), Crimes of the Heart (1981) and Dinner with Friends (1998)—won the Pulitzer Prize for Drama.