Extras
BILL BISSELL
1931-2001

Bill Bissell, who directed the University of Washington Husky Marching Band for 24 years and helped create the sporting event staple known as "The Wave," died Dec. 19 at his Bothell home. He was 70.
Under Bissell's leadership, the Husky Marching Band, which he directed from 1970-1994, earned a reputation for innovation, showmanship and humor.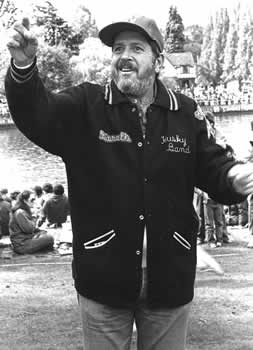 ---
Bill Bissell, 1931-2001.
---
Bissell is credited, along with former yell leader Robb Weller, '72, with introducing "The Wave" to college football in 1981. He also made the song Tequila synonymous with Washington football and Hey Baby with the Husky women's basketball team.
Renditions of Louie, Louie and Tequila were part of Bissell's imaginative halftime shows. One of the renowned showmen among college band directors, Bissell also devised halftime routines in which the band recreated the eruption of Mount St. Helens.
"The band reflected Bill Bissell's personality," says Garry Nakayama, a former assistant to Bissell and now the band's official photographer. "Its spirit was his spirit." As many smiling Husky fans might recall, when the band received new uniforms in 1977, the members shed their old ones at halftime to the tune of The Stripper.
Born in Dunsmuir, Calif., and raised in Ashland, Ore., Bissell received his bachelor's degree in music education from Willamette University and a master's in music from the University of Illinois. He came to the UW in 1970 as an assistant professor of music and led the band until his retirement in 1994.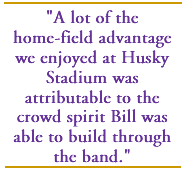 A recipient of a Citation of Excellence from the National Band Association in 1981, he was presented with the Don Palmer Award, given to a distinguished member of the Husky athletics community, at the 1994 Husky Hall of Fame Celebration.
"A lot of the home-field advantage we enjoyed at Husky Stadium was attributable to the crowd spirit Bill was able to build through the band," says former Husky football player and longtime coach Jim Lambright, '65.
Bissell is survived by his wife, Shirlee, and two children, Bruce and Sherry. Sherry is married to longtime Husky equipment manager Tony Piro.
A memorial service was held Jan. 6-it was scheduled then so as not to conflict with the Husky football team's appearance in the Dec. 28 Holiday Bowl. Bissell, his son says, would have wanted it that way.
-Jon Marmor