Briefings
Computer Science Building named for Microsoft Co-Founder Paul Allen
The University of Washington could face an $18 million cut in state funding for 2002-03, but part of the damage might be offset by rising tuition, especially if the Board of Regents is allowed to set rates for all students.
Faced with a $1.2 billion deficit in the state budget that may grow by $300 to $400 million, Gov. Gary Locke proposed a 5 percent cut at four-year higher education institutions-about $18 million for the UW. The governor would preserve $3 million already set aside to increase UW student enrollments in the fall but delay a 2.6 percent pay increase for faculty and staff for three months.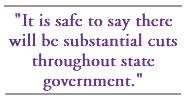 Lawmakers are currently meeting in Olympia to consider the governor's proposals and write their own state budgets. While the final numbers may change, "It is safe to say there will be substantial cuts throughout state government," says UW Government Relations Director Dick Thompson, '68.
At the center of the debate is Locke's tuition plan, which takes rate-setting power from the Legislature and gives it to the regents at both UW and WSU. The governor's plan also includes an increase in state financial aid to soften the blow to low-income students.
Locke also requires state colleges and universities to guarantee students who file four-year academic plans that they will graduate on time. If schools do not live up to the timeline, the student can enroll in the remaining classes for free.
Faced with declining state support, President Richard L. McCormick has advocated a "high tuition, high financial aid" model for UW tuition for several years. Currently in-state, undergraduate tuition and fees at the UW are $3,983. The average at the UW's 24 peers institutions is $4,648.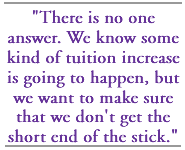 McCormick feels increased financial aid is vital in any tuition plan. He told the regents in January, "Whatever happens to tuition, access to this university must be maintained." Tuition was already set to go up 6 percent for 2002-03. Locke's plan includes enough state financial aid to cover an additional, 10 percent hike, which is encouraging to UW officials. "The state has to be part of the financial aid solution on an ongoing basis," says Thompson.
But students are strongly opposed to regents having unlimited authority to raise tuition. At a January regents' meeting, ASUW President Danica You said, "There is no one answer. We know some kind of tuition increase is going to happen, but we want to make sure that we don't get the short end of the stick."
A recent Lumina Foundation study found that the UW is not affordable for low-income families, added ASUW Legislative Liaison Paul Vronsky. He noted that in states where regents set tuition, the rates are the highest; where legislatures set tuition, the rates are the lowest. Lawmakers are accountable to the public, he told the regents, "but what's going to stop you from raising tuition 20 percent across the board?"
While sympathetic to student concerns, Thompson notes that there are many affluent families who send their children to the UW. "The current system is regressive. There are many people here who could afford to pay substantially more. Low tuition is a subsidy for those with a higher income," he says.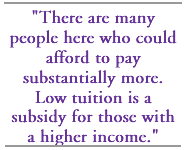 Although UW officials and students are divided over the tuition plan, the UW community is relatively united on two labor proposals under consideration in Olympia. Thompson says he is "quite optimistic" that legislation enabling the UW to grant exclusive bargaining rights to a TA union will be passed in this session. The union, GSEAC/UAW, struck the UW at the end of Spring Quarter 2001 over obtaining exclusive rights. It was the first time in UW history that teaching assistants had gone on strike.
Another labor bill would grant faculty at all four-year state institutions the right to form unions and collectively bargain. Currently, faculty at public universities are excluded from bargaining rights that cover other state employees. Both the UW administration and the faculty senate favor the current legislation.
The session is scheduled to end March 14. Now that both houses in the Legislature are controlled by the same party-the Democrats-lawmakers are more likely to adjourn on time, Thompson explains. For more information about legislative proposals affecting the UW, contact the Office of Government Relations at (206) 543-7604, e-mail govrel@u.washington.edu.