Briefings
New Computer Science Building Named for Microsoft Co-Founder Paul Allen
Investor and philanthropist Paul G. Allen has given $14 million to the University of Washington to ensure the completion of a new facility for the university's nationally ranked Department of Computer Science and Engineering, officials announced Feb. 19.
---
Microsoft co-founders Bill Gates (left) and Paul Allen reminisce at the UW President's House during the Feb. 19 announcement that the UW's new computer science and engineering building will be named after Allen. Photo by Mary Levin.
---
The Paul G. Allen Center for Computer Science and Engineering, currently under construction next to the Electrical Engineering Building and the Sylvan Theater, will more than double the space available for the program when it opens in summer 2003.
Sixty percent of the funding for the project is being raised privately. Other major donors include Allen's boyhood friend and Microsoft co-founder Bill Gates (through the Bill and Melinda Gates Foundation), Microsoft Corp. itself, and several dozen individuals and organizations from the region's technology and venture capital communities.
"Bill and I got a big part of our start in computer science at the University of Washington when we were still students at Lakeside School," Allen said. "UW Computer Science and Engineering is an engine of opportunity and we want to help make sure it's an even more cutting-edge resource for the coming generation."
President Richard L. McCormick called the gift a generous investment in the region's educational and economic future. "Paul's gift, as well as the gifts from the Gates Foundation, Microsoft and our other supporters will pay dividends for the entire state far into the future," he said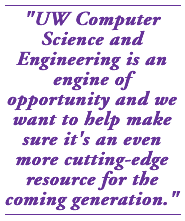 Ed Lazowska, the Bill and Melinda Gates Chair in Computer Science and head of the department from 1993 to 2001, agreed, saying the gift will provide the means to keep the UW program among the nation's best.
"I'm incredibly grateful to Paul, to Bill and the Gates Foundation, and to all our other donors for providing us with the tools to remain competitive," Lazowska said. "We're consistently ranked among the top 10 programs in the nation at both the undergraduate and graduate levels, but we've been operating with less than half the space of comparable programs at a time when the field is becoming more laboratory-intensive and student demand and intellectual opportunity are greater than ever."
The building will provide 75,000 square feet of new space for the Department of Computer Science and Engineering and an additional 10,000 square feet of space for the university's Department of Electrical Engineering. Laboratory space for computer science and engineering will triple.
Allen's gift brings the total in private support for the building to $37 million. That, with $30 million in institutional and state money, puts the $72-million building within reach of its goal.