Our Back Pages
The Dream Season
Of the myriad highlights in the long history of the storied University of Washington football program, one of the sweetest just turned 10 years old. It was in January 1992 when the Huskies were voted a share of their first national collegiate football championship after closing out a 12-0 season with a 34-14 trouncing of No. 3-ranked Michigan in the 1992 Rose Bowl.
The Huskies were awarded the top spot in the CNN/USA Today coaches poll (in addition to several other publications), while Miami (which beat Nebraska 22-0 in the Orange Bowl to finish 12-0) was ranked No. 1 in the final Associated Press poll of sportswriters.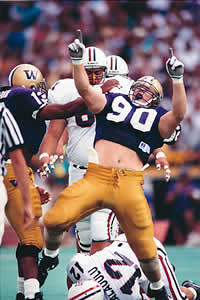 ---

"Husky lineman Steve Emtman celebrates a tackle in a 1991 victory over Arizona. Photo by Mark Harrison, copyright 1991 Seattle Times

---
What made the 1991 Huskies stand out was a rare convergence of the crucial elements that spell big-time success on the field: size, experience, speed, talent, leadership and chemistry. With many key players back from the excellent 1990 team-which went 10-2, was ranked No. 5 in the nation and came within a heartbreaking 25-22 late-season loss to UCLA of winning its own national title-the 1991 edition was primed for its chance at glory.
But there was one serious problem-starting quarterback Mark Brunell had undergone knee surgery and was likely to miss most of the season. The reins were handed to unproven backup Billy Joe Hobert, but he stepped in and led the Huskies to two impressive season-opening wins on the road, 42-7 over Stanford, and one of the biggest Husky wins ever, a stunning, come-from-behind 36-21 victory at Nebraska.
"I knew after the Nebraska game that we had a chance to go into every game favored to win," recalls former coach Don James, who guided the '91 Huskies. "We might not have won every game, but no one had more talent than we did. No one."
He wasn't kidding. Of the more than 100 players on the roster, 28 later played in the NFL and eight more played in other professional leagues. A dozen more attended pro football training camps, and five were first round draft picks, including the NFL's top choice overall, Husky defensive tackle Steve Emtman, who won the Outland Trophy and Lombardi Trophy as the nation's best college defensive player.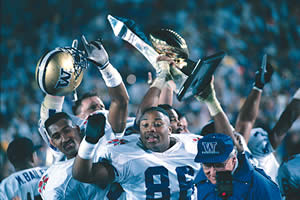 ---

Don James dodges a photographer's camera as players celebrate their 1992 Rose Bowl victory over Michigan. Photo by Irene Fertik.

---
But talent was only one part of the equation. "We had great chemistry and a goal in mind," says Brunell, '93, who came back from his injury to throw a touchdown pass in the '92 Rose Bowl win over Michigan. "Every player on the team set out to do it. It was a really special team."
With one exception- a 24-17 victory over California-the '91 Huskies simply overpowered everyone they faced. Their defense allowed only 67.1 yards and 9.8 points a game while the offense averaged 42.1 points a game. The 1991 Huskies trailed opponents only five times all season. And they set 10 school records, including most total yards, most first downs, most touchdowns and most touchdown passes.
"It was really incredible," recalls Brunell, now the starting quarterback for the NFL's Jacksonville Jaguars. Adds James, who coached the Huskies from 1975-1992 and led the team to six Rose Bowls, "The first Rose Bowl team [1977], when we started 1-3 and then won the Rose Bowl was memorable, and there were other great games and teams. But start to finish, this was the best."
-Jon Marmor