ALUMNOTES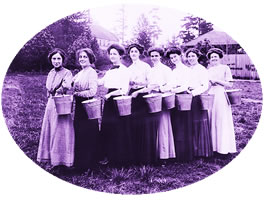 ---

Eight coeds from the 1910s line up in this unidentified photograph. They may have been part of the May 1st Campus Day work parties that took place under the direction of Professor Edmond Meany each year. Photo courtesy Special Collections, University Libraries.

---
1930 Phil DeLacy, '32, '33
Oak Harbor, and his wife, Estelle, celebrated their 65th wedding anniversary on Dec. 19.
John E. Newstrom, '34, '36
Medford, Ore., recently celebrated his 66th wedding anniversary with his wife, Virginia. After getting his master's degree in chemical engineering, he went to work for Standard Oil of California in 1935 and retired in 1974 as manager of corporate organization and compensation. He and Virginia have four children, four grandchildren and two great grandchildren.
Lloyd Joseph Knutson, '35
Tacoma, is working on a project to honor Army Capt. Herman Bottcher, who was killed in World War II. Knutson was on the UW varsity swimming team in 1932.
Gordon Martin, '41
Seattle, a forestry major and member of the NROTC, recently visited the Navy Memorial in Washington, D.C., for the first time with his wife, Dorothy, and calls it a truly inspiring experience. He urges people to see www.lonesailor.org for more information.
Richard C. Trudeau, '42
Lafayette, Calif., had a new training center in the East Bay Regional Park Dist. named after him. Trudeau was the district's general manager for 22 years.
Janet Walker Van Kessel, '48
Sonora, Calif., reports that her daughter, Katherine, is now on the faculty of the UW School of Medicine's Dept. of OB-GYN.
Attention, Class of 1952 We need volunteers to join the committee that will plan your 50th class reunion during Homecoming Weekend Nov. 1-3. We need your input on what activities to stage and to contact your classmates to attend the reunion. If you are interested in serving on the 50th Class Reunion Committee, contact Suzanne Mercier at 1-800AUW-ALUM.
Alberta Birdie Wilkinson, '52
Tempe, Ariz., works at Chase Bank and raises American Bashkir Curly horses. She has two sons and three grandchildren.
Charles C. Wynn, '52
San Rafael, Calif., has been elected to the board of directors of San Francisco Habitat for Humanity. He is also involved in the restoration of Red Oak Victory, a World War II freighter launched in 1944 at Kaiser's Richmond, Calif., shipyard.
Beatrice Harrison Zuluaga, '52
Victoria, Australia, has moved from Louisiana to Australia to do Ph.D. nursing research at the University of Melbourne. A lifetime member of the UWAA, she is retired from teaching.
Grant Winther, '53
Bainbridge Island, is completing his 14th year as a volunteer backcountry ranger at Olympic National Park. His wife, Barbara, is working on a new book for the Puget Sound Environmental Learning Center on Bainbridge Island.
Phillip McCracken, '54
Anacortes, is an artist whose work was featured recently in solo exhibitions in Port Angeles, Seattle and at the UW.
Paul Eric Bruns, '56
Titusville, Fla., and his wife, Patricia, still live in Florida "although feeling rather ancient." He was a Weyerhaeuser Fellow at the UW in 1950-51 and helped organize the Puget Sound Section of what is now the American Society of Photogrammetry and Remote Sensing, a lifetime academic interest. He retired from the Univ. of New Hampshire in 1980.
Richard R. Lentz, '57
Seattle, was the founder and CEO of Britannia Sportswear (1970-1980), Union Bay Sportswear (1981-1990) and Fast Clothing Co. (1990-1996) before retiring because "I got bored." He came out of retirement to work for Coldwell Banker Bain. He and his wife, June, have three daughters and six grandchildren.
Jay D. Decker, '57, '60, '64
Seattle, is an affiliate associate professor in the UW School of Dentistry's Dept. of Orthodontics. He received a grant from the American Assoc. of Orthodontists Foundation to study alveolar bone changes during tooth movement.
Charles E. Doan, '57
Seattle, lectures at the UW on international business and mentors graduate student groups engaged in international business development projects. An industrial engineer for Boeing for 14 years, he has run an international consulting firm for the past 10 years. He and his wife have five children and three grandchildren.
Roy A. Peratrovich Jr., '57
Bainbridge Island, retired in 1999 from his consulting engineering firm, Peratrovich, Nottingham and Drage, after more than 40 years as a professional engineer. He is now enjoying a second career as a bronze sculptor. You can visit to view his sculptures.
Dale E. Brooks, '59
La Quinta, Calif., retired from Chevron Corp. in 1992. He owns homes in La Quinta and Truckee, Calif., is president of the Citrus Course Home Owners Assoc., and is a cancer survivor of four years.
Robert W. Jones, '59
Moscow, Idaho, received the Jim Lyle Award in April from the Univ. of Idaho Alumni Assoc. for his loyalty, volunteerism and service to the University.
Linda Nelson Bollinger Olson, '59, '64, '86
Tacoma, retired after 37 years teaching psychiatric nursing at the UW and at Pacific Lutheran Univ. in Tacoma. She enjoys traveling and her grandchildren, and would welcome contact from her former classmates and nursing colleagues.
You must be a member of the UW Alumni Association to be listed in the Alumnotes section. To join, call (206) 543-0540 or 1-800-AUW-ALUM, or visit UWalum.com on the Web.
Roy M. Caviezel, '60
Sumner, retired in November after 34 years with Morgan Stanley Dean Witter. He was vice president of investments.
Darryl N. Johnson, '60
Bangkok, was appointed by President George W. Bush to serve as the U.S. Ambassador to Thailand. This is his second ambassadorship-his first was to Lithuania 10 years ago. He served as director of the American Inst. in Taiwan, an agency that handles U.S. dealings with Taiwan. He has been in the foreign service for 36 years, following a stint in the Peace Corps in Thailand many years ago. He and his wife plan to retire to Seattle after their time in Thailand.
Harry A. Sutliffe, '60
Dana Point, Calif., is executive director of the after-school enrichment program for the Capistrano Unified School Dist. in Orange County.
Anthony Kopay, '61
Camano Island, retired in January after 23 years with Willamette Industries. Before that, he was an assistant football coach at UCLA, Missouri and Oregon State.
Becky L. Sisley, '61
Eugene, Ore., was elected into the National Masters Track and Field Hall of Fame. She holds national records for the javelin, high jump and triple jump, and world records in the pole vault.
Dennie Crowe, '62
Spokane, is in his 38th year of teaching English and his 26th year at North Central High School in Spokane. His three daughters and one son-in-law have degrees from the UW. "We love being Huskies in Cougar country," he writes.
Linda Good, '64
Langley, was named a "Hometown Hero" by the South Whidbey Record newspaper. She is a member of many community organizations on Whidbey Island.
Robert S. Carter, '65, '72
Renton, has been promoted to the position of technical fellow at Boeing. He received his Ph.D. in physics from the UW and has been working in the field of electromagnetics technology at Boeing. He has supported military and space programs and is currently assigned to the F-22 fighter program.
Mary Ann Nelson, '65
Cheney, retired from Eastern Washington Univ. She was an English professor there for 30 years.
Elizabeth Lane Furdell, '66
Jacksonville, Fla., is a professor of history at the Univ. of North Florida and publishes extensively about British history. Her latest book, The Royal Doctors: Medical Personnel at the Tudor and Stuart Courts, was published last year.
Judy Morton, '67, '91
Bellevue, was appointed to the 2001 Board of Examiners for the Malcolm Baldridge National Quality Award. She is VP of quality integration and improvement for Swedish Health Services.
Howard Kenison, '68
Denver, was elected vice chair of the Great Outdoors Colorado Trust Fund Board, which allocates Colorado Lottery proceeds. A Denver environmental lawyer with Lindquist and Vennum, he serves as counsel to the Northwest Parkway Public Highway Authority, providing advice on environmental laws affecting the $410 million project. He graduated from the Univ. of Denver College of Law in 1972.
Gwendolyn J. Dewey, '68, '84
Puyallup, served as a school administrator for the Puyallup School Dist. from 1973-1996. She completed her doctor of ministry from Eastern Baptist Theological Seminary in 2001 and is an academic dean for the Trans Pacific Alliance.
Larry Olsen, '68
Prosser, is chairman of the board of Washington State Apple Commission and on the board of directors for the Prosser Scholarship Foundation. He and his brother Richard, '65, own 1,800 acres of apples, grapes and hops in Eastern Washington.
Jean Marilyn Gregory, '70, '72
Seattle, is a special education teacher for deaf and hard of hearing children at Eckstein Middle School in Seattle.
Michael L. Olver, '72
Seattle, has been elected president of the Washington Chapter of the Natl. Academy of Elderlaw Attorneys for 2002. He practices law at Merrick and Olver in Seattle.
William M. Gladsjo, '73
Renton, is in his 43rd year in education. After teaching for 10 years, he was a principal for the past 32 years. Currently, he is a director in the Renton School Dist. He and his wife, Vicki, have nine children.
Kathi Knowles, '73
Seattle, is founder and executive director of the Health Information Network, which has raised awareness about HIV/AIDS and other sexually transmitted diseases for 20 years. It was the first non-profit, non-governmental agency in the state to educate health-care workers about HIV/AIDS.
Mark Simpson, '74
Seattle, is a principal of Bumgardner, a Seattle design firm that won a national design award. The firm donated its prize-a $10,000 scholarship-to the UW.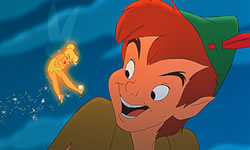 ---
Temple Mathews, '76, wrote the screenplay for the new Disney movie, Return to Neverland
---
Temple Mathews, '76
Calabasas, Calif., wrote the screenplay for the movie Return to Neverland, which was released by Disney in February. He previously co-wrote the screenplay for The Little Mermaid II-Return to the Sea.
Robert J. Rogers, '77
Beverly Hills, Calif., is a board-certified physician in anesthesiology and internal medicine. An attending physician at Cedars-Sinai Medical Center in Los Angeles, he is on the volunteer faculty at UC Irvine Med. Ctr. and received the Distinguished Alumnus Award from the Chicago Medical School Alumni Assoc. in 2000.
Carol Scott-Kassner, '77
Federal Way, was awarded the Mortar Board National Alumni Achievement Award. An international expert in music education, she is the co-author of Elementary Music Texts for Grades K-2, the nation's leading elementary school music textbook series, published by Silver Burdett Ginn.
John McKay, '78
Seattle, was sworn in as the U.S. Attorney for the Western District of Washington in October. He had been president of the Legal Services Corp., a Washington, D.C.-based agency that ensures equal access to justice under the law for low-income Americans.
Kiran Bhatt, '79
Anaheim, Calif., had her poem, Apocalypse, included in Best Poems & Poets of 2001.
Marcia L. Cressel, '79
Du Pont, is a claims adjuster for State Farm Insurance. She and her husband have three sons.
You must be a member of the UW Alumni Association to be listed in the Alumnotes section. To join, call (206) 543-0540 or 1-800-AUW-ALUM, or visit UWalum.com on the Web.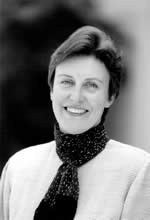 ---
Catherine Babcock, '81.
---
Catherine Babcock, '81
Altadena, Calif., is director of marketing and communications at the Music Center in Los Angeles. The three-theater complex, which is one of the three largest performing arts organizations in the nation, will expand in 2003 to include the Walt Disney Concert Hall.
Robin Shapiro, '81
Seattle, has a full-time psychotherapy practice. She often accompanies her husband, Doug Plummer, on travel photo shoots. His first New York fine art exhibit was held in January.
David W. Lynn, '82
San Diego, works for Microsoft in Southern California. He and his wife, Kay, attend local UWAA events, "even though Kay is a Cougar," he writes.
Russell Murphy, '82, '90,
Issaquah, is president of the board of directors of Kirkland-based LightingUniverse.com, the largest online wholesale and retail Web site for commercial and decorative lighting. He is also VP of corporate development for Embedio, an embedded systems and applications company with headquarters in Fremont, Calif.
Jeff Hansell, '83
Mount Vernon, received the 2001 Builder of the Year Award from the Building Industry Assoc. of Washington. He owns Hansell Mitzel Homes of Mount Vernon.
Bruce Dorminey, '83
Paris, published the book Distant Wanderers: The Search for Planets Beyond the Solar System. Although he has a drama degree from the UW, he has spent the past 13 years as a print journalist, the past six as a science writer.
Kendall H. Moore, '83, '87
Seattle, has joined the Seattle law firm of Short Cressman and Burgess. He spent 10 years with the King County Prosecuting Attorney's Office as supervisor of the professional and construction services section of the county's finance department.
Phyllis Arn Zimmer, '83
Bellevue, received the Cutting Edge Award from the American College of Nurse Practitioners in February, recognizing her contributions to the nurse practitioner profession.
Kurt Imerman, '84
Seattle, is senior VP of East King County Commercial Banking in Bellevue for U.S. Bank.
---
Keith H. Neroutsos, '84.
---
Keith H. Neroutsos, '84
Seattle, is director of domestic gifts for World Vision, a Christian relief and development organization. He oversees distribution of merchandise donations across the U.S. He lives in Magnolia with his wife, Amanda, '90, and two daughters.
Juli Eflin, '85, '90
Muncie, Ind., was promoted to professor of philosophy and elected to chair the Dept. of Philosophy and Religious Studies at Ball State Univ. in Indiana.
Cheryl Jorgensen-Earp, '85, '94
Salem, Va., was named Virginia Professor of the Year by the Carnegie Foundation for the Advancement of Teaching and the Council for Advancement and Support of Education. She is an associate professor of communication studies at Lynchburg College.
George Taylor, '86
Renton, is president of Utilx Line Service Corp.
Samantha Blake, '87
Topanga, Calif., is a trial attorney with the U.S. Equal Employment Opportunity Commission's Los Angeles office.
Robert Yoder, '87
Seattle, received a $21,000 grant from the Pollock-Krasner Foundation. In March, he will have a solo show at Charles Cowles Gallery in New York City.
Christopher R. Ekstrom, '88
Silver Spring, Md., and his wife, Gretchen Fish Ekstrom, '89, have three children: Jonathan, 8; Michael, 6; and Kierstin, 3. Chris graduated with a Ph.D. in physics from MIT in 1993. After postdoctoral studies in Germany and Maryland, he accepted a permanent position at the U.S. Naval Observatory in 1996. He is in charge of the clock development division, where he works on atomic clocks and time keeping.
Lynn Kerr Beeman, '89
Bremerton, and her husband, Marty, welcomed their second child, Emily Grace, on July 19. She joins big sister Ashley. Lynn currently works as an on-call branch office administrator for Edward Jones in Bremerton.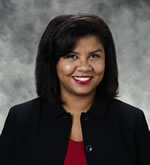 ---
Mary Louis, '89, '92.
---
Mary Louis, '89, '92
Seattle, was appointed to the Seattle Human Rights Commission in November and will serve on its Economic Justice Committee. She works with Windermere Real Estate.
Tamara Webber Matheny, '89
Bremerton, and her husband, Daryl, welcomed their third child, Zoie Lynn, on March 27. Zoie joins her brothers Shane, 5, and Chase, 2.
You must be a member of the UW Alumni Association to be listed in the Alumnotes section. To join, call (206) 543-0540 or 1-800-AUW-ALUM, or visit UWalum.com on the Web.
Whitney Marie Clarke, '90
Seattle, works at Eddie Bauer's corporate offices in Redmond as a project manager for the creative services department. She is also president of the Greater Seattle Area Chi Omega Alumnae Assoc.
Glenn Rumbaoa, '90
Los Angeles, works at Warner Bros. with feature film and TV contracts. Before that, he spent two years in music publishing and three years with Interscope, Geffen and A&M Records working with artist and producer contracts. A singer-songwriter, he fronts a seven-piece band and performs regularly at Los Angeles-area clubs. He is currently working on a CD.
Mitra Ehsan, '92, '96
Seattle, has moved back to Seattle with her husband. She is finishing a colorectal surgery fellowship in Seattle and looking for private practice options.
Diana Ishak, '93
Pasadena, Calif., is the proud mother of a beautiful 1-year-old daughter, Leila Nour.
Carol Bolt, '94
Seattle, had her third book, The Movie Book of Answers, published by Hyperion. The Seattle artist previously published The Book of Answers and The Literary Book of Answers.
Brett Esary, '94
Bellingham, was married on Sept. 8 and moved to Bellingham. He was promoted to VP of Esary Roofing and Siding, which will open offices in Seattle and Bellingham to complement existing offices in Burlington and the San Juan Islands.
Ron T. Martinson, '94
Kamuela, Hawaii, graduated from the Univ. of Hawaii Burns School of Medicine in 1998 and did his residency in family medicine in Ohio. He is now a board-certified family physician for Kaiser Permanente's Waimea Clinic on the big island of Hawaii. He was married to Julie Dixon on April 21, 2001.
Kristin N. Cooley, '95
Seattle, completed her master's degree in art history at the Univ. of Arizona. She and her husband relocated to Seattle after she finished her degree in December.
Ronda Larson, '95
Mercer Island, has joined the law firm of Lane Powell Spears Lubersky. She handles taxation and real estate law.
Mike O'Connor, '96
San Diego, is in his third year as an associate attorney at Grace Brandon Hollis, handling litigation. When not at the office or in court, he is usually busy traveling to Husky sports events. He is also an active member of the San Diego Husky Alumni Chapter.
Luzville Gascon, '97
Lynnwood, is engaged to Geoffrey Goebel, '97. They are planning a June wedding.
James Burdyshaw, '98
Seattle, was a volunteer staff member of the Irish Reels Film Festival in 2000 and 2001. As a major gifts specialist for the United Way of King County, he helps raise donations of $5,000 and more. He is also a freelance writer for Backfire Magazine, covering the Northwest music scene and alternative music in North America and Europe.
Rebecca McLain, '00
Portland, Ore., is founding partner of the Inst. for Culture and Ecology, a non-profit research institute that specializes in applying social science to solving natural resource problems. She is also the co-editor of Nontimber Forest Products in the United States, published by the Univ. of Kansas Press.
Attention former Washington Crew members
A reunion for crew members from '52, '62, '72, '82, and '92 teams will be held starting at 11 a.m. Saturday, March 30, in the new Dempsey Indoor Practice Facility east of Husky Stadium. The reunion follows the annual Class Day Regatta on Lake Washington. Visit www.huskycrew.com for more information.
You must be a member of the UW Alumni Association to be listed in the Alumnotes section. To join, call (206) 543-0540 or 1-800-AUW-ALUM, or visit UWalum.com on the Web.
---
Submit a Class Note
Tell us what major events have happened in your life: a new job, marriage, children, retirement, advanced degrees, you name it.

Submit an Obituary
Please let us know if a UW alumnus has died. Be sure to include date of death, place of death and age along with the UW class year (if known).

Update Your Records
Moving soon or know someone else who has? Let us know so that we can keep Columns coming to you.

Contact Information
Columns Magazine
1415 N.E. 45th Street
Seattle, WA 98105
Phone: (206) 543-0540
Fax: (206) 685-0611.
E-Mail: columns@u.washington.edu