Extras
Tony Softli
His title may have been intramural sports director at the University of Washington, but Tony Softli, '70, was so much more. After joining the UW athletic department in the early 1970s, Softli, a former Husky football player and track star, became a trusted adviser to many of the University's African-American athletes.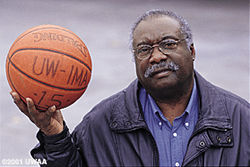 ---

Tony Softli. Photo by Jon Marmor.

---
"People knew me as the person to talk to if you had the blues," says Softli, who retired in December after nearly 30 years on the UW staff. "I was always here to listen. Hopefully, I was able to help someone along the line."
There's no doubt about that. Softli, a New York City native, joined the UW during the turbulent 1970s, when demonstrations and unrest ruled the campus. As one of the University's few African-American employees, he was someone black athletes turned to for help and guidance.
But his reach extended far beyond that. Besides overseeing an intramural sports program that served thousands of students over the past three decades, Softli served on numerous UW committees and as a mentor to many students. "I told my wife to get used to the fact that I might be home late to dinner a lot," he recalls.
Softli, whose dad was an Air Force electrical engineer, was destined for a sports-related career. An outstanding high school athlete, he came to the UW in 1957 as a redshirt sophomore member of Coach Jim Owens' Husky football team. Although he played sparingly on the football field, Softli set a UW school record in track and field with a long jump of more than 24 feet.
He left school before graduating to care for his wife and young son, working as a mechanic at Boeing, and taking night classes at the UW en route to his bachelor's degree. When he heard of an opening in the UW recreation department, he applied right away.
Over the past three decades, he has overseen a huge intramural sports program that serves tens of thousands of students every year in every imaginable sport. "Recreation is an absolute must for college students," he says. "Students need a place to burn off energy. A university without recreation is not providing a full education for its students. People expect recreation to be part of their education."
Softli is looking forward to getting a break from hearing basketballs bouncing, the excited yells of players and whistles blown by referees. But he will miss one faculty/staff intramural team called The Residuals, which he first got to know 30 years ago. Today, that team has many of the original team's children suiting up.
"That," Softli says, "shows I have been here a long time."
-Jon Marmor