Part Two - Not Much Help: Reporters Alone in Dealing with Trauma
Reporters' symptoms of traumatic stress are remarkably similar to those of police officers and firefighters who work in the immediate aftermath of tragedy, yet reporters typically receive little support after they file their stories. While public-safety workers are offered debriefings and counseling after a trauma, reporters are simply assigned another story.
The intersection of journalism and emotional trauma—for both victims and the journalists who flock to a scene of violence for interviews, photos and video footage—is key to the mission of the Dart Center for Journalism and Trauma, a new research and teaching program at the UW School of Communications. The center began in 1999 under Simpson's direction, with financial support from the Dart Foundation in Mason, Mich.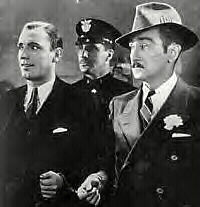 ---

Pat O'Brien (left) played tough reporter Hildy Johnson in the 1931 film The Front Page, an example of the cultural tendency to stereotype journalists as impervious to emotion.

---
"There's a cultural stereotype at work in a lot of newsrooms: the tough, macho reporter," Simpson explains. "Very little of what goes on in the newsroom makes it any easier to bear up under stress. You're not supposed to acknowledge anyone else's discomfort, you're not supposed to offer help. An admission about emotional trouble to management is perceived as a sign of weakness."
The tendency of TV news, radio stations and newspapers to report on interpersonal violence, bombings, fires and disasters has generated controversy and inquiry. The Rocky Mountain Media Watch, in a 1995 survey of TV newscasts in 58 U.S. cities, found that crime stories dominate the content on local stations, with one in Louisville devoting nearly 85 percent of its news to crime stories.
"Research has shown that beginning a newscast with a violent story engages the viewer," Simpson says. "Violence is the currency of competition. The media are more likely than ever to cover violent events: human conflict, blood, injury and death. Who are the victims and how did they act?"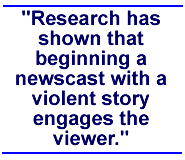 Given the media's emphasis of covering violence, Simpson and fellow researchers have begun to look at what can be done to improve this coverage and the ways trauma affects the journalists who report it.
Simpson's interest in journalism and trauma was triggered in the late 1980s when he invited a counselor from Seattle Rape Relief to talk with students in his ethics in journalism class. Until then, learning about emotional trauma and post-traumatic stress disorder—the disturbing physical and emotional re-experience of trauma after a tragic event—was not part of journalism training.
"We began to look at interviews as sequences of actions by reporters and responses of trauma victims that reporters need to understand," Simpson says. "Most victims can talk and will talk, but reporters had never been alerted to the subtleties of victims' responses."
Go To: Page 1 | Page 2 | Page 3 | Page 4