Milestones
UPDATES
The Lambright Medical Research Foundation, represented by Jim, '65, and Lynne Lambright, donated $200,000 to the UW School of Medicine in January to support research on Niemann-Pick Type C disease.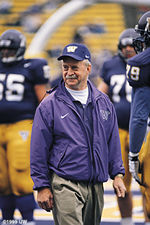 ---

Jim Lambright, '65. Photo courtesy UW Sports Information.

---
Jim Lambright was the Husky football coach from 1993-98; two grown sons of his wife, Lynne, have the rare disease. Niemann-Pick C disease is an inherited neurological disorder caused by a recessive gene. Individuals with the disease are unable to metabolize cholesterol, which accumulates in the liver, spleen and brain, causing progressive deterioration of the nervous system. For a review of Lambright's career, see "Sudden Impact," March 1999.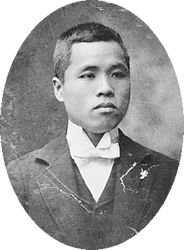 ---

Takuji Yamashita, 1902. Photo courtesy of the Takuji Yamashita Photograph Collection, University of Washington Libraries.

---
The Washington Supreme Court is scheduled to award honorary membership in the Washington State Bar posthumously to Takuji Yamashita, a 1902 UW law school graduate who was prevented from practicing law because of his Japanese nationality. The ceremony, to be held March 1 in Olympia, is part of a series of events commemorating the 100th anniversary of the UW School of Law. See "A Civil Action," December 2000.
HONORS
Education Professor James A. Banks, director of the Center for Multicultural Education, has been elected to membership in the National Academy of Education. Membership in the Academy is "limited to 125 persons whose accomplishments in the field of education are judged outstanding."
Emma Brunskill, '00, a computer engineering graduate, was one of 32 Americans selected in December for the prestigious Rhodes scholarships, which provide for two or three years of study at Oxford University in England. Brunskill, 21, entered the UW at age 15, and has worked on six research projects in the departments of computer science, physics, geophysics and chemistry. Brunskill is pursuing graduate studies at MIT, where she will continue until late spring before heading to England. After two years at Oxford, she plans to return to MIT to complete a doctorate. She is the first UW graduate to become a Rhodes scholar in 20 years. "Emma has more promise than any other student I have encountered in my 23 years at the University of Washington," says Computer Science and Engineering Chair Ed Lazowska. "She is literally the best I have known."
Lee Copeland, '60, UW architectural adviser and consultant on the UW Master Plan, has been awarded the Topaz Medallion for Excellence in Architectural Education by the American Institute of Architects and the Association of Collegiate Schools of Architecture. Copeland joined the UW faculty in 1964 and was dean of the College of Architecture and Urban Planning from 1972-79. He left Washington in 1979 to become the dean architecture and urban planning at the University of Pennsylvania, where he taught until 1991. He then returned to Seattle and established the firm Weinstein Copeland Architects. In his role as UW architectural adviser, Copeland has worked on the draft for the University's new master plan, which would add 3 million square feet of space to the Seattle campus over the next decade.
UW Tacoma Professor Michael Honey received the 2000 Murray Morgan Prize Jan. 16 for his book, Black Workers Remember: An Oral History of Segregation, Unionism and the Freedom Struggle. The prize is given annually by the Tacoma Public Library to an outstanding Washington author in recognition of a work that is of high literary quality and wide interest. Previous winners include Jack Nisbet, Sherman Alexie, Jonathan Raban, Peter Bacho and Gary Kinder.
Drama Professor Jon Jory was inducted into New York's Theater Hall of Fame Jan. 29. He is only the third regional theater artist to be so honored. From 1969-2000, Jory was producing director at the Actors Theatre of Louisville. The award-winning director has been responsible for the production of 267 new works, directing 31 world premieres, including Getting Out by Marsha Norman, Crimes of the Heart by Beth Henley, and Talking With and Keely and Du by Jane Martin.
The University of Washington won a 2000 Diamond Ring Award Jan. 18 from Commuter Challenge, a non-profit organization that helps King County employers reduce employee commute trips. The award recognizes organizations for their "consistent year-after-year outstanding leadership in expanding already impressive programs to reduce employee commute trips." The UW's U-PASS program, launched in 1991, has cut by 12 percent the number of vehicles coming to campus during the morning peak period. Trips leaving campus in the peak evening hours are down 4 percent.