Guthrie, Gospel, Gumption
Protest Music Heard in UW Tacoma Series
From the beginning of American history, the downtrodden and oppressed have sung of their discontent. African-American slaves, poor white mountaineers, labor organizers, women working in textile mills, Chicano farmworkers and Native American fishers have always used song to bring voice to their standing at the bottom of the social and economic pyramid.
UW Tacoma Professor Michael Honey will explore this form of musical expression when he conducts a performance-and-lecture series at 5 p.m. on Thursday nights from April 5 to May 23 at the Washington State History Museum, 1911 Pacific Ave., in Tacoma.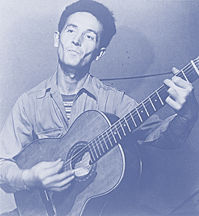 ---

Folksinger Woodie Guthrie in 1940. Photo by Sid Grossman, courtesy Woody Guthrie Archives.

---
It is co-sponsored by the UW Tacoma Alumni Association and UW Center for Labor Studies in partnership with the Washington State History Museum, the Pierce County Labor Council and the Northwest Folklife Festival. Admission is free to the Thursday evening performances and to the museum as well.
Honey's "course," called "Black, Labor and Protest Music in American History: Woody Guthrie, People's Music, and the American Experience," is being held in conjunction with a traveling Smithsonian Institution exhibit, "This Land is Your Land: The Life and Legacy of Woody Guthrie" which opens March 24 at the museum.
Honey, the current holder of the UW's Harry Bridges Chair in Labor Studies, is famous for using songs while teaching history, African-American studies and labor topics. He loves to use music as oral history to tell the stories of working-class and poor people in American history.
"Most poor and working-class people have not been elected to office, do not write the newspaper stories and editorialize on the news, they don't run the courthouses, and their voices are often missing from history," Honey explains. "Yet their songs, a form of oral history, tell a rich story."
The course consists of a series of public performances and lectures at the museum featuring regionally and nationally renowned musicians who perform in the tradition of Guthrie and other luminaries, as well as comments and a few songs from Honey.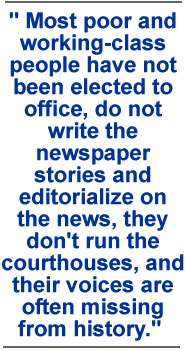 Musicologist John Greenway, in his classic book American Folksongs of Protest, observed that "from the earliest periods of American history the oppressed people forming the broad base of the social and economic pyramid have been singing of their discontent. What they have said has not always been pleasant, but it has always been worth listening to."
The programs are: April 5 - "Looking for a Better World: Spirituals and Gospel Music," featuring Pat Wright, director of Seattle's Total Experience Gospel Choir. April 12 - "Every Day I Have the Blues," featuring Chic Streetman, a guitarist and singer. April 19 - "Freedom Struggles Through Music," featuring Alabama singer Bettie Fikes. April 26 - "Music of Labor Struggle," featuring UW Tacoma professors Honey and Steve DeTray performing the work of labor troubadours Joe Hill and Woody Guthrie. May 3 - "The Life and Legacy of Woody Guthrie," featuring Robert Sentelli, deputy director of the Experience Music Project. May 10 - "Vaguely Reminiscent of the '60s," featuring performers Charlie King and Karen Brandow. May 17 - "The Mosaic of Labor and Protest Music," featuring Rebel Voices, a Seattle singing duo.
Honey and DeTray will fill in with stories and songs during all performances. The Smithsonian's Guthrie exhibit at the museum draws from rarely seen objects and film footage, original artifacts, folk art and illustrations to reveal the complexity of a man who has been described as a poet, musician, protestor, idealist, hobo and folk legend.
For more information on the UW Tacoma lecture series, call (253) 692-5771. For information on the Washington State History Museum, including hours and admission rates, please call 1-888-BE-THERE or check the Web site.