Briefings
Top Alumni Gift Funds Business, Athletics
A $10 million gift by Neal Dempsey, '64, and his wife Janet, to support academics and athletics is the largest alumni gift ever to the university, the UW announced Jan. 25. The gift follows a $3 million donation the couple made earlier this year.
Half of the $10 million donation will go to the Business School's Program in Entrepreneurship and Innovation (PEI), which will use the endowment to launch major research into the very nature of innovation and to boost interaction between students of business and science. "It's going to be the No. 1 entrepreneurship program in the country, if we do things right," Neal Dempsey said.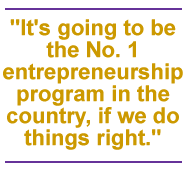 The other $5 million, earmarked for intercollegiate athletics, will provide scholarships ($1 million), refurbish the Conibear Shellhouse, which also houses the Student-Athlete Life Center ($1 million), and help fund a multi-sport indoor practice facility ($3 million). The practice center will open this summer as Dempsey Indoor.
"The goal is to help student-athletes, and I have a great admiration for them," Neal Dempsey said. "Very few will go on to careers in professional sports, and we need to make sure that their academic needs are met."
The Business School's Program in Entrepreneurship and Innovation is already well known for its PEI Business Plan Competition, which in three years has awarded more than $155,000 in seed money to fledgling business creators (See "Frisky Business," Sept. 1999). Michael Song, the program's director, said the Dempseys' gift will transform research and teaching. Business and engineering professors will join to help students combine technological breakthroughs with solid financial plans. A resource database will offer crucial information to founders of new companies.
"We want to be the leading national center of innovation research," Song said. "And Neal is a visionary who sees what we must do to get there."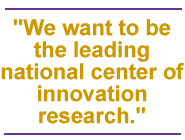 Neal Dempsey serves on four campus bodies: the UW Foundation Board, Business School Advisory Board, Program for Entrepreneurship and Innovation Board and Tyee Board, which advises the athletics department. Dempsey also served on the committee for the UW's Campaign for the Student Athlete, and this latest gift to Husky athletics helped make the campaign a success. To date, the overall fund-raising effort has generated $84 million toward a goal of $95 million.
Dempsey, 58, said his position as a partner in the Silicon Valley venture capital firm of Bay Partners gives him the opportunity to indulge his passion for education.
"I'm still in my 50s," he said. "I'll be able to see the fruits of what we're contributing."
Raised in a Tacoma family of modest means, Dempsey earned his UW business degree on financial aid. After a stint in the Army, he worked his way up to a top post at software maker Harris Corp. But Dempsey said his personality was more suited to startups, and he left Harris to lead two self-described failures before scoring a success with Qubix Graphics Systems.
Since 1989, he has been with Bay Partners, financing early-stage technology ventures. The firm receives 3,000 proposals a year, of which it funds 15. Dempsey said he regards the UW as another such worthy investment. And he hopes this UW investment will inspire more people to do the same.
"We are immensely grateful for his confidence in this great university," said UW President Richard L. McCormick.