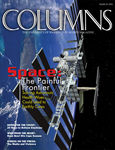 Space: The Painful Frontier · Stress on the Press: Journalist Trauma · Down for the Count: Election Reform · Won from the Heart: Rose Bowl 2001
March issue
---
Links to UW News Sites
6.8 Quake Rocks UW, Most Damage "Cosmetic"
A Feb. 28 earthquake at 10:54 a.m. shook the UW campus but caused only minor damage. The UW closed Schmitz Hall, Hec Edmondson Pool and the Health Sciences T-Wing, with airborne asbestos particles the concern at Schmitz and the T-Wing. The Engineering and Law Libraries were closed for a while, but reopened the next day. No classes were canceled and all residence halls and UW apartments were undamaged. For a round-up of UW quake news, see articles in The Daily. UW researchers also report signs of liquefaction from Wednesday's quake. For a 1993 Columns article on the Seattle Fault, read A Fault Runs Through It.

Budget Plan Could Mean $27 Million Cut for UW
Gov. Gary Locke's budget proposal, released Dec. 19, was disappointing for higher education. Under Locke's plan, the UW did not get the full salary increases and enrollment boosts it asked for. In addition, Locke's proposal would result in a $27 million cut in the UW's base budget. See UW news release reporting fiscal analysis of state budget.

New $35 Million Center for Mind, Brain and Learning Created at UW
A Center for Mind, Brain and Learning to conduct innovative research on early brain and behavioral development has been created at the University of Washington with a $35.5 million pledge from the Seattle-based Talaris Research Institute. See also UW news release.

Research Brief: The Bitter Truth
When it comes to "phytonutrients," the demands of good taste and good health may be wholly incompatible. Bitter vegetables and fruits—such as Brussels sprouts, grapefruit, cabbage, kale, mustard greens, arugula and spinach—could help with cancer prevention and provide other health benefits. See UW news release reporting on phytonutrients from a slightly different angle.

Merger Coming for Earth Sciences; Communications Under Review
Two mergers in the College of Arts and Sciences could change the way students learn about communications and earth sciences. The Department of Geological Sciences and the Geophysics Program will form a new entity, the Department of Earth and Space Sciences, March 16. Across campus, a merger between the School of Communications and the Department of Speech Communication is currently under review.

Record Gift from Alumnus Funds Business, Athletics
A $10 million gift by Neal Dempsey, '64, and his wife Janet—to support academics and athletics—is the largest alumni gift ever to the university, the UW announced Jan. 25. Half of the $10 million donation will go to the Business School's Program in Entrepreneurship and Innovation. The other half will will provide scholarships for student-athletes, refurbish the Conibear Shellhouse and help fund a multi-sport indoor practice facility. The practice center will open this summer as Dempsey Indoor. See also UW news release.

UW, TAs Settle Before Strike Deadline
The University of Washington and a union representing its teaching assistants came to an agreement Dec. 4 that avoided a walkout by the UW's 1,600 TAs just before Fall Quarter classes ended. GSEAC/UAW will be recognized as the "majority representative" for those who signed authorization cards. The UW will come before the current session of the state legislature to press for bargaining authority. See also UW news release.

Retired Political Science Professor Makes Record Gift
Don Matthews, retired professor and chair of the Department of Political Science, donated $800,000 in October for an endowment to support teaching and research on American government. It is believed to be the largest faculty gift ever made within the College of Arts and Sciences.