ALUMNOTES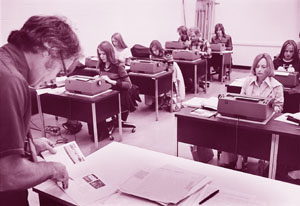 ---

YOU'RE MY TYPE: Students in a 1975 journalism class let their fingers fly as they work on an assignment back in the days when people wrote stories on typewriters instead of computers and speed was measured in words per minute, not megahertz. File photo.

---
Doris Ellen Wilson, '30
Tacoma, is 103 years old and living in retirement at her home in Tacoma. After graduating from the UW with a bachelor's degree in library science, she served for 47 years at Montana State Univ., retiring in 1977 as professor emeritus. A founding member of the Montana Inst. of the Arts, she was a two-time president of the Montana Library Assoc.
Joseph Rutkowski, '34, '35
Santa Barbara, Calif., had his poem, In Teaching There is Love, published in the book America at the Millennium: The Best Poems and Poets of the 20th Century. The poem was inspired by an article in Columns about outstanding teachers at the UW.
Jane Berkey, '39
Mercer Island, and her husband, Virgil Peterson, '39, celebrated their 60th wedding anniversary on Nov. 10. They first met at a fraternity/sorority function in 1938. Jane served as a cellist with the Seattle Symphony for 14 seasons and Virgil was a longtime executive director of the cedar shake and shingle trade association. Daughter Carol Keaton, '65, and son Mark Peterson, '83, are UW grads, while their other son, David, went to Central Washington Univ. They have two granddaughters and five great-grandchildren.
Herbert M. Bridge, '46

Seattle, will be the 63rd recipient of the prestigious Seattle-King County First Citizen Award, presented by the Seattle King County Association of Realtors and the Puget Sound Business Journal, for his "tireless devotion to community, business, military, humanitarian and family activities." Bridge, co-chairman of Ben Bridge Jeweler, will be recognized at a civic banquet on May 30.
Keith H. Campbell, '46
Spokane, won a ticket in a drawing to attend the UW-Stanford football game last Oct. 28.
Robert M. Harter, '47
Port Ludlow, says "at age 80, few would know me now." A retired administrator in the state Dept. of Licensing, he served in the Marines in World War II in Pearl Harbor, Midway Island, Guam and Iwo Jima.
Horton Smith, '47, '50
Seattle, swam across the Columbia River for the 10th year in a row from Stevenson, Wash., to Hood River, Ore. A former distance swimmer at the UW, he was thrilled to learn that the UW varsity swim program was reinstated. He has a law practice in the Seattle area.
Attention, Classes of 1948 and 1949
You are invited to join the board of the Purple & Gold Society. Please call Alan Osborne, '44, '47, '55, at (425) 483-3370.
Tom Murray Anderson Jr., '48
Enumclaw, took a cruise from Alaska to Vancouver, B.C., but reports, "I almost drowned in a hot pool on the ship."
William J. Chase, '50
Stanwood, lives full-time on Camano Island, though he and his wife, Jeanette, '51, have been part-time residents there since 1970. He served as president and chairman of the consulting engineering firm Hill, Ingman, Chase & Co. from 1960-1982.
Attention, Class of 1950
You are invited to join the board of the Purple & Gold Society. Please call Alan Osborne, '44, '47, '55, at (425) 483-3370.
C.W. "Bill" Shannon, '51
Seattle, works part-time as a bailiff with the Seattle Municipal Court. Before that, he worked in the travel business.
John R. Tracy, '51
Tullahoma, Tenn., retired from Weyerhaeuser's New Bern, N.C., facility in June 1994 and has been enjoying family, golfing and traveling since moving to Tennessee.
Attention, Class of 1951
Your 50-year reunion will be held Homecoming Weekend, Oct. 20. For more information or to help organize your reunion, call 1-800-AUW-ALUM.
Charles Dunsire, '53
Seattle, recently published an autobiographical memoir, Mr. Press, about his 40-year career as a journalist. He retired as editorial page editor at the Seattle Post-Intelligencer in 1996.
Shelby Scates, '54
Seattle, is the author of War and Politics by Other Means, a Journalist's Memoir, published in October by the UW Press. The retired Seattle columnist and investigative reporter serves on the Columns Advisory Committee.
Paul Bruns, '56
Titusville, Fla., and his wife of 56 years, Patricia, continue to reside in the Florida home they built in December 1980.
Betty Fletcher, '56
Seattle, received the Henry M. Jackson Public Service Award last November from the UW Law School Alumni Assoc. The award recognizes graduates who have distinguished themselves through public service. She is a member of the U.S. Court of Appeals for the 9th Circuit.
Mike Peringer, '57
Seattle, was named a "Hometown Hero" by KOMO-TV for his work with at-risk youth. He works with a non-profit youth-in-art program that creates murals and construction site panels throughout King County.
Gerry Alexander, '58, '64
Olympia, received the Distinguished Alumni Award from the UW Law School Alumni Assoc. in November. He is chief justice of the Washington state Supreme Court.
Attention, Class of 1961
Your 40-year reunion will be held Homecoming Weekend, Oct. 20. For more information or to help organize your reunion, call 1-800-AUW-ALUM.
Christopher Mathews, '62
Corvallis, Ore., is in his 23rd year as professor and chairman of the dept. of biochemistry and biophysics at Oregon State Univ. He plans to retire in two years.
Douglas E. Olesen, '62, '63, '72
Dublin, Ohio, retired from Battelle in January. He joined the company in 1967 and became president and CEO in 1987.
Lawrence A. Erickson, '63
Dallas, retired in November after 31 years as an airline pilot. He worked for Braniff from 1969 until its bankruptcy in 1982. He was then hired by Piedmont Airlines, which was merged into US Airways in 1989.

Pete Hatt, '63
Seattle, retired as chairman of FCB Seattle Jan. 1 after a successful 36-year advertising career.
Glenn K. Landguth, '63
Kirkland, recently completed his 32nd year with Boeing. He is currently a structural analyst on the F-22 program. He and his wife, Judy, have two grown children, Clark and Cindy, and six great grandchildren.
William Fremming Nielsen, '63
Spokane, received the Distinguished Alumni Award from the UW Law School Alumni Assoc. in November. He is the chief judge of the Eastern Dist. of Washington, U.S. Dist. Court.
Linda Good, '64
Langley, attended a Smithsonian seminar entitled "In Search of the Beautiful" last November in Pacific Grove, Calif.
Patricia J. Williams, '64
Seattle, retired last June 30 after 36 years as a personnel specialist with the U.S. Office of Personnel Management.
Albert Cohen, '65, '69
Olympia, announced his retirement as superintendent of the Olympia School Dist., where he has been since 1990. He spent 36 years in education.
Margaret O'Leary Wilson, '67
Tarzana, Calif., is in her 34th year of teaching. She works with the hearing-impaired at the senior high level in Van Nuys, Calif. She also teaches an instructional independent learning lab for adults.
Usha Varanasi, '68
Seattle, received the Meritorious Executive Award from President Clinton in recognition for providing exceptional service to the American people. She is director of the NW Fisheries Science Ctr. and is credited with assembling a team of experts who are studying salmon recovery as well as launching research programs that benefit salmon recovery.
Stacey E. Brothers, '69
Auburn, was elected to a fourth term on the Auburn City Council.
Donald A. Duncan, '69
Wauna, retired in 1994 from the Univ. of Puget Sound after 38 years as a faculty member, aquatics director and swimming coach. He writes that he is "still trying to learn how to relax."
Christine Gregoire, '69, '71
Olympia, will be honored as the College of Arts & Sciences' Distinguished Alumnus at the Celebration of Distinction Dinner on May 11. She is the attorney general for the state of Washington and played a major role in the settlement of the lawsuits against the tobacco industry.
Mark Allen, '70
Olympia, is president and CEO of the Washington State Assoc. of Broadcasters. He received the Darryl Newsham Award from the Seafair Boat Club.

Constance W. Rice, '70, '74
Seattle, was elected to the Swedish Health Services Board of Trustees. A trustee of the UW Alumni Assoc., she is president of CWR, Inc., which provides advice on social-policy and public-affairs issues.
Francis (Mel) Turner, '70, '72, '75
Marysville, relocated to Marysville after retiring as professor emeritus from the Oregon Institute of Technology.
Michael R. Borden, '72
Culver City, Calif., worked in military aviation engineering for Boeing and now for Northrop Grumman. His son is a third-year UW physics student and his daughter will enter the UW next year to study communications and broadcasting.
Steve Krom, '72
Seattle, has started an excavation contracting business, serving Seattle and surrounding areas.
Patricia Matulock Wickwire, '73, '74
Mt. Hood, Ore., works for the U.S. Forest Service's Columbia River Gorge Natl. Scenic Area as a realty specialist. She also runs Bald Butte Ranch, raising Tennessee walking horses. She and her husband, Terry, have a 9-year-old son.
Peggy Alhadeff, '74
Bellevue, is enjoying a career in dental hygiene. Married for 17 years, she has two children: Josh, 15, and Danny, 12.
Tomi S. McAlpine, '75
Ferndale, has worked more than 23 years as a registered nurse in the Critical Care Unit at St. Joseph Hospital in Bellingham. She has three children: J.D., a senior at the UW in atmospheric sciences; Jeff, a sophomore in the UW pre-science program; and Dani, a junior at Ferndale High School and "a future Husky."
Temple Mathews, '76
Calabasas, Calif., co-wrote the screenplay for Disney's The Little Mermaid II - Return to the Sea, which premiered last September on video and DVD. He also wrote Peter Pan II: Return to Neverland, an animated feature film scheduled for release in 2001.
Laura Dassow Walls, '76, '78
Easton, Pa., received a $24,000 research fellowship from the Natl. Endowment for the Humanities. She is an associate professor of English at Lafayette College.
David D. Bigelow, '77
Arlington, Va., is a captain assigned to the Navy staff at the Pentagon. He and his wife, Tina, a Navy lieutenant commander, have a daughter, Sara, who was born in August 1999.
William Brustein, '77, '81
Pittsburgh, Pa., is the director of the University Center for International Studies at the Univ. of Pittsburgh. He is also professor of sociology and international studies.
Steven Wayne, '77
Seattle, was named the Seattle-King County Realtor of the Year for 2000-2001. He is an associate broker for Windermere Real Estate.
David Stanley Engle, '78
Seattle, was named principal of Ballard High School in the Seattle School Dist.
Richard K. Greene, '78
New York, is director of international projects for ZeTek Power, a London-based developer and manufacturer of fuel cells. He also started the StoryLine Project, a commercial theater production company. He previously spent 10 years with Ernst & Young.
Sharon Lagerberg, '78
Seattle, is president and owner of Cotton Caboodle, a children's clothing manufacturer.
Marie Little, '78
Lynnwood, produces the monthly radio program If Houses Could Speak for Everett radio station KSER-FM. The program was honored with an award of merit from the Washington Trust for Historic Preservation.
Christopher Wheatley, '78
Washington, D.C., reports that his book, Beneath Ierne's Banners: Irish Protestant Drama of the Restoration and 18th Century, has been awarded the Rhodes Prize by the American Conference for Irish Studies for best book published on Irish literature in the last year.
Kiran Bhatt, '79
Anaheim, Calif., was named the 2000 Intl. Poet of Merit by the International Library of Poetry in Washington, D.C.
Greg Fellman, '79
Everett, was promoted to merchandise planner for J.C. Penney. He is responsible for the family shoe departments in 48 stores.
Jeff Shelley, '79
Seattle, is editorial director for Cybergolf, a national golf Web site. He also oversees content for iGreens.com, golfconstructionnews.com, and is media director for the Fred Couples Invitational Tournament.
Rick Gleason, '80
Seattle, is an industrial hygienist at Prezant Assoc., an environmental consulting firm. He also teaches half-time at the UW School of Public Health and Community Medicine. He received the Construction Safety Trainer of the Year award last November from the Puget Sound Construction Safety Summit.
Mary Ann Ledwith, '80
Dunboyne, Ireland, writes to say that "the possibilities of where you can go with your degree are endless. I'm an engineer who is now a financial controller!" She works for the Dublin division of IBM Microelectronics.
Michael Eshelman, '81
Seattle, is going into his seventh year of partnership in the Seattle-based mechanical engineering firm FSI Consulting Engineers with fellow alum Robert Danforth, '77, and "Husky" (U-Conn variety) Richard Temkin.

Daniel Jardine, '82
Seattle, was promoted to senior associate with Mahlum Architects, where he has worked since 1987. He's involved in designing the new UW law school and law library as well as the programming and pre-design for the renovation of Suzzallo Library.
Gene Tanaka, '82
Anacortes, and his wife of 16 years, Cheryl, have a daughter, Bailey. Gene's industrial construction business, T Bailey, Inc. (named for his daughter), employs more than 80 people and has annual sales of $10 million.
Tom Wilson, '82
Culver City, Calif., has been married for 15 years and has two daughters, ages 10 and 13. He is a real estate developer building and managing shopping centers throughout California.
Karen Rosenzweig, '83
San Rafael, Calif., is an account manager handling high-tech public relations for Citigate Cunningham. She previously spent 15 years working in college athletics.
Duncan Harrison, '84
Anchorage, Alaska, had his business, Alaskan Automotive Distributing, mentioned in Inc. magazine as one of the country's 500 fastest growing companies.
Kenneth R. Johnson, '84
Newport Beach, Calif., is a legal trade compliance analyst for Pacific Investment Management Co.
Keith Alan Lehto, '84
Victoria, Texas, is president and owner of Victoria Mortgage. His wife, Shelley, is president of Insight Advertising and Design. They have two children: Kristopher, 9 and Korey, 8.

Charlie Laboda, '85
Seattle, recently joined Harbor Properties as a project manager overseeing construction for new multi-use projects. He previously was VP of Dally Homes, Inc.
Mark Daniel Ondrake, '85
Paris, will teach business and culture classes in Paris this year. He spent 20 years in international business before moving to France last summer.
Eric C. Burdge, '86, '96
Glen Oaks, N.Y., won the September 2000 Columns Sweepstakes, receiving a Qualcomm digital phone and 600 minutes of free airtime from GTE Wireless. He is a general surgery resident at Long Island Jewish Med. Ctr. in New Hyde Park, N.Y.
George Taylor, '86
Kent, was recently promoted to senior VP and general manager, FlowMole Construction Services Division, Utilx Corp.

Annette Ahlers, '87
McLean, Va., was named partner at Ernst & Young's national mergers and acquisitions tax services practice based in Washington, D.C.
Samantha Blake, '87
Topanga, Calif., recently joined the Santa Monica firm of Crowe, Pay and Regan as an associate.
Mark Fukeda, '87
Honolulu, got married last December. He is director of development for the Univ. of Hawaii Foundation.
Stewart Mesher, '87
Houston, has joined the law firm of Howrey, Simon, Arnold and White as an associate. Previously, he served as a law clerk for William W. Baker, presiding chief judge of the Washington state Court of Appeals.
Stacy Lee Stapleton, '87
Seattle, is a divisional deputy clerk for the 9th Circuit Court, U.S. Dist. Court. She has been working for the court since 1995.
James S. Staples, '89
Great Falls, Mont., and his wife of 12 years, Gail, announced the birth of their first son, Riley James, born May 21, 1999. James is a clinical anesthesiologist at Great Falls Hospital.
Suzan DelBene, '90
Medina, has been elected a trustee of Reed College in Portland, Ore. She is CEO of Nimble Technology in Seattle.
Beth Rembold Mercante, '90
New York, and her husband, Rich, had a baby boy last May.
Charlotte Kovalenko Abbott, '91
Houston, recently married Anthony Abbott, whom she first met in the 4th grade when their fathers were stationed with the U.S. Army in Japan.
Melanie Bean Ruiz, '92
Seattle, and her husband, Chris, '91, celebrated their son Christopher's first birthday on Feb. 17.
Chris K. Visser, '92
Houston, and his wife proudly announce the arrival of their first child, Jackson Kai Visser, born Sept. 17.
Rob Martin, '94
Everett, and his wife, Mara, '92, welcomed their second child, Andrew Robert Martin, on Nov. 2. They also have a daughter, Jessica. Mara is currently a stay-at-home mother and Rob is VP and manager of the Ballard branch of Bank of America.
Kent D. McKinney, '94
Seattle, is a VP/manager at Bank of America in Seattle. A former football player on the 1983 Aloha Bowl Huskies, he serves on the board of Big Brothers and Big Sisters.
Matt Ferrel, '95
Salt Lake City, married Bridget Sipher, '00, last May. Bridget, who just graduated from the UW School of Medicine, is doing her pediatrics residency at the Univ. of Utah/Primary Children's Hospital. Matt joined 1-800-CONTACTS, Inc. as a corporate controller.
Colin McAlister, '95
Dallas, was married last September to Nichola Fitchford. "I am enjoying married life with my beautiful wife and working as a consultant for Watson Wyatt," he writes.

Lori Ipsen Meyers, '95
Des Moines, is an account executive at Richmond Public Relations. She spent five years as a PR manager for Specialized Bicycles.
Laura Kathleen Sifferman, '95
Seattle, completed an optometry program at Pacific Univ. in Forest Grove, Ore., last May and practices optometry at Roosevelt Vision Source. Her husband, Gabriel Kompkoff, '96, is attending graduate school at the UW's Daniel J. Evans School of Public Affairs.
David E. Taflin, '95
Seattle, is a scientific computer programmer at Amtec Engineering in Bellevue. He is also a commander in the Naval Reserve, a husband "and proud father of two children."
Jamie Shaffer, '96
Bothell, got married to Rob Wham on May 13 but says, "no name change, though."
David Jackman, '97
Lakebay, says he is "62 years young" and just retired last May after 33 years with the city of Tacoma.
Karen J. Vesely, '97
Radnor, Pa., has been named senior client-service manager at Turner Investment Partners, an investment management firm with more than $11 billion in assets.
Colleen R. Adsit, '98
Dallas, works in the fashion industry. She spent two years in Compton, Calif., teaching third grade at Dickison Elementary School for the Teach for America program before relocating to Dallas.
Rae Tapia, '00
Seattle, is a senior production manager of print projects at Horton Lantz Marocco, a Seattle-based advertising, design and Web firm.
---
Submit a Class Note
Tell us what major events have happened in your life: a new job, marriage, children, retirement, advanced degrees, you name it.

Submit an Obituary
Please let us know if a UW alumnus has died. Be sure to include date of death, place of death and age along with the UW class year (if known).

Update Your Records
Moving soon or know someone else who has? Let us know so that we can keep Columns coming to you.

Contact Information
Columns Magazine
1415 N.E. 45th Street
Seattle, WA 98105
Phone: (206) 543-0540
Fax: (206) 685-0611.
E-Mail: columns@u.washington.edu