From the President
Taking the "E" Ticket to the Future
The other day, one of my senior colleagues here gave me a wonderful overview—comprehensive, insightful, and enthusiastic—of the myriad roles of information technology at the University of Washington. His briefing brought home to me that this array of digital tools, in what seems like the blink of an eye, has become so integral to so many things we do that we take it almost as much for granted as the rain.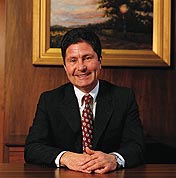 ---

UW President Richard L. McCormick. Photo by Mary Levin.

---
Of course, the rain has been around a long time without changing much, and that is emphatically not true of information technology. Decisions made, infrastructure built, risks taken, imaginative programs developed and continually modified, all within the last 10 or 15 years, have made the UW one of the "most wired" campuses in the nation. We are the envy (and recruiting target) of many. As alumni, you can add that to your reasons for pride in your alma mater.
What exactly is information technology? Here's one working definition: "The application of modern communication and computing systems to the creation, management, processing, and use of information."
What kinds of things does this make possible? We are only beginning to find out.
The first thing information technology tends to do is change the way we do things we've always done. For me, as for many of you, that means using e-mail to expand and improve communications. Any student, any faculty member, any alumnus or legislator, has direct access to me through e-mail (rlm@u.washington.edu), and I in turn can "talk" to many people at once, at any time from almost any place. By the same token, students have—and use—a whole new avenue of access to their professors, and new ways of holding class discussions or submitting work for review and comment. For faculty, international research collaborations become far easier and more productive.
Even at this primary level—changing the how of our work—information technology has produced, for many students, a new educational experience. In first-year biology lectures, students watch as the professor manipulates computer images from the medical school, showing internal organs in action or revealing the three-dimensional reality of DNA. Through the web site for their course on Pacific Northwest history, students can follow links to a great array of online resources, including Civil War web sites across the country and historic Northwest photographs in our library's Special Collections.
But the more exciting prospects involve changing what we do. Our astronomy department teaches an excellent and popular introductory course. It also houses world-class researchers, many involved in such international projects as the one honored recently by Science magazine as the "science breakthrough of the year." What if freshman astronomy students could work directly, from their own computers, with the research data collected by their professors? What if their class assignments required them to use those data to answer real research questions? These "what ifs" describe an actual project soon to be launched.
In everything we do—teaching, research, libraries, medicine, administration, working with K-12 and other community partners—information technology is transforming the landscape, and will do so at an increasingly rapid pace. It's a very fast ride, and we have to be careful not to sacrifice old values as we enjoy the exhilaration of the new. There are certainly days, as I send my 800th e-mail of the month, when doubts intrude.
But I remain convinced that, for higher education, the benefits and promise of information technology far outweigh any drawbacks. Like the region as a whole, the UW begins this new century in the vanguard of technological change. We intend to stay there, even though we can hardly imagine now where the journey may take us.
Richard L. McCormick, President