But the baby boom generation brought with it an era of questioning, protest and sometimes violence. The UW was not immune. Odegaard saw the attempted firebombing of ROTC offices in Clark Hall, an occupation of his office by leaders of the Black Student Union, a boycott of the football team by its black players and the nighttime bombing of the Administration Building.
Odegaard was ahead of many of his peers in responding to the civil rights movement and the demand for access to the University. In the early '60s, he called civil rights activists in the South "heroic." By the end of the decade, he had created a Black Studies Program and appointed the first vice president for minority affairs. He also launched a vehicle for minorities and disadvantaged whites to attend the UW through the Educational Opportunity Program (EOP).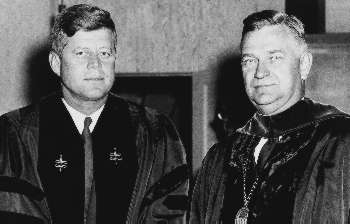 ---

A high point of Odegaard's tenure was the 1961 visit by President John F. Kennedy to celebrate the UW's centennial. Photo by James Sneddon.

---
King County Council Member Larry Gossett, '71, who occupied Odegaard's offices in 1968 to demand a Black Studies Program, says, "His legacy will live on. The EOP Program he created here is the finest in the nation. Through it, he gave thousands of people, who now hold high-level positions in professions everywhere, a chance they would not otherwise have gotten."
One of the most difficult times was in May 1970. Four students at Kent State University died when the Ohio National Guard fired into a crowd protesting the invasion of Cambodia. While many campuses saw strikes, firebombings and the National Guard, Odegaard was determined to keep tensions down at the UW. His policy was to use only the UW police force—no outside police or National Guard.
In a move criticized for "giving in" to student demands, Odegaard closed the UW on May 8 as a memorial to the Kent State deaths. "There was so much pent-up emotion that there had to be some release. We had to find a way to say, 'Yes, this is an unusual event,' " he later said. When two students were killed at Jackson State University in Mississippi a week later, Odegaard again closed campus for a day.
There were calls for Odegaard's resignation. One legislator wanted to pack the Board of Regents with hostile lawmakers. But over time, Odegaard's handling of the protests was seen as masterful.
"Odegaard led by encouraging student voices but reacted firmly when protest turned to violence. He was strongly opposed to using police forces other than the campus police and the University survived that period with its educational integrity unscathed," says former Gov. Dan Evans, '48, '49.
"The fact that there were no casualties on campus during the demonstrations and turbulent times is one of the finest tributes to Charles Odegaard's time at the UW," adds James Ellis, '48, who was a regent at that time.
Although at one point a protestor lunged at Odegaard as he made his way to the microphone at an anti-war rally, the President wasn't afraid. "My father had been in World War II," says Quarton. "I don't think he ever felt a strong sense of personal danger."
However, Quarton says from 1968 to the time of her father's retirement, a state patrol officer would arrive at the President's House every night and stay in its library until dawn. There were occasional death threats and Quarton recalls a time when she couldn't even walk down the block to see a friend without an escort.
The President kept some souvenirs of that period in his office closet: two good-sized throwing rocks and a sturdy length of 2x2 left behind from one sit-in.
In 1972, Odegaard announced that he would retire in a year. Immediately there was speculation that the student protests had worn him down, and that budget cuts due to an economic downturn drove him from office. But Quarton says those rumors were false. "He actually wanted to retire a year earlier, but the regents convinced him to stay on for a while. He just felt it was time to turn the UW over to somebody else," she says.
"As president, he was envied for his power, respected for his vision, disliked for his arrogance, admired for his intelligence, feared for his temper, applauded for his wit, reviled for his coldness and celebrated for his charm," wrote one columnist in the Seattle Post-Intelligencer.
Quarton disputes much of that description. "Yes, he could sometimes be arrogant, but he was not cold. He made my mother and me mad sometimes," she says. "But he had very little personal ambition. He devoted his life to trying to make things better for humanity."
"He was just outstanding as president. You will find very few people who will disagree," adds Pressly. "In my view he's the greatest one we've had so far."