Were those 15 years, from 1958 to 1973, really an era of "riot, famine and pestilence" as the Daily so boldly declared? Actually they were a golden era in the growth of the University of Washington.
Student enrollment doubled from 16,000 to 32,000. A record-breaking building boom saw the addition of 5.5 million square feet of floor space, doubling what the UW had when Odegaard arrived.
Research grants totaled a minimal $9.8 million in 1959; when he left they were at $70 million and today stand at more than $600 million. The UW rose to become one of the top five institutions in the nation receiving federal research funding—a position it still holds today.
When Odegaard arrived, the UW had only one faculty member in the National Academy of Sciences. When he retired, there were six and today there are 40. It was during Odegaard's tenure that UW Professors Hans Dehmelt, Edmond Fischer, Edwin Krebs and E. Donnall Thomas did most of the basic research that would later win them each a Nobel Prize.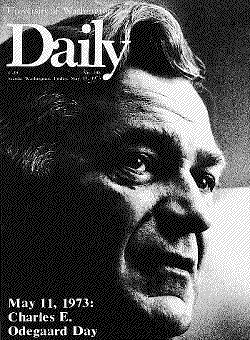 ---

The cover of the Daily declaring Charles Odegaard day.

---
This success wasn't apparent when Odegaard left a deanship at the University of Michigan for Seattle. A Seattle Times article described the pre-Odegaard UW as a campus "grown complacent. Except for the nationwide reputation of the medical school, scholars were not exactly beating down the doors to join the faculty. Salaries were uninspiring. Construction and laboratory equipment lagged far behind the requirements for greatness."
History Professor Emeritus Thomas Pressly says that in the 1950s, the UW suffered from cronyism. "The University really had just not had strong leadership," he says. Adds former Gov. Albert Rosellini, '32, '33, "When the presidency of the UW was vacant, we on the Board of Regents decided a lot was overdue. We needed leadership."
Leadership is what they got. Odegaard soon cleaned house, starting with the departure of the dean of arts and sciences. After six years, of the 15 deans on board when the President arrived, only three remained. He pushed through major reforms in the faculty structure and student curriculum, especially for freshmen.
He was criticized for being heavy-handed or autocratic, but the UW needed some strong medicine. "You know, some of the people he fired came up to me years later and told me they thought it was the best thing that ever happened to them," Quarton says. "He wasn't afraid to tackle problems. He had a vision for what he was trying to do."
"The essence of Charles Odegaard, what made him a great president, was his vision of what a university should be. It was a teacher's and a scholar's vision," Pressly says. "He would judge all events in terms of that concept. He was determined to push the University into becoming a community of scholars."
But marching into that community was Odegaard's biggest challenge—thousands of new students coming as a result of the post-war "baby boom."
"He was hired to deal with that baby boom," says historian Jane Sanders, '71, '76, author of Into the Second Century, The University of Washington 1961-1986. "He knew the University would never, ever be able to accommodate that many kids."
As was typical of Odegaard, what others saw as a problem, he saw as an opportunity. For years the faculty had tried to strengthen its graduate-level teaching and research programs. "It was his vision to develop the community college system in the state to take the pressure off the UW. It would also allow the University to concentrate on graduate and upper division education," Sanders says.
As he liked to say in what we would now call a sound bite, "No institution is a total purpose institution."
Odegaard lobbied Olympia to lift its restrictions on building community colleges near four-year institutions. By 1961 the Legislature authorized the establishment of community colleges in King County (this fall there will be nine). Yet the UW also grew by 1,000 students a year, and Odegaard led a hiring and building frenzy to accommodate all of them.
"He managed to get more resources in every category," Sanders explained.