Extras
Ruth Bale: Three-Centuries Husky Fan
When the new millennium turned on Jan. 1, Ruth Calista Bale, '24, celebrated something very few UW alumni could share with her—having lived in three centuries. Bale, who celebrated her 106th birthday on Dec. 7, 1999, is probably the oldest living UW alumnus. She was born in 1893.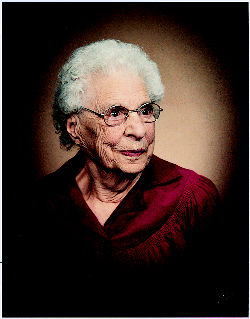 ---

Ruth Bale

---
Born and raised in Raymond, she graduated from South Bend High School in 1911 and has stayed pretty close to home her entire life—except when she came to big-city Seattle in 1914 to attend the UW to become a teacher. World War I interrupted her studies, so she went back home to care for her mother after her father died. She also taught in a one-room schoolhouse in Baleville for a few years. When the war was over, she returned to the University in the 1920s to finish her degree. After graduation in 1924, she taught high school for a year in Poulsbo but moved back home to the Willapa Bay area to take care of her mother.
Now living in Centralia, which she has called home for the past 40 years, Bale remains an ardent Husky football fan, listening to every single game. The UW athletic department sent her a birthday card and autographed football to celebrate her big day.
"I love football and never miss a game on the radio," Bale says. "I was just overwhelmed by that autographed football. It was a great present." It wasn't the only thing she got on her 106th birthday. She also received more than 40 cards. "In 106 years, you get to know a lot of folks," she says.
The secret to her longevity? "I started out as a puny, little baby," she says. "My secret is to mostly eat vegetables, not too much dessert, and keep breathing. I've never been a real healthy person. I just never went to any excess in food or anything."
Since graduating more than seven decades ago, she has been back to campus and was astonished to see how the campus had grown. "It was all filled up with buildings," she recalls. She also recalls going to classes in temporary buildings used in the war, and living all but one quarter in an off-campus apartment.
Bale is anxious for next football season to start so she can follow her Huskies on the radio. "This season was a good one," she says. "But I was happier the three years in a row they went to the Rose Bowl."—Jon Marmor