ALUMNOTES
---

The many relatives of Husky Quarterback Bob Schloredt pose for a big cheer prior to the 1960 Rose Bowl. Photo by James Sneddon.

---
Walter Kirkness, '43
La Mesa, Calif., is a retired Alaska Fish & Game commissioner. His son, Mark, '76, is a criminal defense attorney in San Diego. His daughter, Susan, '77, is a small business executive in Juneau, Alaska.
Patricia Webb Woodard, '44, '72
Shoreline, writes to say that she has three grandchildren attending the UW. Anastasios Kantas is a sophomore in electrical engineering; Valerie Budinich is a sophomore and Briana Budinich is a freshman.
Eleanor Scheece Kane, '45
Walla Walla, retired Sept. 1, 1999 as administrator of the Blue Mountain Area Foundation. She was with the foundation, a public charity serving southeastern Washington, since its inception 15 years ago.
Tom M. Anderson Jr., '48
Enumclaw, is enjoying his 22nd year of retirement after having worked for the state Dept. of Natural Resources for 29 years. He recently attended the College of Forest Resources' reunion of the classes of '48 and '49 on the UW campus.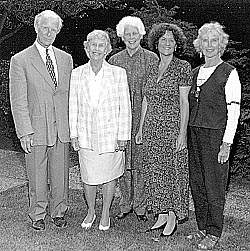 ---

The Bullitt Family. From left to right, Stimson Bullitt, '48, Priscilla (Patsy) Bullitt Collins, Katharine Muller (Kay) Bullitt, Dorothy C. Bullitt, '76, '88, and Harriet Bullitt, '64.

---
Stimson Bullitt, '48
Seattle, and four other members of the Bullitt family, representing two generations, will be presented the prestigious Seattle-King County First Citizen Award in a May 24th ceremony at the Paramount Theater in Seattle. The award, presented by the Seattle-King County Assoc. of Realtors, celebrates community leadership, volunteerism and public service. Honorees include Priscilla (Patsy) Bullitt Collins; Harriett Bullitt, '64; Dorothy C. Bullitt, '76, '88, who serves on the E.M.B.A. Program Advisory Board; and Katharine Muller (Kay) Bullitt, who serves on the visiting committee of the UW history department. The UW School of Law established the Stimson Bullitt Professorship of Environmental Law in 1998.
Robert M. Harter, '48
Port Ludlow, spent 20 years handling casualty claims for Allstate Insurance as assistant regional claims manager in Seattle and claims manager for the San Francisco office. He spent 15 years as an administrator in the Dept. of Motor Vehicles and the Dept. of Licensing. He was a marine in World War II and saw combat on Midway, Guam and Iwo Jima.
Tom Ray, '49
Tacoma, is CEO of Ray Financial, with offices in Hawaii, Palm Desert, Calif., Tacoma, and aboard his 54-foot yacht, the Crystal Sea. A retired vice president of Merrill Lynch, he is a financial lecturer on three cruise lines. He also owns a party boat on American Lake in Tacoma.
Earl Borgeson, '50
Sherborn, Mass., has been named the 1999 Distinguished Alumnus by the UW's School of Library and Information Science. He served as director of the Harvard Univ. Law School Library, president of the American Assoc. of Law Libraries, and director of the Southern Methodist Univ. Law Library. He also held administrative posts in the Stanford Univ. Libraries and the Los Angeles County Law Library.
Robert W. Jones, '50, '57, '59
Moscow, Idaho, retired as a professor of geology at the Univ. of Idaho in 1990. He is secretary and treasurer of the College of Mines and Earth Resources Alumni Association.
Robert D. Broad, '51
Palm Desert, Calif., retired as data processing audit manager from Boeing in 1988. "The bridge from fisheries to data processing was through statistics," he writes. His UW degree is from fisheries. He co-chaired the international convention of Data Processing Auditors Assoc. when it was held in Seattle.
Bob Smith, '51
Crestline, Calif., is a retired football and wrestling coach who played on the Husky football teams with Don Heinrich, '53; Hugh McElhenny, '52; Don Coryell, '50, '51; and George Bayer.
David Yaden, '51
Kennewick, retired in 1982 after 31 years as a teacher, coach and counselor in the Yakima School Dist. He now lives in Kennewick with his wife, Betty. He walks every day and fishes often with his son and grandchildren.
Harriett Anthony Botelho, '52
Sun City, Ariz., married John Botelho and moved from San Francisco to the senior community of Sun City, Ariz.
Charles Charters Wynn, '52
San Rafael, Calif., and his wife embarked in January on the first phase of an around-the-world trip. During three months, they planned to visit Fiji, Bali, Australia, New Zealand, Thailand, Hong Kong, Shanghai and Micronesia.
John Barnett, '53
Kirkland, had his book How To Feel Good As You Age published in October by VanderWyk & Burnham.
Grant Winther, '53
Bainbridge Island, continues his ranger work in Olympic National Park. He also climbed Mount Baker last year. His wife, Barbara, is currently writing the history of the Bainbridge Island library, entitled They Like Noble Causes.
Richard Convery, '54
La Jolla, Calif., is loving retirement in La Jolla. His wife, Martha, is retired and enjoys spending time with their eight grandchildren.
Betty MacDonald Falskow, '54
Seattle, is married, raised four children, worked at Weyerhaeuser for about nine years and at the UW for eight years. Now retired, she enjoys outdoor sports, traveling, gardening, and volunteering for Episcopal Church projects and the King County Superior Court as a special advocate for children.
Hank Heinrich, '55
Olympia, retired eight years ago, "but I got bored, so I have been buying real estate with timber. I log the merchantable trees and sell the land. It isn't as easy as it was when I was working," he writes.
Guy R. Lusignan, '57
Shelton, owns Lusignan Forestry, Inc., the first certified "SmartWood" forest management operation in the state of Washington. SmartWood is a program of the Rainforest Alliance, and is a collaboration of regional, nonprofit forestry certification organizations. It conducts assessments of forestry operations that produce timber to assure they follow sustainable forestry practices.
Bonnie Riegel Cannon, '58
Chelan, was recently elected to serve as a Chelan County port commissioner. The Washington State Dept. of Commerce and Economic Development sent her on a trade mission to Hungary, Poland and the Czech Republic. She was accompanied on the trip by U.S. Sen. Patty Murray, UW regents Mari Clack and Cindy Zehnder, '72, Constance Rice, '70, '74, and UW Sociology Professor Pepper Schwartz and Dr. Dorothy Mann.
Kenneth E. Nyberg, '58, '60
Kingston, recently retired as city manager of Federal Way, where he worked since 1994. He and his wife, Shirley, now make their home in Kingston.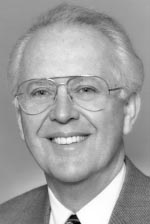 ---

Dave Cortelyou, '60

---
Dave Cortelyou, '60
Seattle, stepped down in December as president and CEO of Unico Properties, Inc., a privately held real estate firm formed in 1953 to operate the UW's Metropolitan Tract in downtown Seattle. The land is the site of the University's original 10-acre campus. Unico played a major role in the creation of Seattle's vibrant downtown core, and generated more than $100 million in gross rent to the UW in the past decade alone. Unico was the developer of such downtown buildings as the Puget Sound Plaza, IBM Building, Rainier Tower and Rainier Square.
Jay D. Decker, '60, '64
Seattle, is practicing orthodontics in Seattle. He is also an affiliate associate professor at the UW dental school, and does research in immunocytochemistry of cell replication of the periosteum. His son, Jay Jr., '90, '93, and daughter Amy, '98, are UW graduates.
Wesley M. Wilson, '60
Olympia, says his eighth book, Curious Customs and Bizarre Beliefs Around the World, published by Seattle's Peanut Butter Publishing, is selling well. "It describes how people live in 147 of the countries that I visited, and their beliefs, customs and taboos. I have been interviewed by more than 25 talk shows coast to coast, about it," he writes.
Patricia A. Friauf, '61
Vancouver, Wash., retired in June 1999 after 31 years as an educator in the Vancouver School Dist. Her last 19 years were spent as a high school principal, 13 at Columbia River High School.
Fred R. Krick, '63
Seattle, is employed by the U.S. Food and Drug Administration, directing the Northwest program of pesticide analysis in domestic and import foods.
Mark Devine, '64
Boise, Idaho, is director of operations and finance at Appellation LLC, publisher of Appellation Wine Country Living.
Maxine Martell, '64
Coupeville, exhibited her works in the Biennale Internazionale Dell Arte Contemporanea in Florence, Italy in December.
David K. Moussette, '68
Seattle, retired from the Navy after a 30-year career. His last assignment was serving as commanding officer of the UW NROTC, "completing a full circle," he writes.
Douglas A. Benzel, '69
San Diego, recently purchased a Sir Speedy printing and copying franchise in San Diego. He previously served in the Air Force for 20 years and then spent nine years as a support contractor for the U.S. Dept. of Defense.
Judith Prowse Buskirk, '69
Gig Harbor, illustrated the children's books Looking for Bears and Bat's Night Out from New York publisher Richard C. Owen.
David Sherbrooke, '69
Bellevue, is teaching U.S. history, American government and contemporary problems at Bellevue Sr. High School.
William Snydsman, '69, '79
Woodinville, joined Fulcrum Technologies of Seattle as director of technology.
David A. Williams, '69
Espanada, N.M., continues running a busy practice in diagnostic radiology at the Los Alamos Med. Ctr. in Los Alamos, N.M. Recently, his son, Kevin, joined him as an associate in the radiology dept. His other son, David, is a busy architect in Albuquerque, N.M.
Julie Weston, '69
Seattle, is completing her second year as chairman of the board of directors of Seattle Goodwill. Her husband, Gerhardt Morrison, '60, retired from the practice of law in 1996. He now photographs landscapes and is represented by a fine arts gallery in Boulder, Colo.
George Reynolds, '71
Everett, was appointed to the board of directors at Family Services, a Seattle social services agency. He is vice president of marketing with Western Bank.
Stephen M. Golant, '72
Gainesville, Fla., is a professor of geography at the Univ. of Florida. He received a Fulbright Award to study factors influencing the growth of assisted living facilities in Canada, and in particular, British Columbia. Through May, he will be at Simon Fraser Univ.'s Gerontology Research Centre in Vancouver. Along with his research, he will teach a graduate seminar that will examine the strengths and weaknesses of the assisted housing alternative for frail elderly Canadians.
Glen A. Smith, '72
Jesup, Ga., is a senior environmental engineer in Rayonier's Jesup Pulp Division.
Larry T. Burke, '73
Bellevue, is executive vice president for KeyBank. He has been with the bank for 23 years. He recently returned to the Northwest after spending five years in Albany, N.Y., and four in Cleveland. "It's good to be home," he writes.
Kenneth R. Chisholm, '74
Kent, retired from Weyerhaeuser after 23 years. He is currently assisting on the startup of a small business related to aquatic and upland habitat improvement called ELWd Systems.
Chuck Clegern, '74
Bellevue, has been married to his wife, Lorraine, for 24 years. In 1999, they adopted a 6-year-old daughter, Larissa. They also have a 16-year-old son in high school and a 19-year-old daughter in college. In 1998, he was appointed president of Unimark Construction. He has served as chairman of UW Construction Industry Advisory Council, and on the board of directors of Zion Preparatory Academy.
Bob Drugge, '74
Puyallup, was promoted to senior vice president at Bank of America in Tacoma.
Donna M. Landers, '74
Chandler, Ariz., is a senior lecturer in exercise science and physical education at Arizona State Univ. She also is the head undergraduate academic adviser in the same department.
Cmdr. Patrick W. Jones, '75
London, received the Military Outstanding Volunteer Service Medal while serving with the U.S. Naval Forces Europe unit in London.
Frank B. Serafini, '75
Overland Park, Kan., recently returned from two years in Kuwait. He is now a manager for Black & Veatch, specializing in international power projects.
Diane Hunting Charlton, '76
Portland, Ore., left a successful private banking relationship management career to become education coordinator for VetSmart, the country's largest veterinary medical practice.
George H. Jackson III, '77
Mt. Eliza, Australia, is CEO of APPP in the Melbourne, Australia area. He and his wife, Kim Below Jackson, '79, are the parents of George IV, 13; Reese, 9; and Brett, 6. Kim was a member of the UW Alumnae Board from 1990-94. Before moving to Australia more than two years ago, they lived in Atlanta, San Diego, Los Angeles and Seattle.
Eileen O'Neill Odum, '77
Woodinville, was elected chair of the Assoc. of Washington Business for 1999-2000. She was also appointed by Gov. Gary Locke to serve on the Washington State Academic Achievement and Accountability Commission.
Linda Haas, '79
Burien, just completed her term as president, health care and education, of the American Diabetes Assoc. She was awarded the Dept. of Veterans Affairs National Award for Excellence in Nursing.
David Joyner, '79
Titusville, Fla., is a launch control and test engineer for United Space Alliance, responsible for testing navigation and communication systems on NASA's space shuttle fleet.
Traci Lee, '79
Tacoma, works as the hospice chaplain at Hospice of Tacoma. She is also attending Seattle Pacific Univ., working on a Ph.D. in clinical psychology.
Keith D. Collins, '80
Bellevue, is vice president of Visio Corp.
Connie Hill-Swartz, '80
Newcastle, moved into the sales profession after 18 years of marketing hotels and shopping malls. She is the corporate salesperson for Alvin Goldfarb Jeweler.
Lawrence Kreisman, '80
Seattle, had his book Made to Last: Historic Preservation in Seattle and King County published by Historic Seattle Preservation Foundation in association with UW Press.
Jeffrey V. Bialik, '81
San Rafael, Calif., was appointed vice president of operations and chief financial officer at Golden Gate Univ. in San Francisco in September.
David J.E. Callaway, '81
New York, is professor and laboratory director, Picower Institute of Medical Research. He leads a lab trying to find a cure for Alzheimer's disease. He also is a mountain climber who has climbed in the Himalayas. "Everest, anyone?" he writes. His Web site is http://indigo.picower.edu/.
Thomas J. Willett, '81
Bellevue, joined Lease Crutcher Lewis Contractors in November 1998 as a project manager in the construction management division. He currently is on assignment as owner's representative to the Port of Seattle waterfront projects.
---

Daniel C. Jardine, '82

---
Daniel C. Jardine, '82
Seattle, was named an associate at Mahlum Architects. He has been with the company since 1987. His most recent assignment was as a project manager. His area of specialty is education and health care.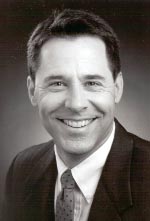 ---

Chuck Nelson, '82

---
Chuck Nelson, '82
Mill Creek, has joined Rigel Capital Management of Seattle as vice president and senior portfolio manager responsible for client communication. He had been associate vice president and investment officer at the Everett office of Dain Rauscher. Nelson is also widely known as a color commentator on Husky football broadcasts on KOMO radio.
Marian L. Bingea, '83, '88
Seattle, is co-author of a new book, Caring for Yourself While Caring for Others: A Survival and Renewal Guide, published by Vantage Press last year.
Shirley Eclipse, '83
Tacoma, is an account executive at KING-TV in Seattle.
Hans Thielman, '83
Colorado Springs, Colo., is working as a legal editor for Shepard's in Colorado Springs.
Mike Cragg, '86
Durham, N.C., was promoted to assistant athletic director and director of the Duke Basketball Legacy Fund at Duke Univ. He has served as Duke's sports information director since 1990 after three years as an assistant sports information director.
Chuck Anderson, '87
University Place, is a kite maker. He is combining his love of kites and the Arabic language to make contacts over the Internet, to talk with Arab people all over the Middle East and North Africa about their interests in kites.
Samantha Blake, '87
Topanga, Calif., was married to Marc Lane on Feb. 14, 1999. She is an associate with the law firm of Kehr, Schiff & Crane, practicing business, real estate and probate litigation in the Santa Monica area.
Harry F. Higgins, '87
SeaTac, worked as a general assignment news photographer at WCIV-TV in Charleston, S.C., in 1988 before moving to KEZI-TV, the ABC affiliate in Eugene, Ore., in 1989. He married wife Moyra in July 1991. He moved to KCPQ-TV, the Fox affiliate in Seattle, as general assignment news photographer in December 1997.
Lawrence Roybal Jr., '88
Sammamish, has taken a position with Pet's Choice as a revenue accountant. He and his wife, Heidi, live on the Sammamish Plateau with their daughters Kara, 12; Kayla, 10; and Miranda, who was born on Oct. 25, 1999.
Norman Stephens, '88, '89
Ridgecrest, Calif., is an associate professor of English at Cerro Coso Community College in Ridgecrest, which is on the eastern side of the Sierra Nevada mountain range 3-1/2 hours from Los Angeles.
Stephanie Doyle, '89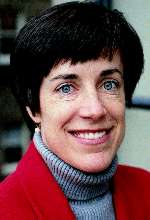 Seattle, left her position as director of alumni relations at the UW Alumni Association to become a major gifts officer in the UW Office of Development. In her 14 years at the UWAA, she worked with hundreds of alumni volunteers at Washington Warm Ups, Coaches Tours, Salmon Barbecues, Welcome to Washington events, among many others. She helped to revitalize and increase participation in alumni programs and helped stage dozens of events. She was a member of the 1988 national champion UW women's crew.
Tana Roberts Gall, '89
Seattle, and her husband, Andrew, '91, became the proud parents of a baby boy, Richard Thomas, on Sept. 28, 1999. Andrew is employed as a mechanical engineer for North Star Ice Equipment, and Tana is the senior marketing director for Leisure Care.
Dave Juran, '89
Mountain View, Calif., relocated to the Bay Area in early 1999 and took a position with PeopleSoft as global alliances manager.
Juli Eflin, '90
Muncie, Ind., was the recipient of Ball State Univ.'s Lawhead Award for outstanding teaching in the university's core curriculum for 1998-99.
Todd E. Monohon, '90
Olympia, recently joined the staff of St. Martin's College in Lacey as director of development.
Brad Baum, '92
Albuquerque, N.M., recently started a new position as a hydrologist with Daniel B. Stephens & Assoc. He received his master's in forest hydrology from Northern Arizona Univ. in August.
Kimberly K. Chun, '92
San Jose, Calif., recently joined Liberate Technologies, a software company in the Silicon Valley, as director of OEM (original equipment manufacturer) sales. She has been working in the computer industry in the Bay Area for more than four years.
Annette Lessard-McGary, '92
Seattle, met her husband, Mark McGary, '92, while attending the UW. They were married in 1995 and had their first child in 1998. She is currently an early childhood educator working in the Lake City area. Mark works for a construction firm. They live in Ballard.
Susan Scott, '92
League City, Texas, and her husband, Mike Saunders, have quit cruising in their sailboat and are building a home on the island of Roatan, Honduras, where they plan to live.
Christopher K. Visser, '92
Houston, recently graduated from the Univ. of Houston Law Center and is practicing corporate and securities law at the Houston office of Weil, Gotshal & Manges.
Carlene Cross, '93, '95
Bainbridge Island, is the author of The Undying West: A Chronicle of Montana's Camas Prairie, published in September by Fulcrum Publishing. She grew up on the Camas Prairie farm her great-grandmother homesteaded in 1919, and which is still operated by her family today.
Pamela Dressel, '93
Seattle, is a dispatcher at a plumbing company. She is married with no kids, but has three cats.
Darlene Beckley Milam, '93
Kirkland, was married to Scott Milam on Oct. 24, 1998. She recently accepted a sales position at Muzak. Her husband works in video production/editing.
Tim Myers, '93
Brookline, Mass., completed his Ph.D. in chemical engineering from Cal-Berkeley in the spring and works as an engineering consultant in the Boston office of Exponent Failure Analysis Assoc.
Joseph Kepiro, '94
Riverside, Calif., is working on a Ph.D. in plant genetic/breeding/molecular biology. His dissertation project is "Molecular genetic analysis of nuclear embryony/apomixis in citrus."
Emily Quinn, '94
Boise, Idaho, has a new job as the branch librarian for the U.S. 9th Circuit Court of Appeals, serving the eight federal judges residing in the District of Idaho.
Tim Valencia, '94
Puyallup, received his M.B.A. in December 1999 from Pacific Lutheran Univ. His concentration of study was technology and innovation management.
Volkmar Gaussmann-Chen, '95
Bellevue, works at Attachmate in Bellevue and runs the beta and Y2K programs, and certification testing for Windows 2000. He also started an acupuncture clinic with his wife, Peishan Chen. Gaussmann-Chen enrolled in the M.B.A. program at the Univ. of Phoenix in January.
Larry Graham, '95
Bellevue, started a law firm, Black Lowe & Graham, practicing intellectual property law. His book, Legal Battles that Shaped the Computer Industry, was published by Quorum Books in September 1999.
Judith A. Malmgren, '95
Seattle, is in the third year of running her consulting business, Judith A. Malmgren Ph.D., Epidemiology and Health Services Research Consulting. Her clients are Regence Blue Shield of Washington, UW Physicians, the National Registry of Myocardial Infarction, and the Foundation for Health Care Quality. She also is a member of the Seattle Chamber of Commerce.
Jennifer R. Weisbart, '95
Lynnwood, teaches math and science at Leota Junior High in the Northshore School Dist.
Jamie Shaffer, '96
Bothell, has a May 13 wedding date with her fiancé, Rob Wham, in Seattle.
Jeffrey P. Jones, '97
Seattle, wrote two short stories based on the research he did for his master's at the Jackson School. The stories, based on Russian subjects, won national awards and were published in two journals—The Mississippi Review and Rambunctious Review. He also published an article on post-Soviet Russian cinema in The World & I. He is currently working on a nonfiction book about school violence. He expects it to be released this year.
Sarah A. Miller, '97
Naples, Italy, will finish an M.B.A. from the Univ. of Colorado at Colorado Springs in May. She is employed by the federal government as a civilian employee stationed in Italy, "enjoying this unique opportunity to live and work abroad," she writes.
Gloria P. Nunez, '97
La Canada, Calif., was married to Thomas Gotshall, '97, on June 12, 1999. He is a second-year law student at Whittier Law School in Costa Mesa, Calif. She is a public health nurse with the Los Angeles County Dept. of Health Services.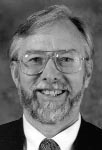 ---

J. Daniel Ballbach, '98

---
J. Daniel Ballbach, '98
Seattle, was named CEO of Marten & Brown. He practiced law for 24 years, most of that at Perkins Coie, in the environmental arena. In 1996, he left the practice of law to become chief operating officer of the environmental consulting firm Landau Assoc. In 1997, he was promoted to president and CEO of Landau.
Amy M. Hoerler, '98
Norwalk, Conn., continues to produce The Dan & Scott Show, the largest source of adult comedy on the Internet. She is also delving "into indie film on the side and may go to film school soon," she writes.
Ethan V. Janson, '98
Seattle, has a general dental practice in downtown Seattle, and continues to teach as a part-time auxiliary faculty member at the UW School of Dentistry. He also works as a sports photographer for the UW sports information office.
You must be a member of the UW Alumni Association to be listed in the Alumnotes section. To join, call (206) 543-0540 or 1-800-AUW-ALUM.
---
Submit a Class Note
Tell us what major events have happened in your life: a new job, marriage, children, retirement, advanced degrees, you name it.

Submit an Obituary
Please let us know if a UW alumnus has died. Be sure to include date of death, place of death and age along with the UW class year (if known).

Update Your Records
Moving soon or know someone else who has? Let us know so that we can keep Columns coming to you.

Contact Information
Columns Magazine
1415 N.E. 45th Street
Seattle, WA 98105
Phone: (206) 543-0540
Fax: (206) 685-0611.
E-Mail: columns@u.washington.edu