Tom Pressly
No Mr. Chips from my years as a University student, but great professors, specifically, Tom Pressly, Giovanni Costigan, Stull Holt, Angelo Pelligrini, Melvin Rader, George Taylor and Don Treadgold. They taught more than history and philosophy, although given their tutelage, these disciplines would have been sufficient to influence a young man's life. Perhaps as important, they were exemplars of citizenship in a democracy, even without trying, advocates of respect for ideas, those of others as well as one's own. The implied lesson: be wary of political absolutes from either the left or the right. It was a lesson learned.
Tom Pressly, however, proved special. I came to the University as a son of the agrarian South and a grandson of the Confederacy. As such I wanted to know if there was a Yankee side to the story of our great 19th century conflict. Accordingly, I enrolled in Pressly's American history survey course, where I learned there was, indeed, more to the war and to its result than Northern perfidy, Southern bad luck, and the monstrous ill will of Abraham Lincoln-the slant of my previous education at home and in the classroom.
At the end of the course, I approached Pressly to thank him for this enlightenment. He asked why and where I came from. I told him, "Union City, Tennessee, and that I never before heard the Yankee side of the Civil War." Without any sign of irony, Pressly replied that he was from Troy, a hamlet between my home and the Mississippi River. Professor and student had grown up within seven miles of each other and emerged in another part of the continent and a vastly different culture. My hunch is that along the way from west Tennessee to Seattle, Tom Pressly had professors to teach him 19th century American history that were as great as he would become at the University of Washington. May the current generation be so well served.-Shelby Scates, '54
---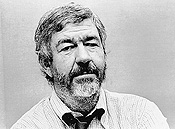 Shelby Scates was a wire service reporter prior to his career as a reporter and columnist at the Seattle Post-Intelligencer. Now retired, Scates recently wrote Warren G. Magnuson and the Shaping of 20th Century America for UW Press. He is currently working on memoirs of his career in journalism, tentatively titled Wars-and Politics by Other Means.

Photo courtesy Seattle Post-Intelligencer