Coaches Penalized for Recruiting Violations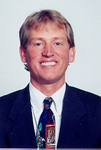 The UW penalized Football Coach Rick Neuheisel and five assistant coaches March 4 following an investigation of recruiting violations that occurred in January.
For the 1999-2000 recruiting period, the University will limit Neuheisel's off-campus recruiting visits to nine. Under NCAA rules he could have made up to 29 visits. The UW will also cut four weeks from the period the five assistant coaches can recruit. In addition, administrators will trim the number of official, on-campus visits for recruits from 56 to 50.
UW Football Coach Rick Neuheisel
The penalties stem from two main incidents. On Jan. 31, five assistant coaches (Keith Gilbertson, Randy Hart, Bob Hauck, Tim Hundley and Wayne Moses) had personal contact with eight recruits, a violation of the NCAA "quiet period," which bans contact the Sunday prior to the national "letter of intent" signing day.
Confusion over the starting date for the "quiet period" and the fact that Neuheisel and his staff had just been hired convinced the law professor investigating the violations, Rob Aronson, that "the coaches were not aware that they were violating the rules."
The other violation concerned calls to Colorado football players by Neuheisel after he left Colorado for Washington. The NCAA bans contact between a coach at one four-year school and a player at another without written permission from the other school's athletic director. Neuheisel did not have permission from Colorado.
However, Neuheisel says he made the calls to say good-bye to those players who missed his last team meeting on Jan. 11. "There is no credible evidence to suggest that the calls were intended to 'tamper' with Colorado student-athletes or encourage them to transfer to Washington," Aronson says.
Speaking to the press, Neuheisel said he could "look at himself in the mirror and know that I didn't do anything intentionally wrong." He told reporters that he accepted responsibility for the infractions. "We did break a quiet-rule period and we have sanctioned ourselves accordingly," he said. "We want to be a flagship school and we'll find a way to overcome it."
The UW imposed penalties on itself to accept responsibility, says Athletic Director Barbara Hedges, and to protect the integrity of the University and its athletic program. The Pac-10 will consider the violations at its June council meeting. Both the conference and the NCAA could add penalties of their own or accept those already imposed by the UW.
In his report to the Pac-10, Aronson noted, "The University is determined that similar violations will not occur in the future." He added that "procedures are being established to make certain that all decisions affecting recruiting will be made in conjunction with compliance personnel."
Text of the Reports by Law Professor Rob Aronson.