Dawg Improvement: Karn Hosts LA Scholarship Event
Richard Karn, '75, a co-star on ABC's top-rated television show Home Improvement, is the featured guest at the Los Angeles Alumni Club scholarship auction and wine tasting held at 6 p.m. Tuesday, June 8 at the Pacific Asian Museum in Pasadena
Karn, who has played "Al" on the hit comedy show for the past eight years, will emcee the auction, which features more than 100 items up for bid.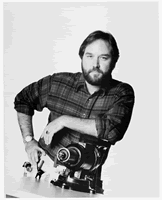 ---

Richard Karn, '79, plays Al on the popular TV show "Home Improvement." Photo courtesy ABC-TV.

---
The items include a wide array of sports memorabilia, from footballs and caps autographed by former Husky football players Warren Moon, Napoleon Kaufman and Lincoln Kennedy, to hockey sticks and pucks autographed by such NHL stars as Dominic Hasek and Chris Chelios, tickets to the Santa Anita Race Track, gift certificates to Nordstrom and tickets to theaters in the Los Angeles area.

In addition, Columbia Crest Winery of Woodinville, Wash., will donate Washington wines for a tasting. A winery expert will be on hand as well to talk about Washington wines. All auciton proceeds will go toward a scholarship for a student from Southern California who will attend the UW. The Los Angeles club hopes this could turn into an annual event, and for good reason-there are more than 14,000 UW alumni in the state and many hope their sons and daughters will consider the UW.

For information about the event, contact the UWAA at 1-800-AUW-ALUM.

Karn, who received his bachelor's degree in drama from the UW, has long been involved worthwhile causes. From June 18-27, Karn will host Richard Karn StarDays, a 10-day series of celebrity events in the Seattle area to support cancer research and treatment.

Karn, who lost his mother to cancer in 1983, will bring more than 100 celebrities to King County for various events. Last year's efforts raised $215,000. Proceeds from Richard Karn StarDays will benefit the Fred Hutchinson Cancer Research Center and Overlake Hospital Medical Center.

"Cancer impacts the lives of so many people," Karn says. "Support for this event can only grow, and working together, we can make a difference in the lives of people with cancer and their families."

Anchored by the Sixth Annual Hillshire Farm/Richard Karn Celebrity Golf Classic (televised by ESPN), Richard Karn StarDays also features a music festival, celebrity fashion show, celebrity basketball and baseball games and a block party. For more information about Richard Karn StarDays, call (206) 382-4111 or go to the Web site.