Charles Johnson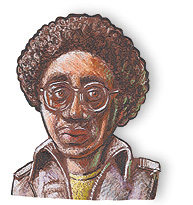 Charles Johnson was a real writer. I had always wanted to meet one. I had always wanted to be one. His classes were everything I had hoped college would be. He worked us hard. We had big, challenging assignments every day. On Monday we would have to describe a single event through the eyes of five radically different people, Tuesday we'd have to write a thousand word sentence without using the word "and." Crazy stuff, fun stuff, difficult stuff. I saved the assignment sheets and, to this day, hand out copies to people who ask how I became a writer.
Over the years I spent at the UW, Johnson's classes took on a familiar pattern. The first week the class would meet in a regular classroom, where the 30 to 40 people would learn what the workload would be. Within a week we'd be down to five people and class would be held in the alternate little conference room that he kept reserved for the right time. Then the real class would begin. He had the mixture of humor and dedication necessary to deal with students like us: a collection of snotty, deadly serious little bastards who thought they were going to be the next Charles Bukowski or Kathy Acker. His direction was gentle but firm.
It turned out that I was better at writing disposable humor for television, the great Satan. But every now and then, I see Charles Johnson in a magazine getting a literary award or the critical praise that he richly deserves. I hold up the magazine and tell everybody within earshot that I used to study with this guy. It's great to remember a time when I thought all things were possible and I was one of the good guys.-John Keister, '80
---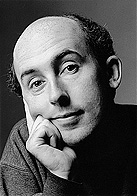 John Keister is the host and a writer for KING-TV's comedy show Almost Live!, where his work has won 14 Northwest Emmy Awards. He previously edited the Daily and was a senior editor at the Rocket.
KING-TV photo