Visions of Green
A Personal Loss Drove Jim Ellis Toward a Life of Civic Activism that Made Our Lakes Clean, Our Buses Keen and Our Landscape More Pristine.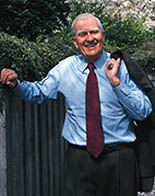 Jim Ellis stands in one of his showpieces of the Puget Sound area, Freeway Park, with another of his projects, the Washington State Trade and Convention Center, in the background. Photo by Mary Levin.
By Jon Marmor
An artillery shell that exploded on a World War II battlefield near Trier, Germany, in February 1945 changed the course of the Puget Sound area forever.
On that winter day, a young American soldier by the name of Robert Ellis was killed in action during the Battle of the Bulge. His older brother, James, himself a young Air Force officer stationed back in Idaho, was utterly devastated by the news. He and his younger brother had been inseparable. As teen-agers, they built a log cabin east of Lake Washington with their bare hands. Jim always looked after his younger sibling, who was ill much of his childhood. Jim wanted revenge, and demanded to be sent to the front lines.
---

Robert Ellis

---
But his wife of three months, Mary Lou, interceded. Don't go the front lines, she said. You could die. That isn't what Bob would want. Why not do something to honor him?
Ellis stormed out of their hut and spent the next few hours tromping around in the snow. His wife's last comment replayed over and over in his head. What did she mean by that?
When he returned home, he asked her to explain. "We could take part of our life and give something to others, for Bob," she said. "How about conservation? Bob always liked that."
With that, James R. Ellis not only achieved a measure of closure on his brother's death, but got the inspiration for a lifetime of civic activism that would lead him to undertake some of the most far-reaching public service projects the Puget Sound area has ever seen.
In the 1950s, against overwhelming odds, Ellis spearheaded repeated efforts to clean up pollution-choked Lake Washington and start a county-wide transit system by creating Metro, a regional governmental agency. He was the chair of Forward Thrust, a grassroots community effort which secured authorization for the Kingdome, many parks and other public improvements. He engineered public acquisition of thousands of acres of endangered farmland, and fought for a "lid" on top of Interstate 5 in downtown Seattle to serve as the home for the Washington State Trade and Convention Center and Freeway Park. And today, among other things, he is heading up the Mountains to Sound Greenway Trust, an effort to preserve the green belt along the I-90 corridor from Cle Elum to the Puget Sound.
"When you think of the legacy of the Northwest," says former Seattle Mayor Norm Rice, '72, '74, "and all we have -- a cleaned-up Lake Washington, the green open space, even the viability of downtown Seattle, Jim Ellis' name is at the top of the list. He truly is a visionary who has dedicated himself to bettering his community."
For his lifetime of public service, the University of Washington and the UW Alumni Association have bestowed upon him their highest honor: the 1999 Alumnus Summa Laude Dignatus award. He joins a distinguished list of alumni who, since 1938, have been honored as the alumnus of the year. Other winners include science educator Shirley Malcom, '67; artist Chuck Close, '62; Nobel Prize winning biochemist Martin Rodbell, '54; former Speaker of the House Tom Foley, '51, '57; and photographer Imogen Cunningham, '08. Since the University does not award honorary degrees, it is the highest honor the UW bestows upon its graduates.