Three Generations Donate $3 Million to Honor Two UW Physicians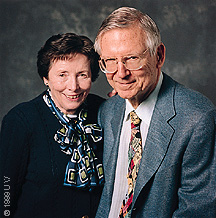 When Ellsworth C. "Buster" Alvord joined the UW medical faculty in 1960, he brought more than his family and his expertise in diseases of the nervous system to Seattle. He also brought Dr. Cheng-Mei Shaw and his family. Shaw and Alvord met when Shaw was a resident in neurosurgery at Baylor University, where Alvord was on the faculty. "We've worked together on just about everything since we started more than 40 years ago," says Alvord. Shaw was appointed to the UW faculty, and the Shaw and Alvord families have shared a close friendship over the years.
Now three generations of the Alvord family are donating $3 million to create two new endowed chairs at the UW School of Medicine: the Nancy and Buster Alvord Endowed Chair in Neuropathology and the Cheng-Mei Shaw Endowed Chair in Neuropathology.
Alvord and Shaw plan to retire soon, and that helped prompt the younger Alvords to join in the family gift. "We wanted to honor my father and Dr. Shaw and their life's work, especially their efforts to find the causes and cure for multiple sclerosis," says Chap Alvord. "Their retirement was a great opportunity to do that." The gift also shows that the children and grandchildren are following Buster and Nancy Alvord's example of community involvement.
Buster and Nancy Alvord are well known for their philanthropy and their leadership as volunteers for the Seattle Symphony, Seattle Opera, ACT, Seattle Art Museum and other organizations. They were honored with the "Seattle First Citizens" award in 1991 and the UW Recognition Award this year. "Seattle has been so good to us that paying back just seemed natural," says Buster Alvord. "We have received far more than we have given."
In 1995, Buster and Nancy Alvord and their children were honored as the state's "Outstanding Philanthropic Family." The Alvord siblings-Chap, Richard, Kathy Gerlich, and Jean Rhodes-and their families are heavily involved in volunteering for and supporting many educational and artistic projects. "We grew up listening to Mom and Dad talk at the dinner table about their volunteer work, and it spilled over into the kids' lives," says Chap.