Adoptive Parents Need to Know the Health of their Overseas Child. Now a New UW Center Helps Them Get a Head Start.
by Beth Grubb
Last fall Beth and Brian Knudsen traveled to the South Pacific's Marshall Islands to adopt three boys, but there were many things they didn't know.
They didn't know that the boys were brothers, or that their birth family included six older children. They didn't know the boys' exact ages. They didn't know how the first meeting with the children's birth family would go. And they certainly didn't know the complete status of their health.
The information from the adoption agency that referred the three boys to the Knudsens was sketchy-just the boys' ages (which turned out to be incorrect), some growth measurements and a letter saying they were in "good health."
Before becoming an instant family, the Knudsens wanted to know as much as possible about these children. They turned to Dr. Julie Bledsoe, a pediatrician who runs the Center for Adoption Medicine, a clinic at the UW Medical Center-Roosevelt. She is the first pediatrician in the Northwest-one of only a few dozen across the United States-specializing in international adoption medicine. Using information provided by orphanages and adoption agencies-which might include medical records, birth histories, photos or videotapes-she tries to determine the health status of children for prospective parents.
"Every country is different in terms of the amount of medical information available and the kinds of health problems children may be at risk for," Bledsoe says. Currently, most of Bledsoe's patients are from China, the former Soviet Union and, increasingly, Cambodia.
"I didn't know much about what problems were prevalent in the Marshall Islands," Bledsoe says. "I told the Knudsens about common conditions and gave them some prescriptions and my standard talk on risks."
For the trip to pick up their new sons, the Knudsens packed a barrage of medical supplies: prescription antibiotics in powder form, over-the-counter pain relievers, bandages and thermometers. If needed, they could begin treating minor conditions right away, per instructions from Bledsoe.
When the Knudsens arrived in the tropics, the boys-Brenny, 7; Peter, 4; and Mike, 22 months-did appear to be in relatively good health. Mike had an ear infection, which they treated with an antibiotic, and Peter had a skin rash, to which they applied a cream. Both cleared up quickly.
The other medicines they had brought along, for pink eye, parasites, scabies, diaper rash, lice, dehydration, fever and assorted ailments, were not needed, so the Knudsens left them behind with the adoption agency.
On the family's return to Seattle, Bledsoe gave each of the boys a thorough checkup, including blood tests. She discovered that all three has been exposed to a the hepatitis B virus and while the older two are free and clear, the youngest needed some medical treatment.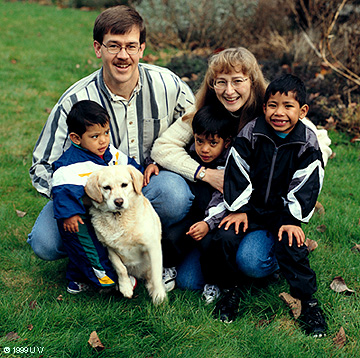 Brian Knudsen and his wife, Beth, say life with their three adopted sons-from left, Mike, Peter and Brenny-has been made much easier, thanks to the help of Dr. Julie Bledsoe. Photo by Jon Marmor.
While the virus was a concern, the three Knudsen brothers are doing well and adjusting to their new home. "They're small for their ages," Beth Knudsen comments, "but they've already grown a lot." Brenny, who was enrolled in first grade soon after arriving here, grew 2 inches in his first three months in the United States, and Peter grew an inch and a half.
"Julie has just been fantastic," Knudsen adds. "She's familiar with Third World conditions and she knew just what we needed." Bledsoe's gentle bedside manner was a big help, too, since the children were not used to doctors.
"She always has good advice, not only medical, but in general. She understands what it's like," Knudsen says.
Bledsoe and her husband, Dr. Brian Johnston, who is also a pediatrician, adopted an infant Korean boy, Sean, now 2 1/2. They know firsthand what adoptive parents experience, as is often the case with pediatricians specializing in this type of medicine. "We call ourselves 'owner-operators,' " Bledsoe says.