Siri Andrews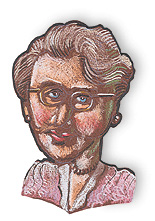 The UW School of Librarianship was 60 years ago! This was the darkest Depression, and I had come from the University of California and was existing in Seattle on $35 a month, $8 of which paid for my room a long walk from the campus. The remaining money went for meals in the Commons or in cheap restaurants nearby until my landlady, sensing my need, served a substantial breakfast for 20 cents.
At the end of the first quarter, Dean Ruth Worden called me into her office to tell me I had done good work in her class in Book Selection but she was giving me a C because I had looked bored. I was stunned. I had found her course inspirational and could not believe any university would grade on the facial expression of any student, much less one who was exhausted and hungry. Dean Worden then offered me the use of the faculty restroom to dry my tears.
On the other hand, Professor Siri Andrews, who taught courses in children's work, the reason I was attending the University, smiled but said nothing when I confessed my failure. She taught her classes in a brisk, businesslike way and must have had faith in me for she persuaded the Los Angeles Public Library to waive the residence requirement for me. However I could not afford the trip to Los Angeles to take the civil service examination. I became children's librarian in Yakima, a position I enjoyed-and where I found inspiration for the books I was to write in the children who used the library. That is the way it was in those grim Depression days.-Beverly Cleary, '39
---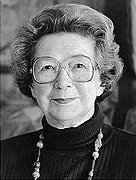 Beverly Cleary's newest novel, Ramona's World, will be released in August, the first new Ramona book in 15 years. Cleary's books have won many awards, including a 1984 Newberry Medal for Dear Mr. Henshaw. Her work has appeared in more than 20 countries and fourteen languages.
Photo by Alan McEwen.