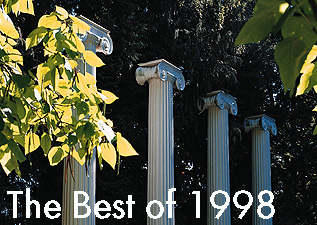 The University of Washington has expanded its awards program to honor staff members for their outstanding service to our community. Out of more than 100 nominees, the judges named five winners for 1998. UW Medical Center Patient Services Coordinator Cindy C. Farrell works in the Roosevelt pediatrics clinic and was cited for her caring attitude toward patients and their families. Telecommunications Services Manager Scott Mah was honored for designing and maintaining digital systems that link UW people to other campuses and the world, and for his help in building the state's K-20 telecommunications network. RN Supervisor Brenda K. Montgomery is the program coordinator for the UW Diabetes Prevention Program and was recognized for her community outreach and her research planning efforts. Gardener Kristen C. Spexarth tends about 20 acres of the UW campus, including the grounds of the President's Residence, and was honored for her creativity, enthusiasm and innovation in garden design. Machine Mechanic Supervisor Tom Wade is responsible for repairing and maintaining equipment in the dental school and was cited for his dedication and innovation, including designing the school's simulation lab, a model for dental schools across the nation.

Return to the Beginning of "The Best of 1998"

Send a letter to the editor at columns@u.washington.edu.