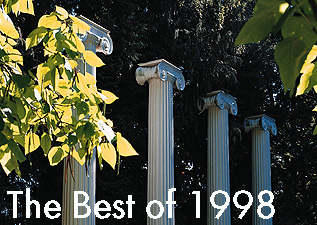 Emily Silverman's philosophy for teaching statistics is simple: Know your students.

This gets complicated, however, when you consider that as a teaching assistant for the Center for Quantitative Science in Forestry, Fisheries and Wildlife, her students are much more comfortable studying critters, crabs and conifers than they are studying coefficients.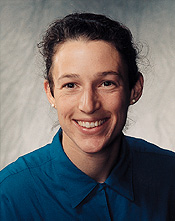 "I get all kinds of comments about how much they hate quantitative stuff or how they're no good at math," Silverman laments.
Silverman's ability to help her students overcome their aversion to most things mathematical is just one reason she has been awarded a 1998 Excellence in Teaching Award.
"I'm no longer afraid of statistics and feel like I've got a handle on things," commented one of Silverman's former students. "I'm amazed how interesting and useful this stuff is."
Silverman, a 31-year-old Michigan native, receives equally rave reviews from faculty who have observed her work as a teaching assistant and instructor over the past two years. Silverman's skills were particularly appreciated last year when she was asked at the last minute to teach a large, two-quarter statistical methods sequence after the original instructor fell through.
"Emily is what one would call a 'born teacher,' " says Loveday Conquest, associate dean in the College of Ocean and Fishery Sciences. "This really makes a difference when you realize ... quantitative methods, and especially statistics, probably wins the prize for 'most dreaded set of required courses' for biologically oriented majors."
That is why it is so important, Silverman says, for her to know her students' academic interests, skill levels and learning styles. Silverman starts with a short background assessment to find out how much they know. Then she scours books, newspapers and the Internet to find real-life examples relating course material to her students interests.
After graduating this summer with a Ph.D. in quantitative ecology and resource management, Silverman hopes to land a faculty position where she can continue to teach while doing research on ecological modeling.
"I enjoy the feedback you get in the classroom that you don't necessarily get from doing research," she says. "And I still feel like I'm making an impact on science by helping others understand their data--maybe even a greater impact than I could make with my own research."--Greg Orwig, UW News and Information
Return to the Beginning of "The Best of 1998"
Send a letter to the editor at columns@u.washington.edu.