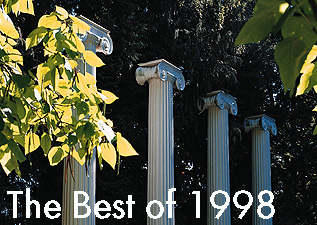 It's no accident that the University of Washington has recognized Teaching Assistant Frank Rothaermel with a 1998 Excellence in Teaching Award. He works hard at it, takes it very seriously and sometimes goes above and beyond the call of duty. Rothaermel teaches courses in strategic management to M.B.A. students.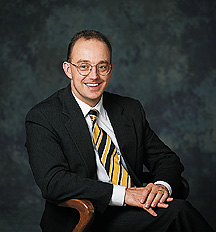 A native of Germany, Rothaermel earned his master's degree in international economics and public policy in Germany and then got his M.B.A. at Brigham Young University. Rothaermel got his introduction to teaching at BYU when, as luck would have it, a couple of teaching assistant slots opened up.
"The first thing I did was sit down and think about who were the best profs I knew and why were they great instructors," Rothaermel says. "I realized that these outstanding educators personified the following characteristics: caring, competent, passionate and patient." The more he taught the more he wanted to give his students. "I am not only teaching them management theory but I make sure that these future leaders will know how to apply different theories in real world settings. I want to help them become more effective business people, but I also want them to be better citizens and leaders in their communities, families and volunteer organizations."
His students praise not only his teaching skills, but his dedication to them as well. They recall a particular incident last October when he showed up a little late to his Executive M.B.A. class.
Rothaermel was tardy because he had collided with a car while biking to class from his home near Green Lake. The collision knocked him unconscious for a while. As he was being taken to the hospital in an ambulance, he managed to talk the attendant into letting him go and a police officer gave him a ride to class.
After conducting the review session, he went straight to the emergency room, where he stayed until the wee hours of the morning while doctors worked on his injured hip, dislocated shoulder and concussion. "He knew how important the review was to us and given everyone's busy schedule, he didn't want to let us down," says Gregory Buckhardt, one of the students in the class.
His faculty mentor, Charles Hill, the Hughes M. Blake Professor of Management and Organization, says, "I think Frank Rothaermel exemplifies the best standards of excellence and dedication to teaching, to students well-being, and to the scholarly life."--Paul Lowenberg, UW News and Information
Return to the Beginning of "The Best of 1998"
Send a letter to the editor at columns@u.washington.edu.