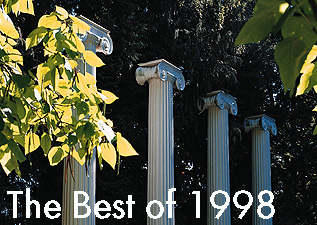 In her first year on the faculty of the UW law school, Anita Ramasastry was named Teacher of the Year by the Student Bar Association. Now in her second year, she's topped that with a 1998 Distinguished Teaching Award. How did one so young hit the heights so fast?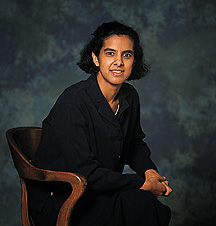 The answer, surprisingly, is experience. Although she's only been an official faculty member for two years, Ramasastry has been teaching much longer than that.
"I'm convinced it's a calling," Ramasastry says with a laugh. "It's the one thing I've been consistently good at."
Ramasastry began college at Harvard. During two summer terms she taught in a special program for junior high and high school students. The course she taught, appropriately enough, was law-related.
Although she chose to enter law school rather than take the academic path to a doctoral degree, Ramasastry didn't stop teaching. She was a teaching fellow in both the government and history departments at Harvard and taught legal writing to first-year law students.
"When I first went to law school I thought I wanted to be an immigration lawyer, but inside six months I'd decided I wanted to be a professor," Ramasastry says.
Inspired by her first-year professors, Ramasastry was disappointed with some of the rest of law school because of large classes where she didn't participate. "I decided that I would never let my students be disengaged that way," she says.
Not much chance of that. In Ramasastry's first year contracts class, students learn concepts by participating in simulations, negotiations, mock trials, even by staging game shows.
The technique is a hit with her students. A letter signed by 20 of them says, "Using such techniques, Professor Ramasastry not only established a clear analytical framework for the entire course, she made the otherwise dry subject matter fun and interesting."
Which sort of summarizes Ramasastry's philosophy of teaching. "If you can make learning fun, you can push students to work hard and they'll respond," she says. "They won't even be aware that you've turned so much responsibility over to them."--Nancy Wick, UW News and Information
Return to the Beginning of "The Best of 1998"
Send a letter to the editor at columns@u.washington.edu.