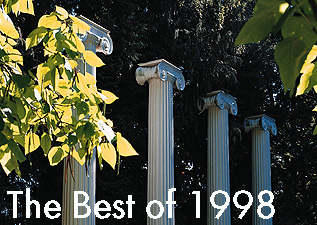 How do you teach a classroom full of medical students to cope with a patient arriving at the "ER" with heart attack symptoms? If you're Terry Mengert, you might challenge them to a spirited game of "Myocardial Infarction Jeopardy."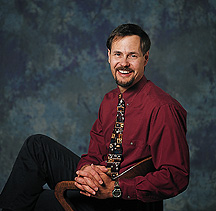 Mengert advocates learning by doing, and likens learning a medical skill to mastering a tennis stroke. "You don't get good by reading or hearing about how to hit a backhand, you get good by doing it. The same is true of learning to be a doctor.
"In teaching medicine, we've often made the mistake of being too passive," he says. "I've tried to make it more active, by presenting students with clinical cases, asking a lot of questions and expecting answers."
Mengert's creativity and compassion led to his winning a 1998 Distinguished Teaching Award. Despite having completed two UW bachelor's degrees (zoology and forest resources), a UW medical degree, a residency in internal medicine in UW-affiliated hospitals, and 11 years as a UW emergency-room physician and faculty member, Mengert says he's still learning.
"The questions and issues that the students and housestaff raise teach me; in fact, I think I learn more from them than they do from me," he says.
"Terry's teaching occurs at the bedside and in the hallway more than in a traditional lecture hall," says Mickey Eisenberg, director of the Emergency Medicine Service at UW Medical Center. "The bulk of his teaching occurs in a unique and demanding setting: a busy emergency department. I consider him a master teacher of clinical medicine."
"In an area of medicine that moves at a fast and even intimidating pace, he has the ability to make the emergency department a comfortable and enjoyable learning environment," notes one of his students.
The UW award is the latest in a string of teaching awards for Mengert. He was named a role model by fourth-year medical students, received the Beeson Award voted by medical students for the best clinical teacher in the Department of Medicine, and has received the "Golden Apple" award from students in the Medex Northwest Physician Assistant Training Program in each of the last three years.--Laurie McHale, Medical Affairs News & Community Relations
Return to the Beginning of "The Best of 1998"
Send a letter to the editor at columns@u.washington.edu.