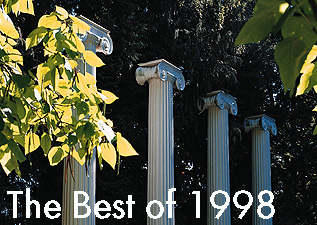 When the UW history department hired Tracy McKenzie in 1988, he filled a position vacated by legendary Professor Tom Pressly, a Distinguished Teaching Award winner. At the time, a faculty member predicted McKenzie would "honor the position held by Professor Pressly."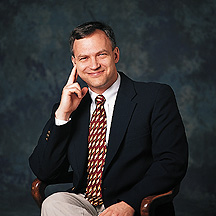 Not only has McKenzie honored it, he has followed in Pressly's footsteps by winning a 1998 Distinguished Teacher Award himself.
"For the last few years, undergraduate students have been telling me what a good teacher Tracy McKenzie was, and my visit to his classroom confirmed their impression," one colleague says. "What I witnessed was a polished, lucid, and engaging explanation of how the Union began disintegrating between 1848 and 1858. His teaching surely helps to bring distinction to the history department."
The same students who describe him as a "fabulous professor" and "charismatic" also note receiving strong criticism and low grades from McKenzie, who teaches Civil War history. (His comments on student papers can rival the papers themselves in length.) "His standards may be high, (but) no one ever complained that they were unfair or that they did not get the guidance they needed to meet those standards," a student comments.
"I've always thought that the role teachers should play is to follow the old newspaper motto to 'comfort the afflicted and afflict the comfortable,' " McKenzie says. "I don't intend on leaving my students in a self-congratulatory mood. I want them examining and questioning their attitudes--not necessarily discarding them, but examining them."
"Tracy takes risks as a teacher," a colleague wrote. "He is scrupulously careful to distinguish between history and his own opinions, but at the same time he models in himself the claim that he urges upon his students: that history demands of all of us that we engage ourselves personally with it."
"The idea is not that at age 21 [students] have all the answers," McKenzie says, "but that they can articulate the conflicts around their world view."--Nedra Floyd Pautler, UW News and Information
Return to the Beginning of "The Best of 1998"
Send a letter to the editor at columns@u.washington.edu.