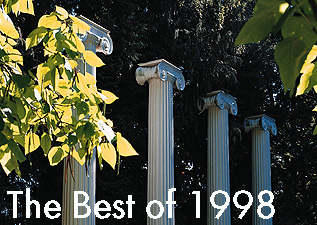 Josh Robinson came to the University of Washington with a big dream: getting an education in engineering or environmental biology. But paying tuition would not be easy for Robinson, the son of a single mother with limited resources.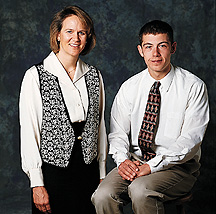 ---
Alumnae Board President Kristen Lindskog Jarvis and UW student Josh Robinson
---
But thanks to a scholarship from the Alumnae Board, he is a freshman with a 3.6 average and well on his way to a career giving something back to the community.
Every year since 1946, students like Robinson have enjoyed better lives because of the generosity of the Alumnae Board, which has been offering financial assistance to University of Washington students for the past five decades. It stands as the second largest contributor of scholarships (behind the athletic department) at the UW.
In the past four years alone, the all-volunteer Alumnae Board has funded nearly 100 full, in-state scholarships--contributions valued at $290,000. Without this financial assistance, many students simply would not be able to attend college. These students generally do not qualify for federal aid and tend to fall through the cracks.
For its legacy of hard work and generosity, the Alumnae Board received the UW Alumni Association's Distinguished Service Award.
"We are very proud to be a part of this organization and to help as many students as we can," says Kristen Lindskog Jarvis, '82, the board's president for 1997-98.
The majority of the funds for scholarships are raised at the annual Holiday Arts and Crafts Fair. The two-day fair--which will be held Sept. 2-3 at Hec Edmundson Pavilion and features the work of more than 120 Northwest artisans--is a long-standing event in the Puget Sound. What began as a simple arts and crafts display and sale in the early 1950s has blossomed into one of the largest shows in the area, with an estimated 5,000 shoppers attending annually.
Alumnae Board members--men and women who serve four-year terms--also select scholarship recipients, organize a scholarship luncheon, the Rhododendron Tea (the official reception at the President's Residence), a spring social, and put together and sell a cookbook.
"Listening to the applicants' stories is so inspiring," Jarvis adds. "We regret that we can't give each one a scholarship. The motivation these students have is remarkable.''--Jon Marmor, Columns
Return to the Beginning of "The Best of 1998"
Send a letter to the editor at columns@u.washington.edu.