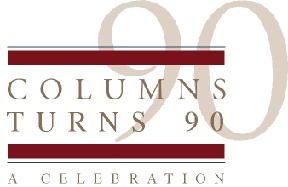 1990-1998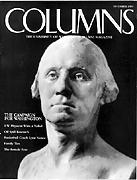 The Name Game
Leaders of the association and the alumni magazine advisory committee felt ... now might be a good time to consider a new name for The Washington Alumnus. "There is nothing unique about either `Washington' or `Alumnus,'" noted Jack Ehrig, '52. ... On the other hand, our original columns are unique to the University of Washington, he said. Nobody else has such a name for an alumni magazine. Since the beginning, our columns have been identified with the UW and are part of the University's official seal. "They are a great tradition. We have not made enough out of them," he said. December 1989
The Fall of Communism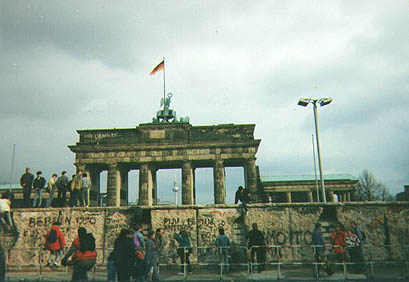 Curious Germans climb the Berlin Wall near the Brandenberg Gate shortly after the opening in November 1989.
---
International Studies Professor Herbert Ellison becomes dramatic when he discusses the changes in the Communist world: "I think it is a revolution." The changes are so immense and so shattering that he compares it to a watershed in modern history -- the French Revolution. ... "That system, for the first time since the Russian Revolution, is being systematically transformed -- culturally, politically, economically, socially -- the whole lot. That, in my book, is a revolution." However, Ellison questions the theory of some commentators, such as Zbigniew Brzezinski, that this is the death of Communism. "I find it a more dynamic and creative process than that," he says. "You wouldn't title the French Revolution 'The End of France' or even 'The End of Monarchy.' " ... During the transition Ellison does see the danger of "a slow drift into anarchy--eventually you might get chaos. A lot of people are worried about that possibility."... He warns that the transition is enormously difficult, but that the Soviet Union has a tremendous future potential. "It has one of the largest educated populations of any country, enormous natural resources and a great cultural tradition. It has all sorts of things going for it. It's just that the transition period is very spooky for me." March 1990
Goal Post Melee Shocks Campus
A University committee appointed by President William P. Gerberding continues to investigate a melee that occurred after the Nov. 18 Apple Cup victory over WSU, where fans clashed with police defending the football goal posts. Fans trying to tear down the west goal posts battled with police in riot gear, who used chemical Mace to control the crowd. Two fans were arrested and several were treated for injuries. Eventually the fans succeeded in removing the goal posts and dumped them in Lake Washington. Student leaders criticized the police action after the incident, with ASUW Vice President Casey Jorgensen stating, "The police went too far; it was a huge overreaction. It's obvious the police weren't in control of the situation." University Police Chief Michael Shanahan stated that force was used for crowd control, not to defend property. Officers were instructed to keep fans off the field and away from the goal posts to prevent a stampede where people might be trampled or injured by falling posts. Shanahan said incidents at previous Apple Cup contests at Martin Stadium in Pullman prompted the UW concern for safety. March 1990
President Gerberding on Amateur Sports
"At least in the high-pressure, high-intensity revenue sports where these people really have precious little time for anything other than whatever studying they can do and their sport, I think we should be paying them a monthly stipend of $75 or whatever it is so that they can make ends meet. The only ones who can make ends meet now are the ones who have support from their parents. So I tried to put that in some context, too. I said, 'Who are most of these young athletes who can't make ends meet?' A disproportionate number of them are black. And here's this big white establishment, the NCAA, telling us that we can't. If a kid's mother dies, you can't send him home. If they need a hamburger, they can't afford it. It's too strict the way it is now. Whatever the rules are, they should be abided by, but the rules right now are too strict. And to say, 'Ah, but then they're no longer amateurs'--they're semi-pros right now. They're being paid. They're having their tuition taken care of, their books, their meals. They're semi-professionals right now. Why not admit that, and give them a proper income for that?"--President William P. Gerberding, June 1990
Blaming the Victim
"Loggers are characterized as primitive, overweight, beer-drinking, not-so-intelligent laborers with little regard for the future. Such stereotyping is a classic form of blaming the victim. It dehumanizes people and justifies actions to remove them from their jobs and the land. After all, they are considered 'bad people' who deserve to suffer."--Forest Resources Professor Robert Lee, December 1990
Tacoma, Bothell Campuses Open Doors for First Time
Two University of Washington branch campuses took giant steps this fall as classes opened in temporary quarters and the UW Board of Regents recommended permanent sites. In Tacoma, 187 students attended classes during the first quarter. In Bothell, 131 students began their junior and senior level classes. ... During meetings in September and October, the regents recommended a downtown Tacoma site for the UW's south branch campus and a site at the intersection of Highways 522 and 9 in Bothell for a north branch campus. December 1990
Crisis in the Gulf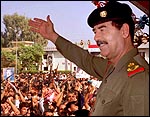 ---
Iraqi leader Saddam Hussein
---
"The primary reason that the U.S. is in that area ... is to ensure the relative free flow, at a relative stable price, of an absolutely essential element in the world economic system--oil. The great fear on the part of the Administration and many Europeans and some others is that Saddam Hussein's conquest will put him in a position to dictate world oil prices and their supply. ...We have a president and coterie of people around him whose goal is to eliminate Saddam Hussein and--I have nothing positive to say about Saddam Hussein--but I think that the goal of the American foreign policy at this moment is not the restoration of some governmental system to Kuwait. I think it is a larger goal and since it is a larger goal which includes the elimination of Saddam Hussein, I'm not sure what room there is for negotiation on the American side, and I could understand why Saddam Hussein would not perceive any room for negotiation on his side."--International Studies Professor Jere Bacharach after the Iraqi invasion of Kuwait. December 1990
Euphoria over Gulf Victory Will be Short-Lived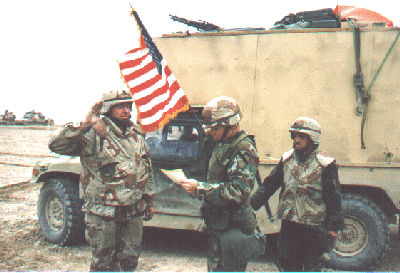 ---
An American soldier salutes his superior during Operation Desert Storm.
---
"The history of euphoria is that it never lasts" says American History Professor William Rorabaugh. "As complications unfold over the next six months to a year, and because we are involved in a major way now, there are going to be questions about our involvement. What that will do is kill the euphoria. Questions always kill the euphoria. ... Bush has no where to go but down now, though he might coast pretty high for a while." The American economy will pull down Bush's rating, he adds. Citing the budget deficit and a shaky financial system, Rorabaugh says, "It just doesn't look like the '90s are going to be an economically viable decade." June 1991
A Younger Writer Would 'Bounce Off the Walls'

---
English Professor Charles Johnson
---
"I couldn't have handled all this in my 30s. Well, maybe it would have been okay if I'd won it in my 30s, but not in my 20s. I was too young in my 20s. Winning an award like this and being sought for interviews and endorsements would send a younger writer bouncing off the walls. I've been publishing since 1965. For 20 years I have been self-generating. I've learned to get my work done without external recognition. If I had won the award earlier in my career, I may not have leaned how to do that."--Creative Writing Professor Charles Johnson on winning the 1990 National Book Award. June 1991
Professor Challenges Repressed Memory
Psychology Professor Elizabeth Loftus characterizes the return of repressed memories of long-ago sexual abuse as potentially the "topic of the decade." In recent months she has received a flood of letters from elderly women whose children have accused them, their husbands or other relatives of sexual abuse that occurred perhaps decades earlier. "What's springing up all over the country are these civil sex abuse cases being brought by people suing their parents, their relatives, their friends, their teachers, their schools, their churches claiming they were abused 35 years ago," she observes. "Imagine you're a defendant trying to defend one of these cases? ... We've all had the experience of remembering something, but does it mean that these memories ... have some special license or characteristic of reliability? No. ... There's been virtually no good scientific work to document either the special reliability of it or the special unreliability of it." Psychological theory points toward unreliability because of the elapsed time since the event occurred and the "many many intervening events," she says. September 1991
Gates Gift Starts New UW Department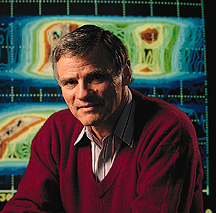 ---
Molecular Biotechnology Chair Leroy Hood came to the UW from CalTech, thanks to a $12 million gift from Microsoft CEO William Gates III. Photo by Davis Freeman.
---
Microsoft Chairman and CEO William Gates III will give the University of Washington $12 million to establish a new Department of Molecular Biotechnology in the School of Medicine, President William P. Gerberding announced Oct. 7. The gift is the largest single commitment from an individual to the UW. Professor Leroy Hood will leave the California Institute of Technology to head the new molecular biotechnology department, believed to be the first department of its kind in the country. December 1991
Aid to Russia? Like Flushing Cash Down a Toilet
History Professor Donald Treadgold opposes a sudden "Marshall Plan" that would pump hundreds of millions of dollars into the current economy. "The Marshall Plan worked in post-war Western Europe because there was an institutional structure and experience under capitalism. It enabled them to rescue economies based on free enterprise. What we have in the Soviet Union is not the same at all. I find the Marshall Plan analogy not helpful and, in fact, confusing. It is based on the illusion that money will solve all the problems in the world. You just can't do that to an economy in the shape of that of the Soviet Union. You might as well stand in front of a toilet and flush the currency down." Massive economic aid should only be give when there is some structural movement. Treadgold would like to see extensive privatization of industry and collective farms, financial reform and currency reform. "It is going to be a slow, difficult, very painful process. And it is going to take a long time." December 1991
Reaching the Top: Team Ranked Number One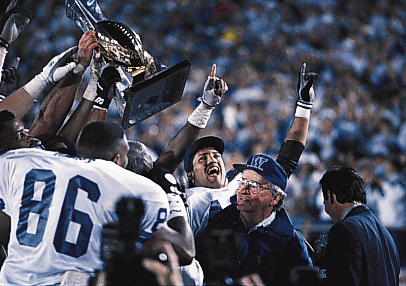 Coach Don James and players celebrate after winning the 1992 Rose Bowl. Photo by Irene Fertik.
---
It was a season of superlatives. For the first time since 1915 and the era of 'Gil' Dobie, the Washington football team went undefeated, posting a flawless 12-0 record. The 1991 Huskies were the first Pac-10 team to have a perfect season since the 1972 USC Trojans. When the Huskies beat Michigan 34-14, it was the first time since 1983-84 that a team had won back-to-back Rose Bowls. And when the USA Today/CNN Coaches Poll ranked Washington Number One, it was the first time a UW team has ever won an NCAA national championship. March 1992

UW's First Campaign Ends with Success

The five-year campaign concluded on June 30 with $284 million in gifts and pledges, more than $34 million over its $250 million goal. ... "The recruitment of Lee Hood will stay in people's minds as a symbol of the Campaign for Washington," says Vice President for Development Marilyn Dunn, "but that is only one of many good things that are happening here because of the campaign." Although the campaign's achievements are most readily expressed in terms of the money raised or the things those dollars accomplish, Dunn says, other important results of the campaign can't be expressed in dollars. "The campaign brought the University closer to thousands of its alumni and friends," says Dunn. "That was a very important part of our goal, and we are delighted with the results." September 1992

Frat Row Brawl Prompts Inquiry

A 16-member task force of students, alumni, police officials, faculty and administrators met this fall to examine alcohol, behavioral and organizational issues associated with the independent Greek system that operates just off the UW campus. The task force was appointed by President William P. Gerberding after a tragic incident on Greek Row in which a woman lost the use of one eye. Jennifer Wen, a sophomore from Yakima, was struck in the eye with a beer bottle on Sept. 27 during a confrontation between students and members of the Phi Delta Theta fraternity, according to police reports. In addition to its review of alcohol use and abuse, "including unacceptable and even dangerous behavior," the task force will consider "what the relationship between the University and its independent fraternity and sorority houses should be." December 1992

Debating the Human Genome Project

The Human Genome Project has created a philosophical chasm. ... Ethicists have raised all kinds of troubling issues. The ultimate fear is of attempts to engineer the DNA in human sperm and egg cells to create a "superhuman." Detractors cite a long history of discrimination based on eugenics, a discredited scientific discipline that flourished in the U.S. and England during the early 20th century and inspired many of the Nazi race laws. Many people fear eugenics is resurfacing in attempts to link criminality and violence to genetic flaws. Despite fear about the manipulation of germ cell DNA, most molecular biologists believe that level of genetic tinkering will be impossible until the middle of the 21st century. But many people still worry about less technologically challenging efforts to purge "disease genes" and "undesirable traits" from the gene pool. The most troubling issue is that the genome initiative will let individuals glimpse their future before it's possible to do much about it, says UW Medical History and Ethics Chair Albert Jonsen. December 1992

Football Scandal Breaks

Provost Laurel Wilkening appointed attorney Michael Glazier as a special state assistant attorney general Dec. 15 to investigate allegations of rules infractions in the University of Washington football program. The special counsel was named after a series of allegations against the UW football program broke Nov. 3 with a Seattle Times article detailing a $50,000 loan to Quarterback Billy Joe Hobert. ... On Dec. 9 the Los Angeles Times broke a story alleging UW boosters engaged in a long-standing practice of providing Husky football players with thousands of dollars and other benefits that violate NCAA regulations, including summer jobs that required little or no work. ... "I could have 98 percent of the players testify that everything was OK, but you're always going to have 2 percent who are unhappy. ... I personally would not care if the CIA or FBI came in and wanted to investigate our program. I have a clear conscience."--Coach Don James. March 1993

Greeks Under Scrutiny

"There are a few houses who have made it nearly a career to inflict themselves on the community," says Capt. Doug Dills of Seattle's North Precinct. One fraternity is so troublesome that Seattle police have gathered evidence to support closing it under Seattle's public nuisance abatement law. ... Complaints to police usually focus on excessive noise, destruction of landscaping, fighting, public display of firearms, or urinating in neighboring yards. "The list goes on ad nauseam," Dills says. Neighbors of the Greek system also mention speeding, drunken driving, hit and run driving, and the use of sling shots made from surgical tubing. ... Police, neighbors, UW officials and the students themselves agree that alcohol is a big part of the problem. But excessive drinking also abounds in dormitories and student-occupied private apartments, notes UW student Chris Sherwin, the 1993-94 Interfraternity Council president. "It's a society-wide thing. We get singled out because we're a lovely media target," Sherwin says. June 1993

Good-bye to All That

"Yesterday, this conference elected to add on a second year of bowl bans. However, they will continue to allow us to play on television so that they can reap monetary benefits, as they have been doing because of the outstanding play of our Huskies for many years. I have decided that I can no longer coach in a conference that treats its members, its coaches and their players so unfairly. Therefore, effective immediately, I am retiring as head coach of the Washington Huskies."--Coach Don James, December 1993

More Departmental Cuts Coming?

To meet $12 million in state-mandated budget cuts, the UW must consider closing the School of Communications and the applied math, Slavic languages and literature, and speech communications departments, President Gerberding announced Nov. 30. In addition, degree programs in fiber arts, systematic musicology and radiological sciences are under review, as is the Institute of Environmental Studies. March 1995 * President William P. Gerberding rejected plans to cut the applied math and Slavic languages and literature departments, but he approved terminating the Institute for Environmental Studies, the President announced June 28. ... The School of Communications will lose its programs in advertising, public relations and broadcast journalism. ... Speech communications--once tagged for possible elimination--will lose some positions. Degree programs in systematic musicology and radiological sciences have already been cut. The UW has already closed some library branches, consolidated nursing programs, canceled a UW public service TV program and cut more than 40 support staff positions. Since 1992 the UW has had to absorb cuts roughly equal to 10 percent of its state-funded budget. September 1995

Reflections from Above: President Gerberding Looks Back

"I think the fact that the University got through the very difficult times in the 1980s in reasonably good shape is something that I'm most proud of. I'm hoping to be able to do it one more time because we've reached the same level of crisis this time around. But this is a more fractious situation, and I'm not sure we'll be able to pull it off with as little damage as we did in the '80s. I'm proud of the increased emphasis on undergraduate education that we have pushed very hard for the last seven or eight years. Certainly the capital budget has been magnificent and I had something to do with persuading the Legislature to provide those funds. This campus is going to be more urban and more compacted because of all these new science and technology buildings. But its beauty will not be attenuated because we've been very careful to ensure that the extraordinary beauty of this campus is maintained and, in many ways, even enhanced. So I'm proud both of the buildings and of the aesthetic, architectural dimension. I suppose the thing I'm most likely to be remembered for is the increase in private support, which has been quite dramatic and which we've worked hard at. I think it was an essential new aspect of the University's life."--President William P. Gerberding interviewed prior to his retirement after 16 years as the UW's leader. March 1995

New President Looks Forward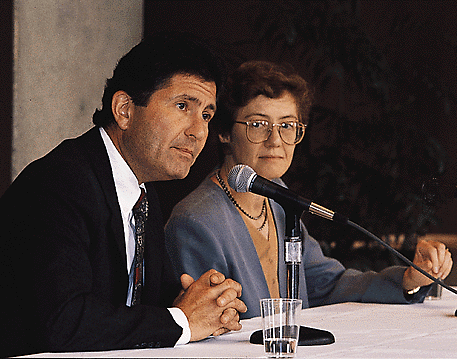 President Richard L. McCormick and his wife, History Professor Suzanne Lebsock, answer questions at a press conference shortly after he accepted the presidency at the University. Photo by Mary Levin.
---
[Richard McCormick on getting into the UW] "If access means increasing enrollments at the UW, we're going to have to think hard about how to do that and be responsive to the need. I believe higher education is a ticket for professional prosperity, economic well-being and even personal happiness. We have a responsibility to provide opportunities that come from higher education." * [On critics of higher education] "We have to listen hard to what they say and then take a look at our own institution and how we can improve it. The concern for accountability is not going to go away. I see many needs that are straining the public coffers. Higher education is in competition for scare dollars. But that doesn't mean we have to do everything our critics tell us to do." September 1995
Birth of the Web: UW Launches Home Page in 1995
UW students are not the only group who can cruise through computer information sources, such as the World Wide Web. UW alumni now have a host of services at their fingertips--including an on-line version of Columns magazine that has more to it than the printed version. If you already have a computer account and can use web "browsers" such as Netscape or Mosaic, you are ready to "surf" the UW's space on the Internet. Begin with the University of Washington Home Page, which has an "almost live" picture of Suzzallo Library, Rainier Vista and "Red Square." The web address is http://www.washington.edu. December 1995
The Decline and Fall of the Ave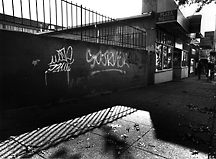 ---
Graffiti defaces a wall on the "Ave." Photo by Jon Marmor.
---
University Way NE today sadly bears little resemblance to its old self. Once a thriving business corridor, ... now the Ave. is dominated by fast-food joints, used book shops, penny stores, copy shops and the like. Empty storefronts are as common as the skateboarding street kids and homeless people who clog the oh-so-narrow sidewalks, begging for money and just hanging out. "Nice people are gone; it's like a jungle on the Avenue," says Warren Porter, owner of Porter-Jensen Jewelers. December 1995
Preparing for the Baby Boom Echo
Currently a resident high school senior with about 1,000 combined SAT score and a 3.5 grade point average (GPA) is admissible, says UW Admissions Director W.W. "Tim" Washburn. If nothing is done to increase access, in just 10 years that same student with the same SAT score would have to have a 3.75 GPA to get in. Under this scenario, "The UW would become more elitist, perhaps less diverse, and certainly more distant from the aspirations of the great majority of the citizens of the state," says President McCormick. ... But many state citizens are unaware of the coming wave, according to a poll taken last summer for the state Higher Education Coordinating (HEC) Board. About 90 percent believed their children would be able to enroll in state universities and colleges in the future. Pollster Stuart Elway said that perception is "pretty far out of whack." Currently there is room for only about half of all high school seniors. If nothing is done, by the year 2010 there will only be room for one-third of that year's high school graduates. March 1996
Mistrust of Politics `Just a Phase'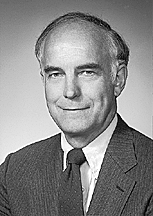 ---
Fromer Gov. Dan Evans, now a UW regent.
---
Former Gov. Dan Evans, who served on both the state and federal levels, believes this age of mistrust is just a phase. "It is the cyclical nature of government and people's beliefs," he says. "The image of government will indeed change once more and more people realize the thinness of, and the distortion of, the way news is reported. There will be a shift in the way it is reported, and people will listen. The same goes for political campaigning. If someone runs a positive campaign and wins, people will say that is the way to go. We will never see a time when government is viewed as an enormous good by everyone. There will always be skepticism. And that's good. But we won't always have the extraordinary distrust of today." June 1996
Watching the Market
"I have no confidence in predicting anything," says Finance Professor V. Vance Roley. "I used to think you might be able to predict long-term rates, but the market is so efficient nowadays, it immediately takes those factors into account." He says investors need to look at two overall factors: the inflation rate and the performance of the economy. "If inflation increases, the Federal Reserve is going to tighten quickly. And if the economy looks very strong, the Fed is going to tighten." ... He feels the board has done pretty well with the economy--even during a Presidential election year. "The Fed has ignored the political pressures and pretty much does the right thing," he says. "They are pretty well insulated. After all, their terms are for 14 years. Of course, they are a creation of Congress and lawmakers could always dissolve the Fed--but they won't. It would cause too much of a panic." September 1996
The Birth of `Grunge' Rock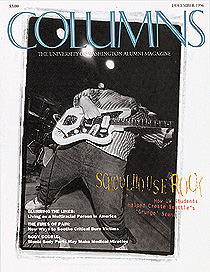 ---
Grunge rocker Tad Doyle was on the cover of the December 1996 Columns, which covered the rise of the Seattle music scene on the UW campus.
---
This particular version of garage punk was a hometown brew created by bands from the Northwest, some of the musicians even went to the UW. Though locals hated the name--since it only described about one-tenth of the local bands at the time--out-of-town critics dubbed it "grunge." The term stuck, and what was simply a happenstance confluence of many divergent talents became a movement. On local independent labels like Sub Pop and C/Z, it was a sound that first took over the "U" District, the Rainbow Tavern, the HUB Ballroom, and eventually conquered the Wal-Mart. And it even took over Terry Hall. December 1996
Freshman Class Breaks Record
The UW expects 4,400 freshmen this fall, breaking the record of 4,373 set in 1965. ... Signs of the "baby boom echo" are beginning to hit the campus. The Class of 2001 will be about 300 students larger than last year's class.... More freshmen went through summer orientation this year than ever before and the UW's residence halls are at capacity for the first time in more than a decade.
The UW is opening living space that had been mothballed, such as the east wing of Mercer Hall, and is converting single rooms to doubles. "We've done everything we can. We've looked under every rock to find a place for a bed," says Housing and Food Services Finance Director Nancy Hyde. She projects total capacity at 4,516 residents this fall, up from 4,165 last year. September 1997
UW Tacoma Dean Makes Predictions
Even though these are heady days for UWT, Dean Vicky Carwein is not shy about the future. By 2011, there could be 9,300 full-time students at the campus. In the next 25 years, Carwein sees the campus growing up the hill to fill its planned 46-acre site. One hundred years from now she see a campus of 20,000 students with dormitories and Ph.D. programs. "It will be a four-year institution with a statewide draw, a truly full-service university with some active research programs." September 1997
Nobel Laureates on Predicting the Future
"There's a stupid misconception that you should know everything about everything, just because you won the Nobel Prize in a given discipline," says Biochemistry Professor Edmond Fischer. "The missionary spirit is just not my style." ... The winners were particularly bemused by continual demands to predict the future: "When they give you the Nobel Prize, they don't hand out a crystal ball to go with it," says Medicine and Oncology Professor E. Donnall Thomas. March 1998
Send a letter to the editor at columns@u.washington.edu.