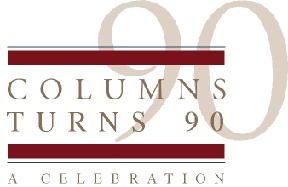 Boeing Boy Wonder
Back in the days when calling a person "air-minded" implied the literal connotation, Philip G. Johnson, '17, stuffed his degree from the College of Education in his pocket, gambled on the future of airplanes and went down to the Boeing Airplane Company to secure a job as a draftsman in the engineering department of the aircraft factory. Today ... Phil Johnson is president of the largest airplane factory and the largest air transport system, in point of mileage flown, in the United States. He is the youngest executive of a major aviation company in the nation and the story of his career would have made hot copy for Horatio Alger. February 1930
Glimmers of the Market Crash
[From a full-page Puget Power and Light ad] Thirty years have tested the management of this Company to meet the boom growth of a frontier country; the depressions that have followed; the whims of the fanatic; the vagaries of the elements and the unprecedented demands for its service during the late war. Its integrity of management has provided the necessary supply of capital to carry on its development in fair weather days and in periods of financial stringency. The trying days of last October and early November proved the stability of its Preferred Stock in the markets of the country. For those who seek a conservative investment with fair rate of return (6%), we recommend the Preferred Stock of the Puget Sound Power and Light Company. March 1930
Hints of a Crisis: Navy Cruises Canceled
Lack of appropriations by economical Uncle Sam has caused the temporary abandonment of the winter naval ROTC cruises in Puget Sound waters, University naval officials recently declared, sadly. It is hoped that the Navy Department will be able to provide the necessary funds for fuel before spring. December 1930
'Spectacle' of Crime Shows Helpless Society
"The picture which one may very easily find himself creating from the news items which appear every day in any large metropolitan newspaper is not a too pleasant one. It would seem to be something that would justify the most hideous nightmare of the bluest social alarmist. ... The spectacle which our newspapers present us in the story of bootlegging, racketeering, profiteering, murder, vice and crime throughout our land shows how helpless a society is when its citizenry lacks desire and power of self-control. ... We might well ask ourselves whether a proper direction of the might educational forces of our nation would not do more to heal the wounds and soften the hearts and dry the tears of groping humanity, than can all the forces of social compassion and political demand that narrowness and bigotry can ever assemble."--Education Professor Eugene Bishop, February 1931
'Alleged' Depression Keeps Kids Coming
Maybe its because of the alleged business depression, but Winter Quarter registration at the University is the largest in the institution's history--7,075 students--an increase of 15 over the high-mark of a year ago. All this in spite, or perhaps because, of stiffer scholastic standards! February 1931
Depression Forces State to Being Cutting Education
When the University's regents ended a lengthy session on March 30, it was after the completion of the difficult task of readjusting the biennial budget to meet a reduction of $335,000 imposed by the last legislature. ... Methods of economy include: Cancellation of certain previously contemplated faculty additions; certain reductions in the present staff; and rigid economies in the maintenance of the University campus. ... There will be no salary reductions. April 1931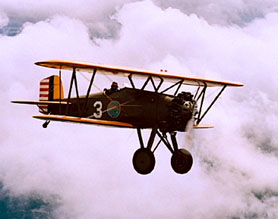 ---
This Boeing Model 100 was a military trainer. Only in the 1930s did passenger air travel become popular. Until then, planes were designed for military use and to carry mail. Photo courtesy Museum of Flight.
---
Cure for Traffic Snarls Found: Airplanes
Because of the economic necessity created by the aircraft, the city of 1950 will so differ from the city of 1931 that our children will marvel at the stupidity of their fathers. We believe the airplane will have a greater influence on the redistribution of populations than has the automobile; that it offers the best solution of our present traffic problem of any agency now on the social and economic horizon; and we believe that regional planning commissions who fail to grasp the significance of air travel will have labored in vain. ... By 1935 there will be as much public interest in the construction of landing fields as there now is in the construction of highways. -- Aeronautics Professor J.W. Miller, May 1931
Cuts Even Shut Down Quake Detector
The University seismograph, the only one in the Northwest, will record no more earthquakes for awhile, because the legislative cut in the University budget wiped out its appropriation, and for the present it has been stored away in Johnson Hall. April 1931
No Vestige of Communism Preached on Campus
Would you believe that the Universe aided and abetted the advocacy of Communism? Such seemed to be indicated when generously proportioned reports were printed in at least one Seattle newspaper of a meeting May 19 on the campus which Joseph Freed, '27, was a speaker. Freed discussed Communism in present-day Russia. ... Lively newspaper reports followed for the next two or three days, with headlines which shrieked the connection between the University and Communism. The affair, however, subsided following the published statement from President Spencer that the incident would result in no one being called on the carpet ... and that most emphatically there was not, nor would there be, any vestige of Communism preached on campus. June 1931
The 'Pinch' of the Depression: Poorer Students Forced to Leave
The University has felt the pinch of the present economic depression and the administration has been forced to use great care in the spending of funds, lest essential educational processes be not impaired. Loan funds for needy students have been more in demand than ever before and, in all probability, a higher number of excellent students have been forced away from a college education because of money shortage. The President has, during recent months, addressed appeals for financial aid to public-spirited citizens believed to be interested in the University and, doubtless, forthcoming months will bring responses. December 1931
Awakening from a 'Fool's Paradise' to a Cold Reality
"We in America emerged from the struggle [World War I] apparently in the healthiest, wealthiest condition it had ever been our fortune to enjoy. ... A new and glorious start for higher peaks of human satisfaction and dazzling world-supremacy--and then we awoke to find it all a dream. Disillusioned we emerged from this Fool's Paradise into a world of cold and inexorable reality, where the sight of silenced mill and workshop, haunted by the grim specter of want and the unmerited suffering of millions of fellow human beings, plunged us into the depths of sadness and despair. The evil wrought by man in half a generation cannot be repaired in a year or two. But it will be repaired in time, but only by a fundamental setting of the world's house in order."--Business Professor M.M. Skinner, December 1931.
Books Save Jocks from Bankruptcy
"Due to the Depression and other causes our final returns showed the 1931 season produced only $131,041 or over $45,000 less than the football revenues of 1930. ... We had $45,000 in bonds maturing January 1, 1932 and did not have the money to retire them. General conditions had tightened considerably and it seemed impossible to receive help from our bankers. ... We pledged 40 percent of the remaining ASUW fees and also the net revenues of the University Book Store for the year. After considerable discussion this plan was accepted by the banking institutions. A second major problem is what is going to happen at the end of 1932 when $95,000 worth of bonds and notes come due. ... It will be necessary to work out a refunding plan; perhaps either to declare a moratorium for three years or to get help from the University. ... If something is not worked out, the bonds will go into default and the situation will become more serious than it is a present."--Merville McInnis,'21, alumni member of ASUW Board of Control, February 1932
State Pay Cut? Professors Should be Last, Not First
The University's faculty faces the possibility of a sharp reduction in salary. ... The state's most highly trained servants should be the last group to be cut--not one of the first. University salaries are low at best. ... There are few alumni in business or in a profession who have not felt the effects of the Depression. Likewise, there are few alumni of older years who did not definitely benefit from the lush years where industry was fattening with profits. Faculty salaries, however, moved slowly during periods of high prices; they gathered no heavy surplus during war days nor days of price inflation. ... It is difficult to see how the state, and the taxpayers of the state, would benefit from such a cut now. April 1932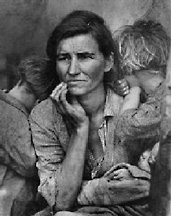 ---
Dorthea Lange's famous picture of a 'Migrant Mother' at a 1936 California work camp is one of the most haunting images of America's Great Depression.
---
Crisis Worsens: Regent Warns of Closures, Salary 'Warrants'
[During the Depression, many school districts closed early, while others replaced pay checks with "warrants," promissory notes that the school district pledged to honor sometime in the future.]
"Owing to the heavy shrinkage in tax collections there is an anticipated deficit in the University of Washington operation fund by March 1, 1933, of over $200,000 (nearer $300,000), as there exists such extraordinary delinquencies in tax collections. ... There are going to be (have been some now) many schools closed over the state before the end of the term and , as you know, there have been many on the school warrant basis, and that the teachers are having to take a very substantial discount on warrants unless some accommodating friend will cash them. You are fully aware that there would be the severest criticism from all over the state if the time came when there was a choice of either the University closing for a while or the employees having to accept paper which they might have difficulty discounting at even 10 percent, as many teachers have already experienced."--Chairman of the Board of Regents Paul H. Johns, May 1932.
Book Store Saves ASUW from Bankruptcy
The recognized business stability of the University Book Store has saved the ASUW from impending bankruptcy. A loan of $50,000 has been made to the Book Store, conditional upon separate incorporation of that institution, with the understanding that $30,000 of that total be in turn loaned to the ASUW. ... All of the [book store] stock is held by the ASUW. June 1932
Depths of Depression--Colleges, Pay Slashed
A sweeping reorganization of the entire University was authorized by the Board of Regents July 19. ... The 13 schools and colleges previously existing, each under the direction of a dean, will be consolidated into but four administrative units--two colleges and two schools: College of Arts and Sciences, College of Technology, Law School and Graduate School. ... Included in the economies have been the following: Elimination of the offices of deans of women and men; ... A faculty salary cut of 10 percent effective October 1; ...Radical curtailment of the teaching program in both men's and women's physical education; ... Reduction of expenses in the building and grounds departments to an extent which meant no further watering of the acres of campus lawns and the virtual elimination of gardeners. August 1932
Governor, Regent Attacked in Time Magazine Article
[The Alumnus reprints an article from the August 8 ,1932 Time Magazine on the reorganization plan.] "Roland H. Hartley is currently campaigning for his third term as governor of Washington. A former timber operator, he has never been known as a champion of progressive education, or even of that handy motto 'education for all.' ... Actual administration of [the University of] Washington is not President M. Lyle Spencer but William Neal Winter, regent and business manager installed by Gov. Hartley. Regent Winter is a practicing Spiritualist, with a 'control' known as Hugo. Last week Washingtonians were wondering publicly, 'Who has control today, Hartley or Hugo?' " September 1932
Registrar Predicts Crippling Enrollment Plunge
A sharp decline in enrollment is expected this fall; conservative officials estimate an attendance not to exceed 5,000, as contrasted with approximately 7,000 of recent fall quarters. This is not attributed to the general reorganization but to general business conditions and comparatively high University standards. September 1932 * Registration for the fall quarter discloses an attendance of almost satisfactory proportions, in view of disturbed economic conditions. An unofficial total published on Oct. 14 was 6,369, which is contrasted with an enrollment last fall of 6,924. Predictions made during the summer were for a markedly smaller student body this autumn but last-minute decisions by wavering students to return to college have raised the total. November 1932
Clergyman Condemns Temperance Dry Squads
Dr. Herbert Gowen, professor of Oriental Studies and a noted Episcopalian clergyman, has no patience with people who attempt to make prohibition a "religious issue, when it is nothing of the sort." Furthermore Dr. Gowen declares that prohibition has been a trying foe for true temperance. ... Dr. Gowen deplored what he termed "ministerial dry squads" and declared that he was opposed to prohibition. November 1932
President Says C Minus Students, Women Welcome
"Let me explain how low our entrance requirements at the University actually are. To get into the University a student need make only a C minus grade in each of his studies during the last three years of his high school course. His first year in high school is not taken into consideration. ... Let me correct a queer but prevalent misunderstanding that the University is contemplating abandonment of coeducation. It is not. The state is committed to coeducation and the University could not consider abandonment of it."--President M. Lyle Spencer, October 1932.
---
Franklin Delano Roosevelt's landslide victory installed Democrats in the state Legislature and governor's mansion. The new governor replaced Republican-appointed regents who planned to cut UW departments. Photo courtesy of FDR Library.
---
FDR Landslide Transforms UW Campus
[The Democratic landslide of 1932 brought a new governor--Clarence Martin, '06,--who named a new Board of Regents. The days of the president who replaced Suzzallo were numbered. The alumni offices, which had been moved off campus following Suzzallo's firing in 1926, were invited back.]
There is a new spirit at the University today. Governor Clarence Martin , '06, fulfilling earlier promises, named an unusually qualified group of citizens to the Board of Regents. ... The board announced its firm intention to study and to readjust the radical reorganization of the University ordered last summer by the retired board. ... A letter containing an offer of resignation was also received from President M. Lyle Spencer. The board still has the resignation under advisement. ... Alteration of University entrance requirements has also been ordered by the board. With certain exceptions, graduates of accredited high schools will now be admitted to the University without further scholastic qualifications. March 1933
Spencer Out, Winkenwerder In, Salaries Slashed
The UW was given a new administration Sunday, March 26, when the Board of Regents voted to accept the resignation of Dr. M Lye Spencer as President. He was relieved of active duty at once. ... Dean Hugo Winkenwerder, veteran forestry head, was named acting president. April 1933 * Sharp reductions are being made in University salaries, averaging about 30 percent on the basis of 1932 salaries, but the exact individual applications have not been revealed. Acting President Winkenwerder declared, however, that the percentage reductions will be greater in the higher salary brackets. May 1933 * Most difficult of the board's problems is that of the writing of the budget for the next two years. Estimates from Olympia indicate that there will be available from state tax funds approximately 50 percent of the amount available two years ago. Drastic reductions must be made. ... Everyone interested in the University would appreciate the very fine spirit of cooperation upon the part of the faculty in accepting this drastic readjustment of their salaries.--Regent Lewis Schwellenbach, '16
Liquor Industry Has a 'Cheering Word' as Prohibition is Repealed
[Excerpts from an ad by Schenley Distillers in January 1934] "Liquor and Faith: a heartening word about quality for the 73% who voted 'Yes.' After these 14 years of barred distillery doors, of rusting vats and stills, of grapes rotting on neglected vines, and empty warehouses, in which fine old whiskey should have been richly mellowing--after these 14 years of such discouraging activity, you must be inclined to wonder how really fine wines and spirits may now be produced or bought. The Schenley Distillers Corporation has a cheering word for you today. During those dark years, many discouraged leaders of our country's legitimate liquor industry lost their hope and turned to other trades, yet there were a few who never lost faith. ... During your long wait, this undiscouraged organization has been quietly visiting and inspecting the most famous plants throughout the country. ... We gather together under our protection those distilleries which measured up to our highest standards." January 1934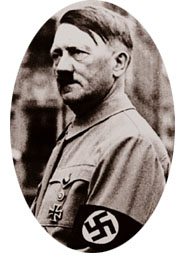 ---
The atrocities committed during Hitler's rise to power didn't disturb one UW alumnus, who compared them to Klu Klux Klan "affairs" in the U.S. Photo courtesy of FDR Library..
---
Discussing German Atrocities 'Isn't Good Form'
[From an interview with a scholar returning from Europe, Carlton Wood, '32] "Germany is entitled to more understanding and more sympathy than the world has accorded her in her present plight. She has been caught in the throes of great economic readjustments, and it is not intelligent for outsiders to comment on what they may read in daily newspapers or pick up from hearsay, " he said ... Concerning the atrocities, Dr. Wood said he knows they happened, although he never saw any personally, and they were deplored by every decent German and looked on as an inevitable part of the party program by the Nazis themselves. It isn't considered good form to speak of them, the Washingtonian said. They are something like the Ku Klux Klan affairs in this county. September 1934
Paper Says UW in Sinister Nexus with Communists
The local Hearst mouthpiece, the Seattle Post-Intelligencer, has succeeded in manufacturing a Red Menace on the Washington campus. In a distorted story, not worth a paragraph to the other Seattle dailies, and given 10 times more space than its value even by the canons of yellow journalism, the University is made to appear in sinister nexus with the Communist International simply because one of our professors recounted his war experiences at a downtown meeting in behalf of world peace. ... If it give any relief to nervous taxpayers or property-owners, we assure them that the student family is still in 1935 more conservative than any cross-section of the citizenry. ... The genuine danger on our campus and in the American community today is not from Communism but from the fascism that Hearst and others are recommending and spoiling for daily. February 1935
Federal Aid Makes the Difference for Many Students
"The University has nearly 9,000 students on its campus day by day. ... Federal aid was actually extended to 766 students, this being the stipulated quota. ... Students are provided with work that enables them to earn $15 a month, working 37 1/2 hours at 40 cents an hour. ... Frankly some of us who had the responsibility for launching and directing the project had our misgivings. ... We have been amazed to recognize that the scant margin of $15 a month so often spells the difference between opportunity and deprivation as applied to college. The human interest stories so familiar to the trained social service worker were a revelation to us."--Dean of Men Herbert Condon, February 1935
Putting Down the Paddles
Arrests and a night in the city jail tank followed the antics of four luckless freshmen pledges who were sent out on law-breaking errands by two fraternities. ... Just as the newspapers were headlining these escapades, complaints came in to the administration that excessive paddle-whacking of freshmen was being indulged in and that one frail youngster had been in bed as a result. ... Several of the leading fraternities, right in the middle of their "training week," called a halt, absolutely abandoned the paddle. ... It must be admitted that paddle-whacking as a means of "discipline" was quite dear to the hearts of a number of undergraduates who were quite sure that they were entitled to avenge the paddling they had received as freshmen. Even a few graduates expressed the opinion that it must be a soft generation that could not "take it." March 1935
Greeks vs Coops: Lower Costs Draw Students
Alumni of Greek houses, particularly those who underwrote swanky Windsor Castle chapter houses in the days before the American Tragedy, will have cause to pull their thinning forelocks when they read the story of cooperative houses that have sprung up this year. ... It seems, in the fifth year of the Depression, that board and room at half-price is a bigger lure to an increasing number of students a than an ox-roasting fireplace in the living room and an outsize fruit-closet in the basement. June 1935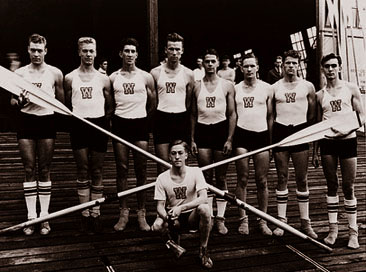 ---
The 1936 crew won the Olympic Gold Medal in Berlin. UW Libraries Special Collections.
---
Olympians Honored for 1936 Victories in Berlin
The Alumnus is glad and anxious to add its small voice to the acclaim of the world for the splendid victory of our Washington crew at the Olympics this summer. ... Our crew, with their fine sportsmanship, their dauntless spirit as well as their capacity for winning, has spread the fame of the Alma Mater to every corner of the world as a builder of good men. Congratulations are due, too, to our human torpedo, Jack Medica, '38, who won the world Olympic crown for the 400 meter free style. October 1936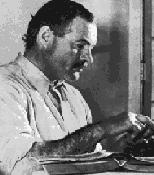 ---
Ernest Hemingway at his typewriter. Photo courtesy of Scribners & Sons.
---
An Encounter with Hemingway
Harry Burns of the English department ... was sitting at a table in a café in Key West when an interesting looking person took a chair beside him and they struck up a conversation. ... The acquaintance grew into a friendship that resulted in their journeying together by automobile from Key West to New Orleans. Burn's friend turned out to be Ernest Hemingway. ... Hemingway revealed ... that he was a radical when some of the proletarian critics who now take him to task were not yet out of their dada-ist swaddling clothes; that contrary to Gertrude Stein's version of the matter, it was not Stein who taught Hemingway what he knows about writing but the other way around; that he considers college professors to be a good sort and would like to be one himself; that John Dos Passos is a better writer than John O'Hara and Scott Fitzgerald because he has not only genius but brains. October 1936
The Soviet of Washington
[Political campaign ad from 1936] "The Nation Derides Us Today As 'The Soviet of Washington.' Shall this reflection on our citizenship, this blight on our political character, this blow to the business of our district and state GO UNCHALLENGED? Shall this condition of actual FACT go UNREMEDIED? Decide by your VOTE to wipe out the RED BLOT from the face of our state and check the cancerous growth for NOW is the TIME to DO it! ... Thousands of liberals and Democrats will answer Communism's challenge by voting for Fred. J. Wettrick for Congress, 1st District." November 1936
The 1936 Rose Bowl: The Less Said, the Better
All honor to Jimmy Phelan, who led a fine Washington team, whose superb coaching was undoubtedly its greatest asset, to a decisive, thrilling Coast Conference championship and into the Rose Bowl, Mecca of every football team in the land. December 1936 * The less said of the Rose Bowl game at this writing, the more Washingtonians will be pleased, no doubt. The occasion should not pass, however, without a salute to the Husky team. Loyal alumni everywhere can take justifiable pride in the accomplishments of our team this season, and the fact that they were beaten by a better team New Year's Day is certainly no reason to grouse. [Pittsburgh beat UW 21-0] January 1937
Huskies in Hollywood
A number of former University of Washington students have crashed the gates of Hollywood and made good in various capacities. The most recent and spectacular case, of course, being that of Frances Farmer, whose rise to fame was one of those story book affairs. ... Fresh from her training under Sophie Rosenstein in the University's drama division ... Frances stepped right smack into stardom via a juicy contract with MGM. February 1937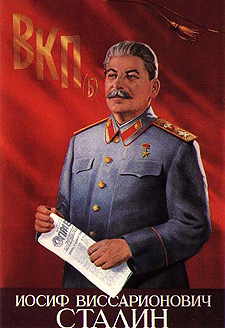 ---
Despite Stalin's purges, one UW professor reported criticism of the Soviet government is "freely made." Poster from Stanford University collection.
---
Civil Liberties in Europe: Dead in Germany, Alive in USSR?
"It is common knowledge that civil liberties in Germany have been dead since Hitler came to power. The press is entirely controlled and used for propaganda. The elaborate spy system prevents any expression that is opposed to Nazi philosophy. The censorship of the mails and of the telephone communications is so thorough that no private matters of any importance are transacted by telephone or by post. ... In going from Germany into Russia, one finds more rather than less freedom. ... Even with the purge of Trotskyites and saboteurs now in progress, criticism of the government's methods and agents are freely made. ... The purge is having a very definite and detrimental effect in that those in responsible charge of production hesitate to initiate any new undertakings or methods for fear that failure may subject them to the charge of sabotage. From the standpoint of freedom to work and to enjoy the fruits thereof, the USSR undoubtedly leads the rest of the world. ... In Russia there is no unemployment, nor is there a provision for unemployment insurance. ... Such insurance is unnecessary."--Professor Richard Tyler, December 1937
President Defends Ban on 'Outside Speakers'
[On Oct. 24, 1937, the Board of Regents passed new regulations on outside speakers, including the following: "No student club, organization or group shall invite an outside speaker ...to address a meeting on the campus or in a University building."] "No one denies the principle of the freedom of speech. We all have it, students and faculty, and is it the same freedom possessed by all citizens. That is quite different, however, from freedom of speaking. It is entirely within the legal powers granted to the Regents by the citizens of the state to restrict the freedom of speaking on the campus."--President Lee Paul Sieg , March 1938
What is Television?
What is television? Just another gadget--another form of entertainment? No. It represents another step forward in man's mastery of time and space. It will enable us, for the first time, to see beyond the horizon. And, in addition, it will create new jobs for today and tomorrow. ... When, after years of labor, television is ready for the public, it will bring to the people of America a new product that will add to their comfort and enjoyment, raise their living standards, and create new employment for today and tomorrow.--General Electric ad, February 1939
Never Has a Colony Been so 'Pampered'
The American occupation of the Philippines needs no apology. It has been something unique in the history of colonization. Not one Filipino in a 100 would make the charge of exploitation. Schools, teachers, good roads, public works, public health and sanitation, with a free market in the United States for Philippine products--the story has been told too often to bear repetition. Never has subject nation been so pampered." -- Manila-based businessman Ted Shelton, '19. December 1939
Send a letter to the editor at columns@u.washington.edu.