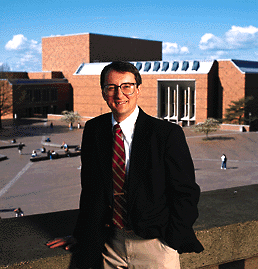 History Professor Robert Stacey started out to be an attorney. What changed his mind was a good teacher--and an interesting subject.

While earning a bachelor's degree at Williams College in Massachusetts, Stacey took a class in medieval history from an extraordinary professor. Dropping law for history, he went to Oxford University for graduate training. Although Oxford is not known as a center for Jewish studies, it was there that Stacey found his niche--the study of English Jews in the Middle Ages.

At first glance, it may seem to be an esoteric subject, but Stacey finds lessons for modern times in the Middle Ages. It was a period when nationalism was on the rise and tolerance for differences took a nose-dive. Minority groups, including Jews and homosexuals, were persecuted and expelled from the burgeoning nation-states. Even Nazi racial ideology has roots in the 13th century, he says.

Stacey's reputation for scholarship has earned the history professor the position of chair of Jewish studies in the Jackson School for International Studies. He is one of only two non-Jewish academics in the country to hold a similar position.

His reputation for teaching has earned him a 1997 Distinguished Teaching Award. "I've had a lot of good teachers to watch over the years," Stacey says of his success. "As a student I'd observe my instructors and think, `If I get the chance, I'll do that,' or `I'll never do that.' It was a great way to learn."

He teaches a variety of courses on the Middle Ages, including the large lecture class History 112, "The Medieval World." Whatever the subject, he is known as a tough grader. Stacey says he doesn't give grades--he gives students motivation to rise above what they initially thought they could accomplish.

"It is too easy to sell students short, to give them high marks when they are not really performing at their best," he says. "Students have a right to find out how well they can do. I tell them, `You are bright and capable of doing more than this.' "

Tough grading doesn't drive these students away. One nomination letter describes Stacey as "the very rare example of one who excels as a teacher at every level of teaching: entry, upper division and graduate."

Stacey disagrees with those who claim the quality of college students is declining. "In my large lecture classes, if I don't have first-class teaching assistants, I can't have a first rate class," Stacey says. "The quality of graduate student has increased in the eight years I've been here, and I think the quality of undergraduate writing has improved."--Nedra Floyd Pautler, UW Office of News and Information

Return to "Best of 1997" Title Page

Send a letter to the editor at columns@u.washington.edu.