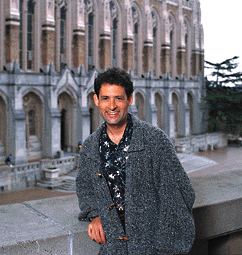 Students who enroll in David Salesin's undergraduate computer graphics class should beware: Their lives may never be the same.

Take Brad West, who signed up for the course as a junior in 1995. He showed flair and the next thing he knew he was a TA in the class. Later that year, he joined Salesin's research group and things really got interesting.

Working with Salesin and two graduate students, West helped invent a revolutionary process for printing photorealistic images with just two colored inks instead of the traditional and more expensive four-color process. He co-authored a research paper on the project that was accepted at a major international conference and found himself giving the presentation before thousands of top computer graphics professionals.

As a senior, West helped teach Salesin's new, multidisciplinary course on computer animation. Upon graduating, he was heavily recruited to work for Pixar Animation Studios, the Oscar-winning producers of last year's hit movie Toy Story. And to top it all off, the duotone printing process he helped develop recently was licensed by a local startup company.

That's the kind of student success story many professors would feel lucky to be a part of once in their careers. But Salesin has produced many success stories since arriving at the UW as an assistant professor of computer science and engineering in 1992. His students have gone on to the best graduate programs in the field, plum faculty posts at Ivy League universities and jobs with top computer graphics companies. For his outstanding teaching abilities, Salesin is a winner of a 1997 Distinguished Teaching Award.

"I have never encountered a professor that comes close to his quality of mentoring, especially for undergraduates" said one former student now at Stanford.

Salesin, 36, claims only to be doing what makes sense and comes naturally. To some degree, he said, he is modeling his own undergraduate experience under Brown University Professor Andries van Dam. The Brown professor treats his teaching and research assistants--including undergraduates--as full partners in planning and conducting research, writing and presenting papers and innovating in the classroom.

"Using undergraduates as TAs just makes sense," Salesin explains. "The best way to make sure you've really learned the material is by helping others to learn it, so it's a great way to cement their knowledge of the course. Plus, they see it as an honor and an opportunity so they're enthusiastic and work hard."

When he finds students whose talents and interests are a good match for one of his research ideas, Salesin assembles a team of two or three students to tackle the project and guides their work. When the ideas reach fruition, Salesin helps the students write up the research for publication and later coaches them for their presentations.

Last year, Salesin set a record by having eight out of eight submitted papers accepted for publication at SIGGRAPH, the premier international conference for computer graphics. Four were co-authored and presented by undergraduates.

But its not the publications or the awards that drive Salesin's research regimen. It's the teaching, he says.

"Being a teacher is kind of like being a parent," he explains. "It's enormously satisfying to watch students grow and, through their own hard work gain confidence and skills to eventually go off and do it on their own."--Greg Orwig, Office of News and Information

Return to "Best of 1997" Title Page

Send a letter to the editor at columns@u.washington.edu.