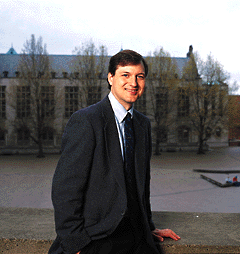 Medicine Professor Douglas S. Paauw, recipient of a 1997 Distinguished Teaching Award, knew very early that he wanted to be a teacher. As a kindergartner, he recalls reading a book about snakes and being fascinated by them. He read more and was soon making presentations about snakes to his classmates.

"We went around to other schools, and I remember the feeling that if I knew something, I wanted to share it," he says. In high school he organized study groups in his classes, and in college, he was a teaching assistant.

This latest honor is one of many. Paauw, who also received a teaching award from this year's graduating class at the medical school, will become a medical school Teacher Superior in Perpetuity. At 39, he is among the youngest at the UW to have received such status.

The key to good teaching, says Paauw, is to focus on what the student wants to learn and not about what you want to teach. Also, it is important to be an active demonstrator in the class, and check frequently with the students about what they do or don't understand.

"It's about enjoying it, as well," he says. "Our real goal is to create lifelong learners.

"The part I enjoy the most is seeing the students take what they are learning, and then teach it to someone else," Paauw says.

Paauw was the first clinical educator hired in the Department of Medicine's Division of Internal Medicine. He dedicates most of his time to patient care and teaching, and about 20 percent toward HIV research. "I don't think I would have been happy in a career that didn't heavily involve teaching," he says.

As a primary-care doctor, it isn't unusual for Paauw to visit his HIV patients in their homes. He says that when he started his career in the early '80s, HIV was unknown. That, and the fact that the disease was targeting and striking down people his own age, were the reasons he became involved in the field.

"It's a disease that takes over the whole body. As general internists, we're trained to work on the whole body," Paauw says.

Teaching runs in Paauw's family. His mother is an elementary school teacher, his father, a retired Harvard and Yale economics teacher, and his brother teaches English in Indonesia.

Paauw graduated first in his class from Macalester College in 1980 with a degree in biology. He received his doctorate in medicine from the University of Michigan in 1985, where he was also first in his class.

Since 1989, Paauw has been an attending physician at the UW Medical Center and Harborview. In 1990 he became an assistant professor, and in 1995 an associate professor of medicine.

In 1994, he received the Margaret S. Anderson Award for exceptional concern for and support of medical students.

Paauw will address the 1997 graduating class of the medical school during the Investiture of Doctoral Hoods and Physician's Oath Ceremony Saturday, June 7, in Seattle.--Will Morton, Health Sciences News and Community Relations

Return to "Best of 1997" Title Page

Send a letter to the editor at columns@u.washington.edu.