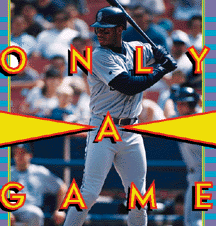 "We don't have these teams here just for the economic impact," Beyers says. "There are other, quality of life considerations."
Just as a community supports parks, libraries, zoos and aquariums, it should also support professional sports as a public good, say some advocates. "The Seahawks help celebrate our cultural diversity. Fans from all walks of life unite in a common effort behind our team," notes literature from Football Northwest. "The Seahawks identify Seattle and the Northwest as a world class city and region."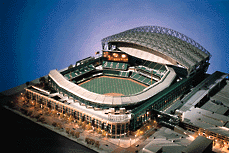 ---
This model of the new Mariners Ballpark shows a brick facade and the stadium's retractable roof. Some argue that sports facilities add to a community's "public good." Photo by Fred Housel, courtesy of NBBJ and the Washington State Major League Baseball Stadium Public Facilities District.
---
"You have to remember that the Mariners, Sonics and Seahawks are not just enjoyed by the fans in the stadium," adds Conway. "There are hundreds of thousands of fans who watch them on TV and listen to them on the radio. Think about that enjoyment. That has a value."
But measuring that value is close to impossible. Public Affairs Professor Richard Zerbe, an economist who does cost benefit studies, says his field defines a public good as an element the normal market system can't value. Classic examples of public goods are pollution control and national defense, he explains.
Few "public good" studies have tried to find the value of sports, he adds. To truly measure the public good, "you'd have to track those who are not fans who would nevertheless be willing to keep the Seahawks in Seattle. How much would they be willing to pay?" Zerbe tried to interest the Kingdome Renovation Task Force into funding such a study, but the group turned him down.
"If you accept the public good argument," Zerbe adds, "then you have to allow for some kind of public ownership. If there is a public good, why not let the public buy stock in the enterprise?"
Urban politics expert Bryan Jones, a UW political science professor recently hired away from Texas A&M, finds little in new sports facilities that contributes to the public good. "You need a common sense approach," he maintains. "If you sat down and put together a list of priorities for this region, it is hard to believe that two sports stadiums would be at the top of the list."
Jones says there is a "funnel" effect for public projects, especially construction of new facilities. A lot of proposals are at the top of the funnel but only a few make it all the way through to completion. "If you crowd out public projects with two sports stadiums, something else is not going to be done," he warns.
Football Northwest disagrees. "This vote is not a trade-off. In supporting a new sports and exhibition center, voters are not saying that it is a more important expenditure for our tax dollars than education, public safety and other community services. If the governor's plan does not go forward, the proposed sports item taxes would not be enacted for other purposes."
Economics vs Entertainment: How Much Are We Willing to Pay?
Send a letter to the editor at columns@u.washington.edu.