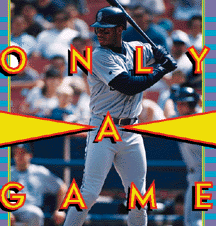 There is a catch to economic impact numbers, cautions Professor Beyers. Often these numbers don't reflect the true economic impact because much of the activity would stay here even if the teams moved away.
"If the Seahawks move to California, the local people who now spend their discretionary income to go to a Seahawks game will shift their dollars to something else," explains Beyers. "That money stays here."
Adds Richard Conway, '71, co-author with Beyers of four sports studies and owner of Dick Conway and Associates, "People would likely use that money on other entertainment-- bowling, the movies, whatever."
To track the true economic impact of an enterprise--whether it is sports, the University of Washington or Boeing--Beyers and Conway look at money that comes from out of state and is spent here. Beyers calls it "new money."
"If you yanked the business out of the region, what would be the net effect? That is what `new money' portrays," he explains.
Looking at new money only, the economic impact of teams such as the Seahawks and the Mariners begins to shrink. In 1995, the football team's out-of-state revenue generated $66.7 million in local economic activity. The impact of that money amounted to 1,388 jobs in King County. The Mariners' out-of-state funds generated only $42.9 million and 427 jobs according to a 1993 study Beyers and Conway did for the team.
"Compare this to Boeing, a corporation with 99 percent of its impact in new money," says Beyers. "It's new money generates $25 billion in direct economic activity. The scale is totally different." Research institutions such as the UW and Fred Hutchinson Cancer Research Center foster more economic growth too, since they bring in hundreds of millions in new money, Beyers adds, far more than professional sports (see Economic Impact Chart).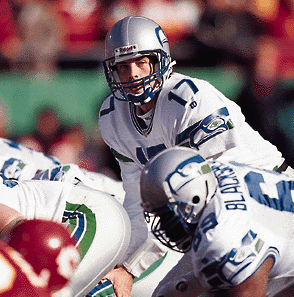 ---
Seattle Seahawks Quarterback John Friesz on the job. Economists say pro sports teams do not foster much job creation. Photo by Corky Trewin, (c) 1996 Seattle Seahawks.
---
Looking at the sports jobs that are created with new money, there is another hitch. Almost none of these positions are "family wage" jobs. "A major portion are day-of-game and relatively low wage jobs," Conway says, such as parking attendants and food vendors.
"It's not a lot of job generation," Beyers says. There are approximately one million jobs in King County. "You don't make public decisions about having enterprises like this in our midst on the basis of job creation."
Neither analyst was surprised by their results, but they were jolted by the fact that the Seahawks and the Mariners are about even in attracting "new money" to Washington state, even though the Mariners play 81 homes games and the Seahawks only 10.
"I know most people are asking themselves, `What's going on here?' " Conway admits. Historically Seahawks attendance per game is higher than the Mariners. Also, the average Hawks fan spends three times as much as the average M's fan. More Seahawks fans are from out of state, boosting the new money totals for the football franchise.
The way the teams are funded also has an effect, Conway adds. Because the NFL shares national TV revenue and merchandising income to a greater extent than Major League Baseball, more new money pours into the state for the Seahawks than the Mariners. "About two-thirds of the Seahawks income is from these sources, while only half of the Mariners income comes from them," Conway explains.
Another surprising statistic is the amount of state tax revenue that would be lost if either team left Washington. Again, the Seahawks top the Mariners, with state tax revenue from new money totaling $2.4 million annually. For the Mariners, state revenue from new money comes to $1.5 million annually. These numbers are based on general taxes, not any new taxes dedicated to building sports stadiums.
"What this means is that the state could put in up to $2.4 million per year towards a new football stadium and still come out ahead," Conway notes. "The critical question is--`Is there justification for spending more?' "
Pro Sports' Contribution to the Public Good
Economics vs Entertainment: How Much Are We Willing to Pay?
Send a letter to the editor at columns@u.washington.edu.