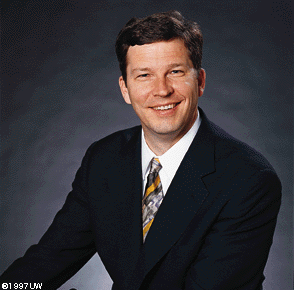 ---
David Fagerlie, '81. Photo by Mary Levin.
---
The new leader of UW alumni relations is a 45-year-old Minnesota native who says earning his master's degree at the UW was a "transforming experience."
David Fagerlie, '81, became the assistant vice president for alumni affairs and the executive director of the UW Alumni Association on May 12, ending a nine-month search for a new alumni leader.
Fagerlie comes to the UW from Indianapolis, where was vice president for resource development for United Way of Central Indiana. He spent the last 13 years working for United Way in three locales, including seven years with United Way of King County.
In making the joint appointment, University Relations Vice President Bob Edie and UW Alumni Association President Larry Matsuda praised Fagerlie's expertise in managing non-profit organizations.
"David's experience and knowledge of the non-profit sector and his work over two decades with volunteers provide a strong foundation for assuming leadership of the alumni association," says Edie.
"We are very fortunate to have attracted an individual of David's skill and experience," adds Matsuda. "The association has a full agenda of providing service to its members and to the University, and we are very pleased that David will be leading our organization in new directions for years to come."
Fagerlie first came to the UW in 1979, when he began graduate school in social work. At the same time, he was director of social services at the Tacoma Lutheran Home and Retirement Community. He recalls commuting from Gig Harbor to the UW while working nights and weekends, trying to balance job and school demands. "At the UW I participated in practically nothing socially," he says. "I just tried to survive."
During these graduate school years, Fagerlie says he underwent a transformation. "I learned that I had interests that I didn't know I had. I was the raw material and the school was the mining company that dug down deep, found those nuggets and brought them to the surface."
Among those interests were new skills in organization development and critical thinking, he says. "There was a fundamental shift. I substantially developed my ability to think broadly yet critically and to apply my perspectives." Fagerlie credits several social work professors for his development, including Rino Patti, Herman "Hy" Resnick, Jack Ellis, Florence Stier, Jim Herrick and Nancy Hooyman.
Fagerlie also took an unconventional step for a social work graduate student--he signed up for marketing courses with Gary Erickson of the business school. "I did a market analysis for Community Home Health Care," he recalls. That led to marketing consultant work with UW Medical Center and even teaching non-profit marketing for UW Extension.
While Fagerlie's graduate school years were focused and successful, his undergraduate experience was the opposite. He went to four different schools before graduating from Augsburg College in Minneapolis in 1976. "I changed my major seven times," he admits.
A social problems class at Augsburg led to his career in social work. His family had always believed in public service; his ancestors include a governor of Minnesota, founders of farmers' cooperatives, teachers and professors. "That class recounted what my grandmother did at her kitchen table, helping me understand social problems at their roots," he says.
His new job is an extension of his earlier interests, Fagerlie says. "This institution is so important to solving society's problems and creating a better world. People that come out of this institution, who were transformed like I was, are going to lead the way in business, government, non-profit management, science, the arts and so much else."
Following a career in social work in the health care field, Fagerlie began his career with United Way of King County in 1984. He started as a human service manager and was promoted to senior campaign manager, before leaving for United Way organizations in Ohio and Indiana. It was at United Way of King County that he met his wife, Yaovapa Ratanasopa, '80, a native of Bangkok, Thailand. They have one son, Thanan.
His family is happy to return to Seattle, Fagerlie says, and he looks forward to the challenges of running the UW's alumni relations program.
He sees the UW Alumni Association becoming "more finely tuned and robust than ever." He would like to see a large, motivated force of volunteers helping the University in government affairs, development and other efforts. He wants to see alumni more involved in the life of the University, including influencing its direction into the 21st century.
"The University will prosper in the future if alumni are engaged in the future of the University," he states. "It is my job to help alumni become engaged, making their experience meaningful to them and enriching to the University."
Send a letter to the editor at columns@u.washington.edu.