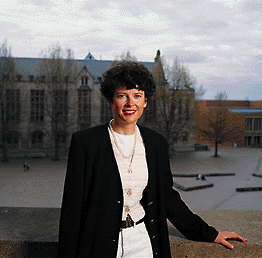 When Emer Dooley decided to become a professor and teacher, she asked herself, "How hard can it be?"

After all, she was used to the fast-paced, challenging world of the computer industry, where she worked as an engineer and in marketing. Her presentations typically were interrupted with pointed questions, her reasoning subjected to scrutiny.

After that training, how hard could it be to teach?

"It was painful," Dooley, a UW teaching assistant, admits now. "I was amazed at how hard it was."

Dooley reflected on her best teachers and developed two principles: The class had to be fun, and the students couldn't be passive.

The style she has evolved--challenging, demanding and innovative--has gained her the respect of faculty and students and led to an Excellence in Teaching Award for 1997.

Born and raised in Ireland, Dooley received a bachelor's degree in electronic engineering and a master's in computer engineering, both from the University of Limerick. She worked for Digital Equipment in Ireland as a test, product and design engineer. She moved up the corporate ladder, becoming a senior design engineer and project lead at Digital's headquarters in Maynard, Mass., in 1988.

But something was missing. She returned to school, to the UW, in 1990 to study for an M.B.A. Upon graduation, she went to work for Digital Systems of Redmond as a product manager. But marketing didn't offer the kinds of challenges she was seeking. "I had liked the business school and kept in touch with one of my professors, Gary Hansen. I had wanted to teach since I graduated high school -- when my father talked me out of wanting to be a high school teacher." She enrolled in the UW Ph.D. program in the School of Business Administration.

Dooley's second teaching experience, Winter Quarter, was a required undergraduate class in business, government and society. Many students have said they hated this class and challenged its relevance. Knowing this, Dooley decided to "change the ground rules."

She stressed current events in classroom discussions. She didn't simply discuss the effects of antitrust litigation on business, she persuaded Microsoft's senior corporate attorney for litigation to come to class and discuss the company's experience. She invited a student drama group to come to the class to protray the case of Union Carbide and the Bhopal disaster.

One of Dooley's faculty colleagues commented, "No other doctoral student and actually few if any faculty ... deserve this recognition more. Emer works very very hard and because of this she is very, very successful."--Bob Roseth, UW Office of News and Information

Return to "Best of 1997" Title Page

Send a letter to the editor at columns@u.washington.edu.