Family Ties to UW Span Century,
Gift Carries Legacy into New Millenium
Philip Padelford remembers growing up on the edge of the UW campus when it was "mostly forest." That was in the 1920s, when his father--Frederick Morgan Padelford, for whom Padelford Hall is named--was a professor of English and dean of the Graduate School. The Padelford family's ties to the University span the century, beginning when Professor Padelford joined the faculty in 1901.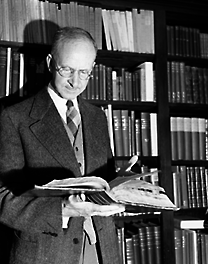 ---
Dean Frederick Morgan Padelford in the 1930s.
---
"I have a lot of wonderful memories connected with the University of Washington," says Padelford. "I've watched it grow from a small university to a very great one." Following in the family tradition of scholarship, he also received two degrees in history from the UW (B.A. '34, M.A. '37).
In December, Padelford made a million-dollar gift that will carry his family's legacy into the next century and beyond. He donated appreciated stock for a charitable remainder unitrust, which will pay him income during his lifetime and then create the Padelford Family Endowment for Excellence. Income from the endowment will be available to the president for any educational or program need at the University.
"The world changes," Padelford observes, "and I believe the president is in the best position to see the whole institution's needs and respond to change. That's why I wanted to let him or her decide how to use my gift." Padelford plans to add substantially to the endowment in the future.
"This is an extraordinary gift, not only for its size but also its flexibility," says UW President Richard L. McCormick. "Gifts such as this are a wonderful complement to strong core funding of the University by the state of Washington. We're very grateful to Mr. Padelford for adding so generously to his family's legacy here."
Send a letter to the editor at columns@u.washington.edu.