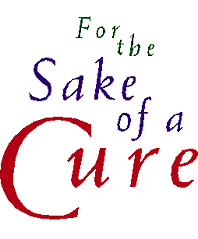 Through the clinic entrance at Children's Hospital and Medical Center, past a waving Mickey Mouse and up the elevator to the seventh floor, you will find the pediatrics satellite of the UW Clinical Research Center.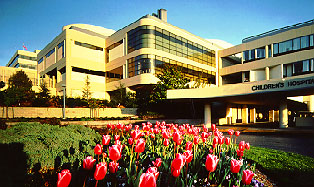 ---
Children's Hospital and Medical Center in Laurelhurst has a pediatrics
satellite of the CRC.
---
In a consultation room, you will see 9-year-old Kristin Thueringer; her mom, Carol; and her dad, Dennis. They sit comfortably, discussing the trial which, on that day, ended for them.
"It's a shame to get a good drug and then get pulled off of it," says Carol. There's a chance the family can apply to the pharmaceutical company that holds the patent to get extra doses for "compassionate use."
Kristin, who was diagnosed with cystic fibrosis at the age of 9 months, struggles with a chronic lung infection. The trial used a "nebulizer" to administer high doses of a drug often given to patients with lung infections.
The nebulizer, or inhaler device, allows the drug--tobramycin--to go straight to the area of infection, and at high enough doses to kill the bacteria. The trial was led by Cystic Fibrosis Center Director Bonnie Ramsey, associate professor of pediatrics and associate program director of the CRC.
If you talk to Kristin, she will spin out a raft of scientific and ingenuous descriptions she's picked up from the trial. She describes the scar tissue in her lungs, the flu that put her in the hospital twice last year, and what it's like being accessed intravenously through a port under the skin of her chest. On an X-ray, the port "looks like a lifesaver," she says.
Participating in the trial had major benefits, and improved her daughter's lifestyle tremendously, Carol says. It seems to have kept her out of the hospital this year.
"This was something to gain time until they come out with genetic therapy," Dennis says.
"But we don't know how soon that will be," Carol adds.
Kristin is unperturbed. Her face lights up as she explains that this year at school, she plans to go out for track. She exchanges a confidential smile with her mom, and says that the 600-meter run will probably not be her event.
"I'm best at the 50-yard dash," she beams.
Running track is nothing compared to the pain and stress of the clinical trial. The worst part was getting used to the needles, Kristin says. She didn't like them at first. "So, I said `Okay, Kristin, you have to get over the needles. They are going to be doing this now once a month,' " she recalls.
Now, they don't bother her.
Watching her daughter explain how she dealt with her fear of needles, Carol's eyes fill with admiration and then brim.
Indeed, Kristin Thueringer is a courageous girl.
Connie Castle: Humor is a Part of Healing
Christy Nelson: Empowerment Against Unbeatable Odds
Russ Ewan: Can Hepatitis C Be Beaten?
The CRC Experience: Professional and Caring
Return to the Beginning of "For the Sake of a Cure
Send a letter to the editor at columns@u.washington.edu.