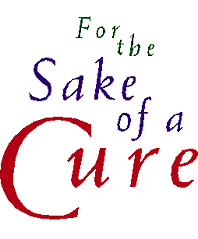 Helping others motivates most patients participating in clinical trials, such as 39-year-old Christy Nelson of Arlington, Wash., who was diagnosed with a brain tumor in 1995.

"I don't know if they expected me to be alive this long," says Nelson, one of nine local women currently in a phase II clinical trial to determine whether temozolomide, an experimental anti-tumor drug, works.

Nelson says if it wasn't for the fact that she is contributing to science, she probably wouldn't have agreed to be in the trial. Not that it's been a bad experience, at least until lately, due to steroids she takes to reduce swelling and fluids around her brain. "The steroids keep me crying, screaming and complaining. I can't get to sleep," she says.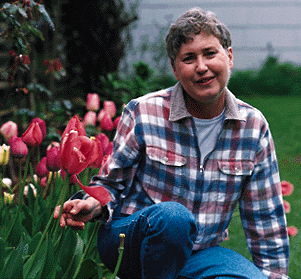 ---
Kneeling beside some tulips near her home in Arlington, Wash., Christy Nelson reflects on her two-year struggle with a brain tumor. Photo by Joel Levin.
---
The phase II trial, led by Medicine and Pathology Professor Alexander Spence, is also going on at approximately 19 other clinical sites. The trials will see if oral temozolomide works against malignant "gliomas," rapidly growing brain tumors.
Nelson began taking the drug at the beginning of March. At the end of her treatment, doctors will take an MRI to see if the treatment stopped or slowed down the growth of the tumor.
"If it's improved, or the same, I can take it for up to another year," she says. "If not, they'll stop, and I'll soon be gone."
Nelson, who worked for the Bon Marché in Everett for 12 years, recalls not feeling well when she left her house one day late in 1995 to visit her mother in a Stanwood nursing home. The drive, one which she'd done hundreds of times over the past seven years, was a blur.
At the nursing home, Nelson wasn't able to get a sentence out, and she remembers trying to tell someone that she needed to lie down. Later, at a hospital in Mt. Vernon, doctors discovered she'd had a stroke associated with a brain tumor.
The day after Christmas, 1995, she underwent surgery at the UW Medical Center. The doctors removed part of Nelson's brain. "Sometimes I think they took too much when I have trouble talking," she laughs.
Following the surgery, Nelson had radiation treatment. Things were fine until last January, when she started feeling ill. An MRI revealed the tumor had grown back. She wasn't aware of the drug trial until she was approached by the researchers involved.
"I thought, 'Do I want to or don't I?' If it was miserable, I probably would have stopped, but it wasn't," Nelson admits.
Nelson has accepted the fact that her condition is terminal. "There's nothing you can do. You know you don't have a chance for sticking around for very long," she says.
Helping someone in the future, however, allows Nelson to feel a sense of empowerment while being up against unbeatable odds. "That was my intent, to help people, maybe someone in my own family," she says.
Connie Castle: Humor is a Part of Healing
Russ Ewan: Can Hepatitis C Be Beaten?
Kristin Thueringer: Courage in a Child's Eyes
The CRC Experience: Professional and Caring
Return to the Beginning of "For the Sake of a Cure
Send a letter to the editor at columns@u.washington.edu.